Notre Dame Staff Looking At Potential New Wrinkles On Offense
Click HERE to sign up for an annual subscription to BlueAndGold.com and get your FREE gift code for $99 in Irish apparel and gear!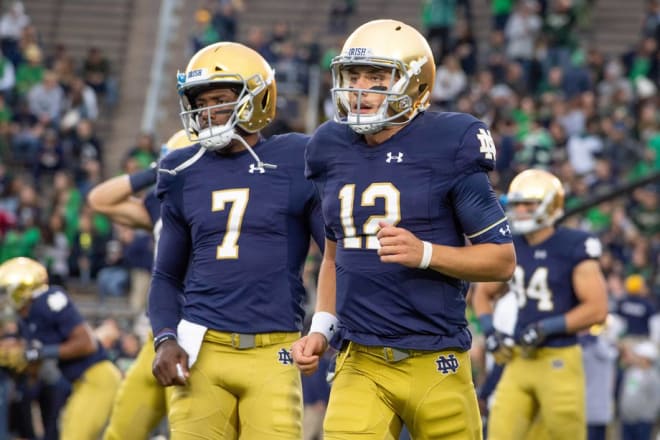 When you finish a regular season 12-0 to earn a spot in the College Football Playoffs, a coaching staff can go a couple of directions in the nearly month of preparation time it will have.
It can stand pat and "dance with the one who brung you," or it can tinker and add a little variation to the arsenal.
After the 2013 BCS Championship in which the 12-0 and No. 1-ranked Fighting Irish suffered a 42-14 loss to Alabama, Crimson Tide members on offense stated it was easy to identify the looks of the "vanilla" Notre Dame defense that was ranked No. 1 and virtually impregnable during the regular season. The extra weeks of preparation aided the study to help counter it.
Of course, had Notre Dame made too many alterations and still lost, then the criticism likely would have been "why try to fix something that is not broke?" Such is the life of a head coach and his staff.
What additions or variations the Irish might implement this year is not going to be publicly shared by Notre Dame head coach Brian Kelly for obvious reasons, but he did discuss some new personnel possibilities on offense while beginning preparations for the Dec. 29 CFP versus Clemson.
One is how to get senior quarterback Brandon Wimbush possibly more involved while on the field at the same time as starter Ian Book. Wimbush is one of the top playmakers on the team, especially with his maneuverability, which is why he started and earned the game ball against Michigan in the opener and also thrived in place of the injured Book in the Nov. 10 romp (42-13) versus Florida State.
In 2017 Wimbush was the team's second-leading rusher with 803 yards, 5.7 yards per carry and a school record 14 rushing touchdowns by a quarterback. But working at running back/receiver is a much different dynamic than improvising at quarterback, where he must take his practice reps in case something happens to Book again.
Kelly pointed to Georgia trying to implement freshman mega-recruit Justin Fields in a role versus Alabama during the SEC Championship game, including on a much discussed failed fake punt attempt in the fourth quarter that helped cost Georgia the game.
"We've all seen that every team that has a Brandon Wimbush tries to get him in the game … but God, is it hard," Kelly said. "It's hard to disrupt the rhythm and the timing."
That doesn't mean it's an area he will stop exploring. Book and Wimbush were in the game at the same time a few occasions late in the 36-3 victory versus Syracuse on Nov. 17, but that was in more of a decoy or give-the-opposition-something-to-think-about role.
"We're going to keep working on that," Kelly said. "We'd like to see Brandon be more involved in the game because we think he can impact it. It's just trying to get him into the flow of the game without disrupting what you're doing … We have to do it seamlessly so it makes sense, and he's part of it.
"We're not going to protect him in the sense that we did during the year. If we can get him in and not disrupt the rhythm of the offense, we're going to play him and not worry about, 'Well, we've got to keep our No. 2 safe.'"
Part 2 on offense is the potential of integrating more speed at wideout. The veteran trio of seniors Miles Boykin (54 catches) and Chris Finke (47 catches) plus junior Chase Claypool (48 catches) accounted for 149 of the 161 receptions made by Notre Dame wideouts this season, with sophomore Michael Young (seven catches) and freshman Kevin Austin (five) making cameos here and there.
One area on offense the staff would like to upgrade is having more of a vertical threat in the passing game. Freshmen Braden Lenzy (5-11 ½, 170) and Lawrence Keys III (5-10, 170) have not appeared in any game action despite being two of maybe the swifter players on the team. The new NCAA rule that allows a freshman to take a redshirt season as long as he does not appear in more than four games at any time of the season could allow for one or the other, if not both, to be integrated more into the lineup for the one or maybe two playoff games.
"If you look at our offense, there's some areas that I think from a speed area that I think could help us out," Kelly hinted last week.
One of the reasons neither Lenzy nor Keys III was involved is the physicality aspect, and Lenzy also had an early-season concussion. However, it's not like they would be asked to play 40 snaps, or even more than a handful. In 2012, freshman speedster Chris Brown didn't catch his first pass until the eighth game — a 50-yard "go route" off play action from Everett Golson in the fourth quarter that set up the go-ahead touchdown and broke a 13-13 tie versus the Oklahoma Sooners.
"He's going to be in a role that we are going to craft and create where it will only be a positive," said Kelly of a hypothetical in which a new figure might be involved in the play. "He's not going to be required to catch six, seven or eight balls. He's going to do some things to create opportunities where it will be a 'hero or zero' play for us."
Last year Young as a freshman caught a touchdown pass in the Citrus Bowl versus LSU during the fourth-quarter comeback, while Boykin had his coming out party as a playmaker with his game-winning score and fourth quarter performance that earned him MVP honors.
This year, other reasons why figures such as Lenzy and Keys saw no action were the overall configuration of the offense and its emphasis, which often included multiple tight end sets.
"Chris Finke was clearly established at that position," Kelly said. "Our ability to use a tight end as the next guy in at the position in terms of how we were going to run our offense. If we were going to be a strictly an 11 personnel team (one running back and one tight end with three wide receivers lined up), it may have opened the door for those guys.
"Then there was going to be a curve there of learning. As we were kind of working through the year, there were other areas that we had to focus on, and that was the offensive line. It wasn't to develop a third wide receiver … Now, we're looking for maybe one speed guy that could do some things for us in a limited role … We'll see if there is someone that can up and do something."