Notre Dame Signs 21 New Recruits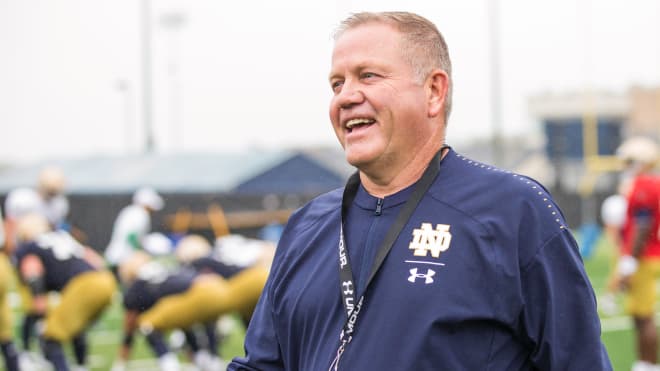 Twenty-one high school seniors signed their national letters of intent on Wednesday (Dec. 19) to join the Notre Dame football program in 2019.
A school-record 10 will already be on campus as early enrollees when the second semester classes begin Jan. 15. This features all four offensive linemen and three of the four defensive linemen (see list below).
Notre Dame first began accepting early enrollees for the football program in 2006 and generally had two to five in most seasons. Last year it expanded to seven, and this year it reached double digits. Head coach Brian Kelly said the university has taken an "inside-out" approach to make this more feasible. It also has helped that previous early enrollees have had a track record of success academically.
"It's gone from, 'Do you really think he should be here?' To, 'We will embrace him because we've had such great success,'" Kelly explained. "The university has really embraced it and taken the time to be so much more concerned with that transition, where we've built classes and we've built transition for the mid-year enrollees."
All 21 had previously issued verbal commitments long ago to the Fighting Irish before finalizing their choice by inking with them, beginning with Pennsylvania offensive lineman Andrew Kristofic at 7:03 a.m. ET. By 8:33 a.m. ET, 18 others had penned their names with the Fighting Irish. Because they live on the West Coast, California cornerback Isaiah Rutherford and Hawai'i linebacker Marist Liufau arrived a few hours later.
"I have not seen all our operation work as efficiently in this process as it has with these 21," Kelly said of his 10th recruiting class at the school.
The university also announced the addition of two preferred walk-ons: wide receiver and local product Conor Ratigan, 6-0, 170-pounder from Granger, Ind., and kicker Harrison Leonard, from Jamestown, R.I. Ratigan is the son of Notre Dame team orthopedic surgeon Brian Ratigan, who played linebacker for head coach Lou Holtz with the Irish from 1989-92, and then briefly in the NFL.
The second early signing period for football in NCAA history saw 16 of those 21 come from different states. The breakdown also is well balanced, most notably 12 players on an entire defensive starting unit that features two ends, two tackles, four linebackers, two safeties and two cornerbacks.
On offense, the Fighting Irish signed one quarterback, one running back, two wide receivers and four offensive linemen. No tight ends were signed, in part because two of the top-rated players in the 2017 Notre Dame class — Cole Kmet and Brock Wright — were complemented by two more tight ends last season in George Takacs and Tommy Tremble.
Rounding out the group so far was punter Jay Bramblett from Tuscaloosa, Ala., hometown of the No. 1-ranked and reigning national champion Crimson Tide. Both Bramblett and walk-on Leonard are expected to vie for starting roles right away because of the graduation of four-year starters Justin Yoon at kicker and Tyler Newsome at punter.
Kelly contended "there is room for more" prospects on National Signing Day Feb. 6, even though with the new haul the Irish stand at 93 scholarship players. Although Kelly cannot talk about prospects until they do sign, two specific players the Irish are targeting are 6-5, 230-pound defensive end Isaiah Foskey, who plays for powerful De La Salle in Concord, Calif., and 6-4, 215-pound linebacker Asa Turner from Carlsbad, Calif. Turner has given a verbal commit to the University of Washington, but he has not signed with the Huskies yet, which leaves his recruitment still open.
Per NCAA rules, Notre Dame's scholarship count must be pared down to 85 by the start of next season. This can occur through some fifth-year possibilities not returning or becoming graduate transfers at another school, players turning pro early, medical reasons or transfer.
Overall, the class is pretty well locked in as at least a top-15 group by Rivals, which will remain fluid through February. As of Dec. 19, Notre Dame's 21-man haul was rated No. 11 in the nation.
Here is the breakdown by position, with heights and weights released by the university. An asterisk in front of his name denotes he is enrolling for the second semester that begins on Jan. 15.
Quarterback
Brendon Clark, 6-2, 210, Midlothian, Va. (Manchester)
Running Back
*Kyren Williams, 5-9, 200, St. Louis (St. John Vianney)
Wide Receivers
Kendall Abdur-Rahman, 6-0, 185, Edwardsville, Ill. (Edwardsville)
Cam Hart, 6-3, 190, Baltimore (Good Counsel)
Offensive Line
*Quinn Carroll, 6-6, 285, Edina, Minn. (Edina)
*Zeke Correll, 6-3, 275, Cincinnati (Anderson)
*Andrew Kristofic, 6-5, 275, Gibsonia, Pa. (Pine-Richland)
*John Olmstead, 6-4, 280, North Brunswick, N.J. (St. Joseph)
Defensive Ends
Howard Cross III, 6-1, 265, Montvale, N.J. (St. Joseph Regional)
*NaNa Osafo-Mensah, 6-3, 235, Fort Worth, Texas (Nolan Catholic)
Defensive Tackles
*Jacob Lacey, 6-2, 295, Bowling Green, Ky. (South Warren)
*Hunter Spears, 6-3, 295, Garland, Texas (Sachse)
Linebackers
JD Bertrand, 6-1, 200, Roswell, Ga., (Blessed Trinity)
Osita Ekwonu, 6-1, 220, Charlotte, N.C. (Providence Day School)
*Jack Kiser, 6-1, 205, Royal Center, Ind. (Pioneer)
Marist Liufau, 6-2, 205, Kalihi, Hawai'i (Punahou)
Cornerbacks
Isaiah Rutherford, 6-0, 175, Sacramento, Calif. (Jesuit)
K.J. Wallace, 5-11, 190, Atlanta (The Lovett School)
Safeties
Litchfield Ajavon, 5-11 185, Baltimore (Episcopal)
Kyle Hamilton, 6-3, 190, Atlanta (Marist School)
Punter
*Jay Bramblett, 6-1, 185, Tuscaloosa, Ala. (Hillcrest)