Notre Dame's Jackie Young: The Waiting Is Over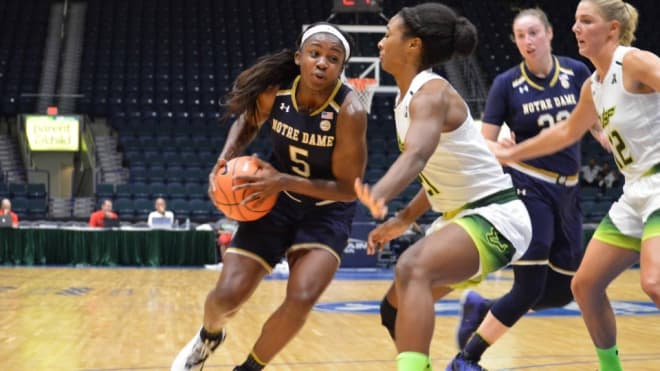 Many times during Jackie Young's freshman season, Notre Dame head coach Muffet McGraw had to urge her to be more assertive and less deferential to the veterans.

Those days have ended in the first month of Young's sophomore campaign.
The 2016 Naismith Player of the Year in the high school ranks opened this season with six straight double-digit scoring efforts (she had 11 overall last year), while helping the No. 6 Fighting Irish defeat three ranked teams, most notably No. 3 and reigning national champ South Carolina, 92-85, Sunday night to win the Gulf Coast Showcase.
Young was named the MVP of the three-game tournament while averaging 19.3 points and 7.6 rebounds per contest. Against the Gamecocks she posted her first double-double with 22 points and 10 rebounds while adding four assists. A day earlier versus No. 17 South Florida she tallied 23 points and seven boards.
She also was the spark that rallied the Irish from an 11-point second-half deficit at No. 18 Oregon State Nov. 19 with a game-high 21 points, 17 in the second half on 8‑of‑12 shooting.
"I know she's been waiting on it," Young said of McGraw, prior to the Gulf Coast Showcase "The second half I was able to just get comfortable and attack the basket. We've had plenty of conversations about that, being more assertive. I put in the work to be more confident and know that I can't defer to the older players because they're expecting me to have a bigger role on the team."
McGraw believes Young could be one of the greatest athletes she's ever coached in more than three decades at Notre Dame, the type who could average a double-double — and still guard the opponent's best player. On occasion this year when point guard Lili Thompson has needed a break, the 5-11 Young also can bring the ball up the floor.
"Jackie was exactly what we needed her to be and what we thought she could be — and she still has some more that she can do," said McGraw of her burgeoning sophomore star prior to the Gulf Coast Showcase. "She's just scratching the surface of her potential, but she took the [Oregon State] game over. She's doing great things on both ends of the floor."
Because there were so many scoring options last year, Young concentrated more on defense and rebounding. As the all-time scoring leader in the state of Indiana, male or female, she especially attempts to refute any stereotypes of her taking plays off on defense in order to enhance her scoring prowess.
"That's what really makes my game different," Young said. "I try to do the other things and not worry about scoring all the time, take pride in my defense, make sure I'm talking on D and communicating with my teammates.
"It makes all the difference because everybody at the college level can score, but you have to make sure you're doing all the other things, too. I think I was already comfortable with the defensive aspect of things, and now I'm more comfortable on the offensive side."
Currently she is second on the team in minutes played (32.8 per game), scoring (17.8) and rebounding (7.8), and has the fewest turnovers among the starters (8), while handing out 13 assists. Her aggressiveness at attacking the basket has put her on the foul line the most, where she is 31 of 35 (88.6 percent).
One aspect of her game she is working to improve is her three-point shooting, where she is 0-for-4 through six games. The Irish have plenty of options there, led by juniors Arike Ogunbowale and Marina Mabrey along with Thompson, but Young would like to add that to her repertoire in an effort to keep defenses more honest.
She particularly displays an instinctual knack on rebounds. Last year she averaged 4.6 per game in just 21 minutes of action, and often was the top complement to Brianna Turner on the boards, including 12 in 24 minutes during a comeback win at Syracuse.
"I'm able to read which way the ball is able to come off," Young said. "I can just tell off the release if it's going to be short or long. It's something I've been able to tell for a while."
Ankle and thumb injuries as a freshman slowed her, but with health and a year of work in a college strength and conditioning program, she is expected to display her slashing drives to the basket more often this season.
"I know last year I could get to the basket, but it was a little harder for me to finish … I was a little hesitant," she said. "I've gotten a lot stronger."
Which should keep the Irish strong in years to come.