Notre Dame's Equanimeous St. Brown: Hurry Up, And Weight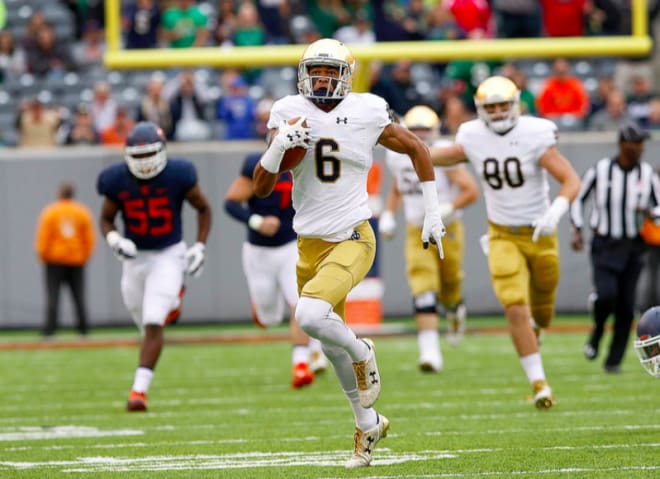 From the outside looking in, there are numerous parallels between LaVar Ball, father of basketball stars Lonzo (a recent one-and-done star at UCLA), LiAngelo and LaMelo, and John Brown, father of football stars Equanimeous St. Brown, Notre Dame's top wideout last season, and younger brother Osiris (signed with Stanford this February, No. 144 ranked player nationally) and Amon-Ra (No. 12 ranked player for Class of 2018).
The California residents and fathers have molded their three sons to be prominent in their respective sports, while their wives have been credited for raising them to be gentlemen and scholars. The St. Brown brothers also speak fluent German (mother Miriam was born in Germany) and French.
"We're similar in age and athletic, I guess there is a little comparison," Equanimeous said.
"…I never thought about it like that."
Both fathers also are deemed by the media as "colorful" figures, although with LaVar Ball it's been more about making outlandish statements to help build "The Brand."
As for John Brown, who runs a clothing company, his background is far more distinguished as a competitor. During the 1980s he was named Mr. Universe twice and was a three-time Mr. World with his work in body building and weightlifting.

When he asked his sons at an early age what they want to do and they all replied a desire to excel in football, he hired coaches to work with them — and applied his own instruction along the way. When he learned that New York Giants star receiver Odell Beckham Jr. catches 300 balls per day, Brown told his sons: "Okay boys, we have to catch 310 ball. We can't do 300, because if we do 300, we're only as good as him. We're not trying to be as good as him. We want to be better than him."
After workouts, he would then have them do maximum-weight on the squat machine to instill mental toughness, one of St. Brown's prime assets.
"If you fall you fall," the father told Blue & Gold Illustrated's Matt Jones last fall. "In order to do this you have to flip the switch and go crazy right now. Put yourself in a crazy state right now. Through that, they learned how to flip the switch."
As noted by Notre Dame head coach Brian Kelly when he was recruiting St. Brown, "there is not a lot of slacking in the home."
As a sophomore in 2016, St. Brown "flipped the switch" from an adjusting freshman to an explosive element in the offense, similar to former Fighting Irish game-breaking wideouts in 2009 Bilentnikoff Award winner Golden Tate and 2016 first-round pick Will Fuller, both of whom turned pro after their junior seasons:
• Tate caught six passes as a freshman in 2007 — and then 58 for 1,080 yards (18.6 yards per catch) and 10 touchdowns as a sophomore.
• Fuller also grabbed only six passes as a 2013 freshman — and then detonated with 76 catches for 1,094 yards (14.4 yards per catch) and 15 scores the next season.
• St. Brown caught one pass as a 2015 freshman before undergoing shoulder surgery in mid-November — and then last year snared 58 passes for 961 yards (16.6 yards per catch) and nine TDs, while not playing in a bowl like Tate and Fuller did.
Yet St. Brown's father privately questioned and was disappointed at what was going on with the strength and conditioning program — a topic he is an expert on — at Notre Dame. He was disturbed how after his son's freshman season, when he did his own testing on him, Equanimeous had lost, per his calculations, 60 percent of his lower-body strength.
A massive overhaul this off-season within the infrastructure, including bringing in new strength and conditioning coordinator Matt Balis and associate Dave Ballou from IMG Academy, has prompted a consensus thumbs-up in the football operation.
"Oh, yeah, there is a big difference," the soft-spoken St. Brown said. "Coach Balis has done a great job stepping in. I love the weight program right now — it reminds me of my dad's, what I do when I lift with my dad. It's a good thing because I'm not losing weight during spring ball like I did last year. That has a lot to do with the weight program.
"Just the intensity and speed of the workout. … Building muscle by working out hard on the days we don't have practice, and by eating well."
The 2016 green receiving corps that lost three senior starters from the year prior is much better seasoned in 2017, with St. Brown as the ring leader. There is a different quarterback now throwing to them in junior classmate Brandon Wimbush, who redshirted last season and has thrown only five passes in college, but St. Brown hardly considers him a novice.
"Brandon's thrown to me a lot over the years," he said. "Freshman year when Malik (Zaire) got hurt, Brandon was throwing to me when I was second string for practices. He's thrown to me in camps too in high school. He's not a new quarterback for me.
"He's not as big as DeShone (Kizer) but he's much faster than him. He's still young and has a lot to learn, but he's definitely growing at a fast pace."
One of six new on-field coaches on the Notre Dame staff, receivers coach Del Alexander is taking a guarded approach with all of his players, including St. Brown.
"Consistency," replied Alexander when asked what St. Brown can do for an encore after last year's performance. "His deal is just showing growth. You can have a breakout season, but once you've got a new set of coaches then there are more things you have to learn and adjust to."
St. Brown's goals for now are as basic as they come.
"Focus more on the run game blocking-wise," he said. "I'm just taking the time in spring ball to get better and better every day."
The Irish averaged 30.9 points per game last year, but with four starters returning along the line, tight end Alize Jones back in the lineup after sitting out 2016 for academic reasons, a bevy of backs led by junior Josh Adams (933 yards, 5.9 yards per carry last year) in the stable, and a faster tempo incorporated by new coordinator Chip Long, St. Brown envisions upgrades beyond just what has transpired in the weight room.
"You could see us scoring a lot more points, I think," he said. "At the pace we're going, we're going to light the scoreboard up."
For Brown, 2017 might be more Hurry Up — And Weight.