Notre Dame's "Early" Recruiting Impact To Show This Week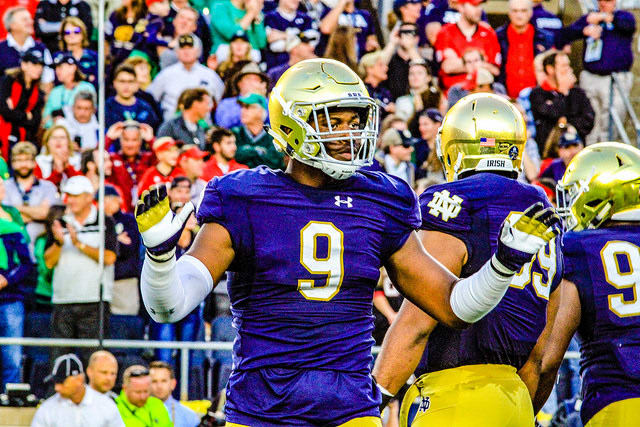 Is the first-ever early signing period (Dec. 20-22) in college football beneficial or detrimental to Notre Dame's efforts?
From Fighting Irish head coach Brian Kelly's perspective, it is an asset because Notre Dame recruits specifically to student-athletes who inherently have a long-term investment in mind. Early signing only reinforces the prospect's commitment.
For example, even after last year's 4-8 train wreck that would see a massive overhaul of the infrastructure with six new on-field assistant coaches plus a new strength and conditioning staff, both Kelly and then recruiting coordinator Mike Elston maintained that a core of 15 verbally committed recruits in the Class of 2017 remained steadfast with the Irish at a time when implosion seemed imminent. They likely still would have signed last December had there been an early signing period then.
Now, that's not to say there also weren't misgivings, because six prospects who had originally committed to the Irish bolted during the course of the season. Nevertheless, if they don't abandon ship en masse in those kind of circumstances, then it's even less likely they would in some more prosperous times, such as the current top-15 ranking.
"I'm very confident that 20th will be a really good day," said Kelly this weekend. "…It will show that all the work we did leading up to the 20th, those guys that made commitments to Notre Dame are going to follow through that in December.
"It's going to leave us with the opportunity to start looking toward just a few players that need to be signed in February and moving ahead on the calendar to '19 and '20."
Flip-flopping in recruiting — for various reasons, from academics to distance, to coaching changes, etc., — is as much a part of the landscape as the sun rising in the east or engagements being broken off between couples. This month the Irish have seen California receiver Geordon Porter and Indiana running back Markese Stepp lost from their fold for such reasons, but it has also seen prized former Florida State defensive back commit Houston Griffith cast his lost with Notre Dame, and Oregon receiver Braden Lenzy, who had verballed to the Ducks, might do the same.
When it comes to "de-commitments," Notre Dame has come out ahead in Kelly's first eight seasons, 42-25, or an average of 5.4 to 3.1 per year. Here's the breakdown (not yet including all of 2018), with players who flipped to Notre Dame or vice-versa — or at least ones we are aware of:
2017: 5-6
Decommits to Notre Dame (5): receiver Jafar Armstrong (Missouri), defensive end Kofi Wardlow (Maryland) safety Jordan Genmark Heath (Cal), linebacker Jeremiah Owusu-Koramoah (Virginia) and kicker Jonathan Doerer (Maryland)
Decommits From Notre Dame (6): defensive ends Robert Beal (Georgia), and Donovan Jeter (Michigan), linebacker Pete Werner (Ohio State), defensive back Elijah Hicks (Cal), cornerback Paulson Adebo (Stanford) and wide receiver Jordan Pouncey (Texas)
2016: 7-0
Decommits to Notre Dame (7): quarterback Ian Book (Washington State), defensive ends Khalid Kareem (Alabama), Ade Ogundeji (Western Michigan) and Daelin Hayes (USC), safeties D.J. Morgan (Arizona State) and Spencer Perry (Florida), and cornerback Troy Pride Jr. (Virginia Tech)
Note: Perry, an early entrant as a freshman, opted last spring to transfer to South Alabama after a position switch.
2015: 6-2
Decommits To Notre Dame (6): quarterback Brandon Wimbush (Penn State), running back Dexter Williams (Miami), tight end Alize Mack (UCLA), linebacker Josh Barajas (Penn State) and cornerbacks Shaun Crawford (Michigan) and Ashton White (Virginia Tech)
Decommits From Notre Dame (2): quarterback Blake Barnett (Alabama) and safety Prentice McKinney (Oklahoma)
Note: Barajas is now at Illinois State, while White left the team in the summer and planned to enroll as a graduate transfer elsewhere after graduating.
2014: 3-3
Decommits To Notre Dame (3): defensive tackle Peter Mokwuah (Rutgers), safety Drue Tranquill (Purdue) and defensive end Jhonny Williams (Missouri)
Decommits From Notre Dame (3): defensive tackle Matt Dickerson (UCLA), running back Elijah Hood (North Carolina) and outside linebacker Richard Yeargin III (Clemson)
2013: 6-3 Notre Dame
Decommits To Notre Dame (6): running back Greg Bryant (Oklahoma), receiver Will Fuller (Penn State), tight end Durham Smythe (Texas), defensive lineman Eddie Vanderdoes (USC), linebacker Doug Randolph (Stanford), safety Max Redfield (USC).
Decommits From Notre Dame (3): running back Jamel James (Texas State), and linebackers Alex Anzalone (Florida) and Danny Mattingly (Oregon).
Note: Even though Vanderdoes signed a letter of intent with the Irish, he eventually enrolled at UCLA.
2012: 2-4, Opponents
Decommits To Notre Dame (2): Quarterback Gunner Kiel (LSU) and defensive end Jarron Jones (Penn State).
Decommits From Notre Dame (4): receiver Deontay Greenberry (Houston) offensive tackle Taylor Decker (Ohio State), linebacker/athlete David Perkins (Ohio State and then Illinois State) and cornerback Ronald Darby (Florida State).
Note: Kiel transferred to Cincinnati following his freshman year.
2011: 5-4 Notre Dame
Decommits To Notre Dame (5): defensive linemen Aaron Lynch (Florida State), Stephon Tuitt (Georgia Tech), Chase Hounshell (Florida), offensive lineman Nick Martin (Kentucky) and quarterback Everett Golson (North Carolina).
Decommits From Notre Dame (4): running back Justice Hayes (Michigan), offensive tackle Jordan Prestwood (Florida State), linebacker Clay Burton (Florida) and cornerback Bennett Okotcha (Oklahoma).
After making Freshman All-American at Notre Dame, Lynch transferred to South Florida and turned pro early. Remarkably, Prestwood would transfer to Notre Dame in August 2011, but academics led him to Central Florida, where he also became ineligible. Okotcha transferred to University of Texas at San Antonio.
2010: 8-3, Notre Dame
Decommits To Notre Dame (8): Quarterbacks Luke Massa (Cincinnati) and Derek Roback (Toledo), wide receiver TJ Jones (Stanford), offensive tackle Tate Nichols (Stanford) defensive linemen Louis Nix III (Miami) and Kona Schwenke (BYU), linebacker Danny Spond (Colorado) and safety Chris Badger (safety).
Roback transferred to Ohio U. less than two weeks into August practice in 2010. Badger enrolled at BYU after having served a two-year Mormon mission.
Decommits From Notre Dame (3): running back Giovani Bernard (North Carolina), defensive end/linebacker Chris Martin (Cal, then Florida, Navarro College, City College of San Francisco and Kansas) and defensive end Blake Lueders (Stanford).
The nomadic Martin originally committed to Charlie Weis at Notre Dame in February 2009 when he was only a high school junior, joined him later at Kansas but was kicked out of school for robbery.