Notre Dame's [Defensive] End Game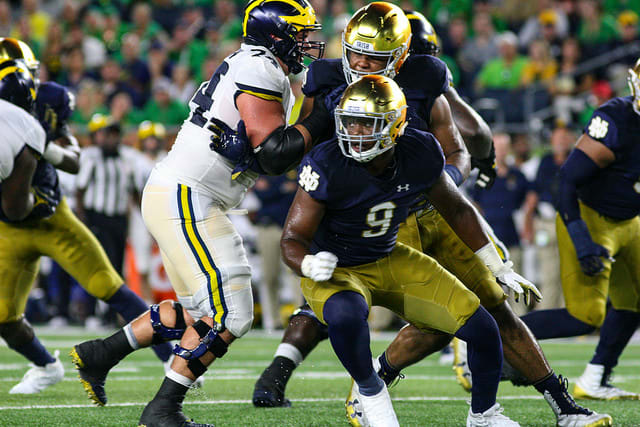 Remember not so long ago when Notre Dame's primary recruiting weakness was deemed to be the lack of premier edge players along the defensive line? The rangy figures in the 245-to-265-pound range with the quick twitch explosiveness and playmaking skills to disrupt quarterbacks?

Since the graduation of future Pro Bowl performer Justin Tuck after the 2004 season and the transfer of Aaron Lynch following his Freshman All-American campaign in 2011, finding, attracting and then admitting (or being able to) such standout game-changers has been a primary shortcoming. Part of it is because there aren't many of them, which is what makes them so coveted. Just ask the NFL.
And then 2016 arrived. In that recruiting harvest, Notre Dame finally landed "those type of guys we don't get," namely Michigan natives Khalid Kareem, who originally committed to Alabama, and Rivals five star prospect Daelin Hayes, whose first pledge was to USC. Also arriving were a third member from the Wolverine state in Ade Ogundeji, Julian Okwara — whose brother Romeo played at Notre Dame from 2012-15 and in 2018 led the Detroit Lions in sacks (7.5) — plus Jamir Jones.
That quintet enters their senior campaigns in 2019 with 240 career tackles , 48.5 for lost yardage, and 24.5 sacks.
"Tip of the spear," summarized Hayes following Tuesday morning's practice, the seventh this spring, of where the defensive line ranks on the 2019 Fighting Irish team. "That how we feel … It kind of lives and dies with us."
Just like the 2017 offensive line led by Quenton Nelson and Mike McGlinchey and the 2018 linebacker corps steered by Drue Tranquill and Te'von Coney, there is no position group on the 2019 unit that is stronger, deeper and more balanced than defensive end.
At drop end alone on Tuesday were Okwara — whose 21 quarterback hurries last season were easily the most at the school (Lynch had 14 in 2011) since it first began to keep that stat at the turn of the 21st century — Hayes, and sophomores Justin Ademilola and Ovie Oghoufu. The latter is yet another Michigan defensive end native whose violent and effective physicality during last weekend's practice could earn him some special teams work after redshirting last season.
At strong side end were 2018 13-game starter Kareem, Ogundeji, Jones and freshman NaNa Osofo-Mensah, with Hayes also having the skills to cross-train there when Kareem is out. (Junior Kofi Wardlow was not seen at Tuesday's session.)
"There's not enough reps for everybody at defensive end," said head coach Brian Kelly at the start of spring when asked about what he believes will be the team's strongest position group. . "You'd even look at can you redshirt somebody there (like Jones)? There's great depth there … It's going to be hard to get all those guys on the field. It's a great situation to have."
Even better for Hayes is that unlike in the spring of 2016 when he and Kareem were early enrollees in a season of tumult that would see defensive coordinator Brian VanGorder fired after a 1-3 start, the 2019 unit is a model of stability. This includes a third season in the same system, Clark Lea in his second year as coordinator after an impressive 2018 debut, and defensive line coach Mike Elston in his 10th year on the staff with Kelly.
"We're in a blessed position," said Hayes, who in his first two years had four different coordinators. "And this is our fourth spring. You're confident and you can play fast. You get a new defense or coordinator, it's like you're starting from scratch. When you're going into year three, it's like three years of building upon, like never missing a beat from camp to season to bowl prep to spring to camp.
"You can really focus in on the details since you have the general concepts down at this point."
Kareem and Okwara both contemplated turning pro at the end of their junior campaigns, and in 2020 could become the first bookend tandem at Notre Dame to be drafted in the same class in the top three rounds since Ross Browner and Willie Fry in 1978. Hayes, whose 72 career tackles (11.5 for loss) are the most among anyone on the 2019 defensive line roster, also possesses the skills to play at the next level.
As a former five-star recruit, Hayes admitted he first had to clear the hurdle of putting too much pressure on himself to justify such a standing. After overcoming a stinger injury last season, Hayes played his best and most productive football in the final month plus the College Football Playoff loss to Clemson.
"Daelin has settled into a really good spot," said Kelly near the end of last year, "where his focus is, 'Let me just be a really good football player and work on my craft,' and all that other stuff will take care of itself."
Hayes believes that is what allowed him to thrive in the latter part of 2018.
"This spring has been about details, being perfect, and not having to worry about the defense necessarily but just doing your job and doing it as best as you can with the most attention to detail that you possibly can do it," Hayes said. "Settling down and freeing myself of that burden of trying to be the big-play … just playing football and letting the game come to you is something I've been focused on this spring.
"Coach always talks about ownership. Whether it's going to be 15 plays, 60 plays, 30 plays, five plays, you know you're accountable to your teammates for the plays you are on the field," Hayes said.
After playing at about 250 pounds as a sophomore and approximately 263 as a junior, the 6-4 Hayes said his physical goal is to play at about a happy medium in between. As for the mental, it's about setting the right example.
"Doing what you're supposed to do all the time, because [young] guys are looking," Hayes said. "A young guy looking at you doing something probably you shouldn't do, then they're going to think that's okay. So you've got to be on top of yourself and accountable to yourself. Once you get confident yourself, you can move and expand to other guys."
The expansion at defensive end has been Exhibit A.