Notre Dame's Bye Week A Time To Heal ... And A Potential Sequel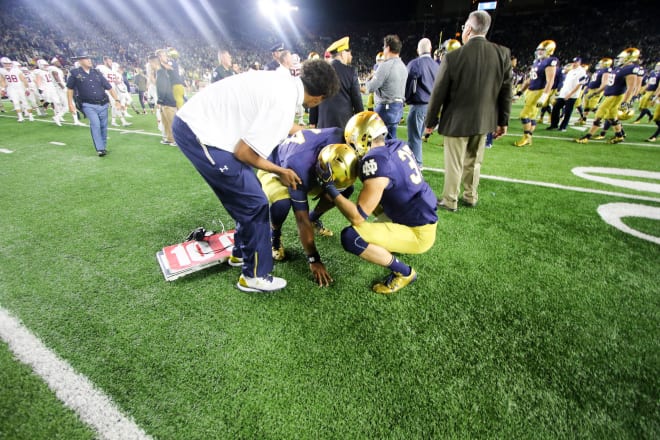 To quote the late Yogi Berra, Year 7 might be deja vu all over again for Notre Dame head coach Brian Kelly — or at least he hopes so.

Back in 2010, his first season with the Fighting Irish, Kelly's Fighting Irish were in a miserable funk, losing two games in a row (Navy and Tulsa) to drop to 4-5 on the season. The more recent of those losses saw Notre Dame drive to the shadow of the opponent's goal line, only to lose at the end.
The Irish entered the bye in tatters, with the worst maybe still projected to come. Upcoming opponents included No. 15 Utah, improved Army and a trip to USC, which owned a record tying eight straight wins over Notre Dame.
Instead, the Irish responded marvelously to finish 4-0, including a Sun Bowl win over Miami (the next foe this year).
Six seasons later, Kelly is experiencing similar misery with a 2-5 record, including consecutive losses, the latter again coming within the shadow of the opponent's goal line in the closing seconds. Miami, Army and USC are on the docket again, in addition to Navy and Virginia Tech.
The bye this week couldn't come at a better time again.
"I just want them to get away and then when they come back fully committed with a great attitude, ready to prepare and to get over this slide that we're in in terms of finishing out football games," Kelly said. "To be 2-5 and to out-score your opponents (212-194) has got to be one of the craziest stats in America.
"… Get away, avoid the noise as best you can, come back ready to go, reenergized, and ready to win every game that we play over the next five weeks."
That 2010 lost three games in the closing seconds or the final play, and the inability to finish the close games this year (all five losses were by seven point or less and came down to the final series) has been a maddening pattern as well.
"We understand that we're very, very capable of getting out of the hole that we're in," said senior left tackle/captain Mike McGlinchey. "We're all staying extremely positive. It's just a matter of finishing games …It's not a matter of talking about it anymore, there's nothing really much we can say. It's just about going down and executing when we needed to.
"Losing sucks, but we'll get back to it and it's about getting better. It's a personal pride and a team pride that we're not going to let this keep happening to us and we're going to get better and learn from this."
On one hand, McGlinchey wants to get right back to playing to get a win. On the other, he appreciates the time away the team will have because, like in recent years, it coincides with fall semester break and no classes. The team will practice this Monday and Tuesday morning before leaving for home and getting away from "the noise."

"It's a perfectly timed thing, but obviously you want to keep playing ball and get the bad taste out of your mouth," McGlinchey said. "Bye week or no bye week, we're all going to be working on our week off. That's not a worry about this team. It's just one of those things we're going to get the week off, we're going to recover a little bit and then we're going to be fresh for Miami.
"Sometimes when you're in a hard spot, you need to step back, evaluate, reset, and I think this week will be great for us to do that."
For an engineering major such as junior strong safety Drue Tranquill, the time off from classroom work also helps.
"This isn't something where you come and give your all for three of four months, see-you-around thing," Tranquill said. "We make a decision to play football at Notre Dame. We grind in the classroom, you're challenged academically, you're challenged mentally, physically, every aspect of your life, and to lose five games really hurts.
"You come to play football here you know you're not coming just to play football and have a free pass. You are challenged in all aspects of your life and I think Notre Dame brings out a certain excellence in anyone. …No one goes through life without going through hard times. There are peaks and valleys to everything."
He is also adamant that his teammates are not going through the motions.
"You think when you're 2-5 that guys are just going to be coming in to get through the day, but guys are coming in with so much energy, effort and enthusiasm," he said. "After three or four classes, guys are just excited to play football. We have a ton of guys who love the game of football, and that's what excites me and make me think we're going to come through this."
Senior wideout Torii Hunter Jr., another captain, is still thankful to get some time away.
"It's good to have a bye week whether you're winning or losing, just to decompress and get yourself back," he said. "You're in this grind, and it's different grind at Notre Dame. Guys are going to school, there are a lot of freshmen in that locker room who are going through the first semester freshman grind. It's good that we have our bye week aligned with the fall break. It's a weight lifted off of everybody's shoulders, and everybody really has more energy after they come off a break."
"This will be good for us," echoed senior Sam linebacker/captain James Onwualu. "Watch some film, mentally prepare for the next half of our season and get our bodies to where we want them."
It worked six years ago. How the sequel transpires is still to be written.
----
• Talk about it inside Rockne's Roundtable
• Subscribe to our podcast on iTunes
• Learn more about our print and digital publication, Blue & Gold Illustrated.
• Follow us on Twitter: @BGINews, @BGI_LouSomogyi, @BGI_CoachD,
@BGI_MattJones, @BGI_DMcKinney and @BGI_CoreyBodden.
• Like us on Facebook