Notre Dame's Adrian Dantley Honored As ACC Legend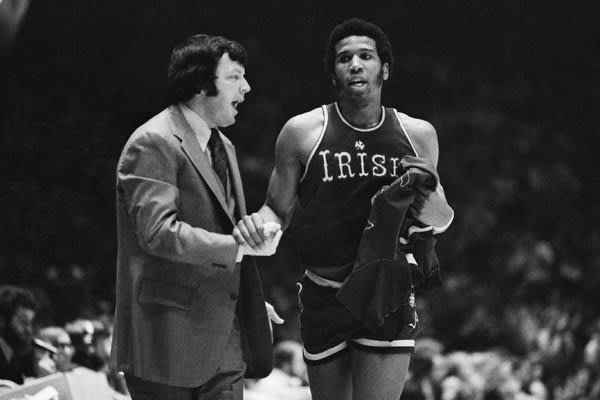 There was a brief moment of glory for Notre Dame during Friday night's 78-47 debacle against North Carolina in the semifinals of the ACC Tournament. At halftime, 1973-76 Fighting Irish forward Adrian Dantley was among the 15 players or coaches feted as an ACC Legend, joining other luminaries such as North Carolina's James Worthy, Duke's Jason Williams, Syracuse's Derrick Coleman and Louisville's Darrell Griffith.
There was a bit of awkwardness to Dantley's induction. Notre Dame wasn't a member of the ACC during his time, and in Dantley's three years with the program the Fighting Irish played an ACC foe only four times: a victory over Duke during his freshman year, and then three losses to Lefty Driesell's Maryland teams (one in the NCAA Tournament).
Be that as it may, Dantley was at least from ACC country while continuing Notre Dame's once tremendous recruiting pipeline from Washington, D.C.
"It wasn't hard to recruit me here," recalled Dantley, who turned 61 on Feb. 28, in an interview several years ago with BlueandGold.com. "I'm glad I came here. I think Notre Dame made me a successful person on and off the court."
It was almost like an arranged marriage. Dantley was an elite national recruit under coach Morgan Wootten at DeMatha High in Hyattsville, Md., while Notre Dame's basketball program was in its zenith thanks in great part to its D.C. pipeline that made the Irish top-10 caliber most of the time from 1968-81.
It began with Bob Whitmore, Austin Carr, Collis Jones and Sid Catlett in the 1960s under head coach John Dee, and continued under Digger Phelps in the 1970s with Dantley, Don "Duck" Williams, Tracy Jackson and Tom Sluby. The formation of the Big East conference in 1979, however, helped sever Notre Dame's gravy train in the nation's capital.
Today, the 2008 Naismith Basketball Hall of Fame inductee Dantley probably would be perceived as a "one and done" prospect. He did turn pro after his third season in 1976 — the year he led the United States to the Summer Olympics gold medal as its leading scorer — but at the time he was only six credit hours short from his degree. Keeping a promise to his family, the program and to himself, Dantley graduated with a degree in economics from the College of Business Administration in August 1978.
"That was a given," Dantley said of obtaining his degree. "Everybody expects anyone going to Notre Dame to graduate. Same way as it is now, that's the way it was [then]."
Former UCLA centers and basketball icons Kareem Abdul-Jabbar and Bill Walton raved about Dantley's resourcefulness and savvy on the court despite his lack of size. Former NBA teammate and current executive Joe Dumars lauded Dantley as the most disciplined player he has ever seen in the NBA, from his strict diet, to his unwavering workout regime, to handling himself in a professional manner. Thus, Dantley was not taken aback by Notre Dame's lack of a country-club ambiance.
"There wasn't too much social life — I don't really need that," he said. "It wasn't a partying school … it was a good fit for me."
Along with his basketball idol, Elgin Baylor, and Charles Barkley, Dantley ranked among the NBA's greatest with his inside presence despite a height that was listed at anywhere from 6-4 to 6-5, His head and shoulder fakes — the bread and butter of his repertoire — consistently flummoxed opponents and made him a fixture at the charity stripe. He still holds the Notre Dame record for free throws made (615) and retired fifth in that department in the NBA (6,832).
Yet, even in the NBA, prior to each free throw, he would recite his mantra from junior high that adept lip readers couldn't mistake: "Over the front rim, backspin, follow through." Fundamentals were not lip service; they were a way of life for Dantley.
In high school he was deemed roly-poly, and in college and the pros too small. A master psychologist on the court, Dantley often would play possum early by letting an opponent swat away his first shot to give him a false sense of confidence.
"At every level, guys thought they could block my shots," said Dantley, who led the NBA in scoring twice and four times in free throws made. "My goal was to get people into foul trouble. If you get two fouls on them early, either they're not going to guard you as tight or they'll bring in a sub who isn't as good."
Once Dantley had you in his web, he was merciless down low. Along the perimeter, the adept ball handler would sometimes deliberately dribble too high to tempt you into the steal. Once you took the bait, he would be like a locomotive driving by you toward the hoop.
His game was about remarkable, consistent, efficiency. He wasn't one to score 45 points one night and 15 the next. Game after game at Notre Dame, he would usually tally between 26 to 32 points while making about eight to 10 foul shots and pulling down nine to 11 rebounds. As a freshman for a 26-3, top-five team, he averaged 18.3 points per game. As a sophomore it was 30.4 and as a junior 28.6, all the while finishing his career with 56.2 percent shooting from the field and 80.0 percent from the foul line.
When he led the NBA in scoring in 1983-84 (30.6), he averaged 18.3 shots per game, one of the lowest figures ever. His 54.0 field goal percentage in the NBA ranks among the greatest among non-centers. Also not known to many was Dantley played with a special, customized shoe because one leg was shorter than the other.
While Dantley's basketball skills were a testament to maximizing his skills, he credits his family, DeMatha and Notre Dame for helping steer him on the right course. Although often described as relatively aloof and one with his share of feuds in the NBA, Dantley has been long comfortable in his own skin.
"I hope I was a good guy," he reflected. "The main thing my parents taught me was to do the right thing. I always tried to do the right thing when I was in high school, college, pros … I always took big pride in not embarrassing my family, not getting in any trouble, even though there were temptations out there.
"Just do the right thing, have good character, and everything will work out for you."