Notre Dame's 2021 Recruiting Class Starts Up Front
Don't get me wrong, the quarterback position is the most important player on the field.
And Notre Dame has a darn good one committed in the 2021 class. San Diego Helix quarterback Tyler Buchner pledged to the Irish last spring, and he became a household name after accounting for 81 touchdowns and 6,084 yards across 13 games in 2019.
Having a dual-threat quarterback like Buchner helps hide any deficiencies on an offensive line unit, but having a strong group up front makes a quarterback's life a whole lot easier.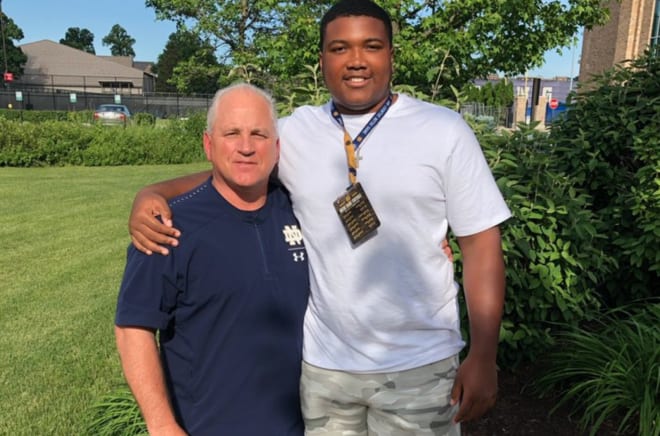 Notre Dame has a couple of commitments from big-time offensive linemen in the 2021 class to protect Buchner.
Avon (Ind.) High offensive lineman Blake Fisher picked the Irish last fall over Alabama, Georgia, LSU, Michigan, Ohio State, Oklahoma and many others. Rivals ranks the 6-6, 330-pounder as top recruit in the state of Indiana, and the No. 3 offensive tackle and No. 20 overall prospect in the country.
"I think he can be an elite tackle, and I think he could be a guard, honestly," Avon offensive line coach Jared Johnson previously told BlueandGold.com about Fisher. "If there's a need, they can move him around, I'm sure. I think he's going to be a potential All-American type player. I played at Purdue with some guys who went on to the NFL, and he's exceeded them. I'm so excited for his future."
"Notre Dame is off to a strong start along both lines, and it all starts with Blake Fisher, who reminds me of a more polished Mekhi Becton [an offensive lineman from Louisville who is a projected as a first-round pick in the 2020 NFL Draft] coming out of high school," Rivals national recruiting director Mike Farrell said. "He's a massive kid with good feet and athleticism."
The moment Notre Dame offered Chicago Marist offensive lineman Pat Coogan on March 26, Fisher started working on the 6-5, 275-pounder to join him in South Bend.
Coogan picked the Irish over LSU, Michigan, Ohio State, Oklahoma, Oregon, Stanford, Tennessee and many others.
"Coogan's value is amplified by his versatility," Rivals.com Midwest analyst Josh Helmholdt said. "We evaluate prospects on their individual abilities, but when you consider him among an offensive line group where he can effectively play all five positions and plug in wherever there is greatest need, his value rises. When this 2021 class is signed, sealed and delivered, Coogan's presence makes it a more versatile unit."
What is just as important as protecting the passer? Getting after the opponent's quarterback.
In his 10 years at Notre Dame, defensive line coach Mike Elston has been a stellar recruiter, and his position groups have been outstanding, and he continues to recruit at a high level.
Notre Dame has two defensive line commits, highlighted by St. Peters (Mo.) Lutheran of St. Charles defensive tackle Gabriel Rubio, who held offers from Georgia, LSU, Ohio State, Oklahoma, Texas A&M and others before picking the Irish.
Rivals ranks the 6-5, 280-pounder as the No. 8 defensive tackle and No. 99 overall prospect nationally. Rubio has the size, ability and incredible work ethic to become a dominant interior defensive lineman for the Fighting Irish. His bloodline is impressive, too.
Rubio's father, Angel, was a seventh-round draft pick of the Pittsburgh Steelers in 1998 and spent two years in the NFL, bouncing around between five teams before carving out a five-year career in the old XFL and Arena Football League.

Rubio is a longtime Irish pledge, giving Notre Dame his verbal last summer, while Mansfield (Texas) Legacy edge rusher David Abiara committed on March 27.
Elston visited Abiara's school on Jan. 23 and extended an offer to him that day. A week later, Abiara visited campus and loved everything about his experience in South Bend, and it was only a matter of time before he'd commit to Notre Dame.
Abiara picked Notre Dame over Alabama, LSU, Oklahoma and many others. At 6-4, 240 pounds, Abiara could play strong-side end or vyper depending on how he develops.
"I just tell coaches he's an edge player," Legacy head coach Chris Melson said. "He's someone off the edge in a five-technique; I don't really talk about strong side or weak side. You just get this guy on the field where he fits your scheme the best and let him go."
Notre Dame has eight commits in the 2021 class, which ranks No. 5 in the land per Rivals. Four of those commits are up front, and there is a lot of reason to be excited about these prospects in the trenches.
"Notre Dame has a very good offensive line tradition in recent years so that has helped, but I think the key is the defensive line, and they have a couple of hard-nosed kids with great motors in the class already," Farrell added.