Notre Dame's 2019 Saturday Night Fever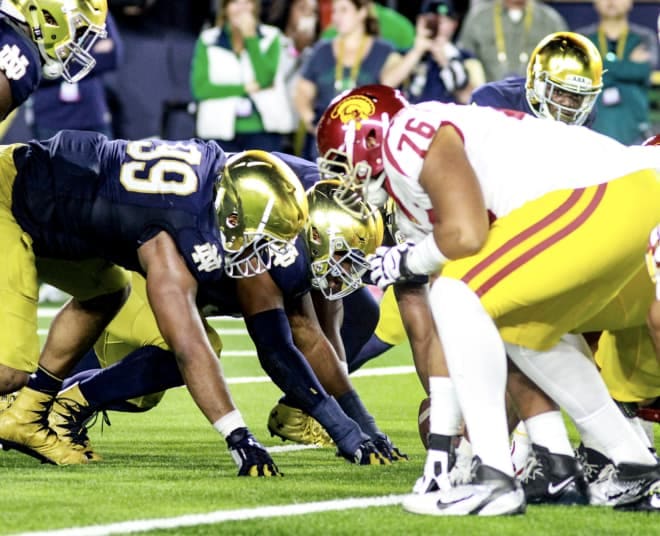 There are at least two impressive winning streaks for Notre Dame heading into the 2019 season.
One, the 11 consecutive victories at home are the third longest since the opening of Notre Dame Stadium in 1930, behind only the 28 from 1942-50 and 19 from 1987-90. The Fighting Irish host seven games this year as they attempt to up the mark to 18.
The second is after going 7-0 last season in night games — four on the road and three at home — Notre Dame needs four more wins in a row under the lights to tie the school record of 11 in a row set during a 10-year period from 1973-82.
The seven regular season night games last season were a Notre Dame school record, but this year the maximum would be six. That's because after playing three night games at home last season, only one of the seven this year will be under the lights: USC on Oct. 12. All five road games could be at night, and the lone exception most likely would be at Duke on Nov. 9, which will be telecast by the ACC Network.
Notre Dame's night history can almost be divided into two eras — the 35-year pre-Lou Holtz era from 1951-85, and the 33 years since Holtz took the reins in 1986.
It was under Holtz that multiple night games in a season became standard at Notre Dame to woo a prime time audience, especially on growing cable outlets, eventually prompting the exclusive NBC contract for home games that began with the 1991 season.
In the 35 years from 1951-85, Notre Dame was 21-6-1 (.768) in night games.
In the 11 years under Holtz alone (1986-96), the Irish were an almost identical 20-6-1 (.759).
Meanwhile of the 116 games coach by current head coach Brian Kelly, 50 have been at night, or 43.1 percent
Here's a breakdown of each Notre Dame head coach's record at night, which adds up to 89-50-2 (.638).
Frank Leahy — 1-0
Notre Dame's first night game was a 40-6 Irish victory against Detroit on Oct. 5, 1951 in Briggs Stadium.
Terry Brennan — 1-1
The Irish won at Miami in 1955 but lost the 1956 opener at SMU, 19-13, the start of a 2-8 season.
Joe Kuharich — 0-1
During another 2-8 season in 1960, the Irish lost 28-21 at Miami.
Ara Parseghian — 10-2-1
The greatest Notre Dame night game — or perhaps any game for the Fighting Irish — was the 24-23 victory against No. 1 Alabama in the Sugar Bowl on Dec. 31, 1973, to win the national title.
The Irish also upset No. 1 Alabama in the Orange Bowl the following year, 13-11, in Parseghian's final game, leaving him with a five-game winning streak at night.
Dan Devine — 5-0

His Irish career began with a 17-3 Monday night victory at Boston College in 1975.
Gerry Faust — 4-2
The 1982 campaign opened with a 23-17 victory at home versus No. 10 Michigan on Sept. 18, the first ever night game at Notre Dame.
Lou Holtz — 20-6-1
Among the highlights were defeating No. 1 Colorado (21-6) in the 1990 Orange Bowl, and No. 3 Florida (39-28) in the 1992 Sugar Bowl.
The 1988 national title campaign began with a pulsating 19-17 win versus Michigan at home, and in 1990 the Irish began regularly playing USC at night in the Los Angeles Coliseum.
Bob Davie — 2-9
Davie won his first night game, 23-22 at Hawaii on Nov. 29, 1997, and his last, 24-18 at Purdue on Dec. 1, 2001, the day before he was fired. In between he lost a school record nine in a row.
Ty Willingham — 5-4
Willingham himself was 5-3, because the 2004 finale, a 38-21 loss to Oregon State in the Insight.com Bowl, had defensive coordinator Kent Baer as the interim coach.
Charlie Weis — 9-7
Like Devine, Weis opened his Notre Dame career with a road victory at night, at Pitt (42-21) on Sept. 3, 2005. He opened 4-0 at night, but closed 4-7 — with his finale also coming at night, a 45-38 loss at Stanford on Nov. 28, 2009.
Brian Kelly — 32-18
Kelly is currently on the aforementioned seven-game winning streak at night.
Notable Data:
• Notre Dame's longest winning streak in night games is 11, beginning with an Oct. 13, 1973 win at Rice and concluding with a Sept. 24, 1983 shutout at Miami (20-0), which went on to win its first national title.
• The longest losing streak, as mentioned, is nine under Davie.
• The largest margin of victory at night was 57-7 at Stanford on Nov. 29, 2004, when Willingham poured it on his former employer.
• The largest margin of defeat was 38-3 at USC on Nov. 29, 2008, eking out the Jan. 1, 1973 Orange Bowl to Nebraska (40-6) — which would inspire the Irish to win the national title the next year under Parseghian.
• Notre Dame is 6-8 at night in bowls, where it has a six-game losing streak and has not won since the 39-28 conquest of Florida in the 1992 Sugar Bowl.