Notre Dame Preps For Another Final Four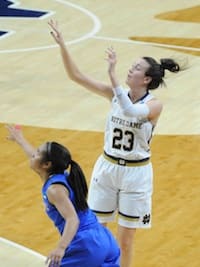 If a movie title (but not necessarily theme) could be applied to the women's NCAA Basketball Tournament, it's "Same Time Next Year."
In each of the past four years, Notre Dame and Connecticut have met in the Final Four. The Irish upset the Huskies in the 2011 (72-63) and 2012 (83-75 in overtime) semifinals, only to lose to Texas A&M and Baylor, respectively, in the title game.
However, in the last two seasons Connecticut dominated, winning 83-65 in the 2013 semifinal to snap a four-game losing streak to Notre Dame. Then in a first-ever battle of unbeatens last year in the championship game, the Huskies recorded a 79-58 victory while Irish star center Natalie Achonwa was sidelined because of a knee injury.
Notre Dame (35-2) is in its fifth consecutive Final Four while UConn (35-1) is in its eighth straight. Maryland (34-2), the 2006 champ, also has a repeat appearance from last year. Only South Carolina (34-2) is the newcomer, but it too was a No. 1 seed in its region. This marked only the third time since the women's NCAA Tournament began in 1982 that all four top seeds advanced to the Final Four.
An early 21.5-point favorite over Maryland on Sunday night, UConn's dynasty is the overwhelming pick to capture its third straight national title and 10th overall under head coach Geno Auriemma, who is 9-0 in title games. (Notre Dame defeated Maryland 92-72 on Dec. 3, but the Terrapins have won 28 straight since then.)
Meanwhile, Notre Dame is a 3.5-point favorite over South Carolina in the opening semifinal Easter Sunday (6:30 p.m. ET on ESPN) in Tampa, Fla., meaning the possibility of a fifth straight Final Four clash by the game's top two powers. For Notre Dame head coach Muffet McGraw, she's somewhat amazed that a unit that lost three starters from last season, does not start a senior year this year and leans heavily on two sophomores (forward Taya Reimer and point guard Lindsay Allen) and two freshmen (center Brianna Turner and forward Kathryn Westbeld) has come this far.
"Of all those five [straight Final Fours], this team has improved the most," McGraw said of the current Irish 21-game winning streak. "For them to get it together, it's been really fun to watch."
Last year, the Irish were expected to reach the championship game while posting a 37-0 ledger, which sometimes made victory more a relief than joy. This season, with UConn the easy pick to win it all, McGraw senses less tightness.
"There is a looser feel," she said. "I think we're enjoying it a little bit more. Maybe not having the pressure to try to win it for somebody and just play our game and have fun. I think maybe that's going to make us a little bit better and hopefully we'll enjoy it.
"They play so much better when they're loose, which is hard for me because I've got to be a lot more patient and a lot more forgiving for what's going on the floor at the time. I think we're trying to make it less complicated. I don't think we're trying to do too many different things, too many new things. We're trying to do what we've done all year and been successful with, and hopefully that makes it easier for them."
South Carolina is in new territory as an upper-tier team, and it struggled against both North Carolina and Florida State in the Greensboro Regional before pulling off 67-65 and 80-74 victories. The Irish bested both by double digits on the road. Notre Dame's tournament experience and success might provide an edge, but the Gamecocks go nine deep and have excellent size with 6-5 freshman A'ja Wilson, last year's McDonald's Player of the Year (while Notre Dame's Turner was the Gatorade Player of the Year); 6-4 Alaina Coates; and 6-4 Elan Ibiam.
If the Irish do advance, they can take solace in knowing Connecticut's lineup won't be any taller.
"I don't think we match up very well," McGraw said of South Carolina's length. "They are so strong in the post and their depth … they don't have to worry about foul trouble because they have so many people on the bench. They can really go out and pressure as long as they're in the game."
Yet for all the size possessed by South Carolina, its best player is dynamic 5-9 guard Tiffany Mitchell, who joined Notre Dame's Jewell Loyd as a first-team All-American this season after both also were WBCA All-Americans last year as sophomores. Mitchell leads the Gamecocks in both scoring (14.5 points per game) and assists, while shooting 50.1 percent from the floor. Wilson's 12.9 scoring average is second on the team, while Coates is third with an 11.1 figure.
Especially gratifying to McGraw has been not having to rely on Loyd like the Irish did the first couple of months to bail them out. Six different players have had at least one 20-point effort, including senior reserve Madison Cable. McGraw said Reimer has been the team's most consistent player the past couple of months. Turner is providing help on both ends of the floor. Junior guard Michaela Mabrey has found her shooting form, scoring a team-high 19 points in the second-round win over DePaul and tallying 14 crucial first-half points versus Baylor in the Elite Eight. Finally, Allen was the Oklahoma City Regional MVP after scorching the nets for 28 points against Stanford and 23 more versus Baylor.
"We've relied on our All-Americans in years past, and I feel like this year everybody that's in the game can contribute," McGraw said.