Notre Dame officially names Marcus Freeman head coach
The wait for the inevitable final step is over.
Notre Dame announced Marcus Freeman as its head coach Friday, the foregone conclusion since news trickled out Wednesday night that the Irish had made him their choice and were in the final stages of working out a contract.
All the minutiae are complete. Freeman, 35, is officially the 32nd head coach in program history (30th if excluding 2004 interim Kent Baer and the brief 2001 hire of George O'Leary) and will be introduced at a press conference Monday at 2 p.m. His contract terms were not disclosed in the Friday announcement of his hiring.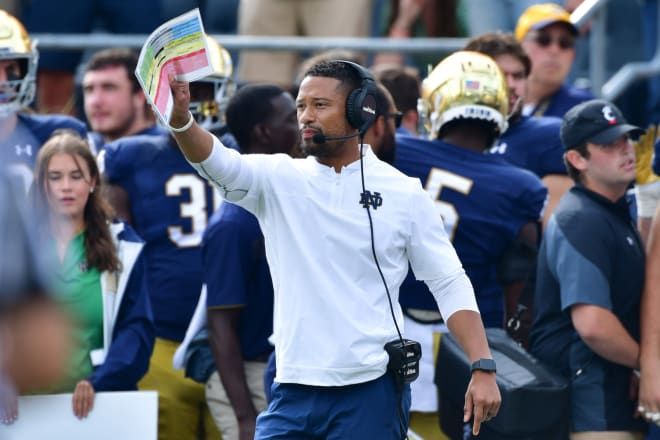 Freeman was elevated into the position after spending one season as the team's defensive coordinator. Before that, he spent four years in the same role at Cincinnati and led one of the country's best defenses for three straight years. He replaces Brian Kelly, who left for LSU Nov. 29 after 12 years in charge. Not 48 hours later, it became clear Notre Dame had settled on Freeman.
Freeman won't have to fill out an entire staff. The same day news of Freeman first went public, offensive coordinator Tommy Rees stated his intentions to remain with the program. Several others followed suit. Coaches don't do that without some idea of who they'd be working under — a further indication Freeman was the choice.

Keeping Rees was also a key component of Freeman's appeal. Freeman wouldn't need to start over and find a new offensive direction. Instead, he keeps intact much of the non-Kelly structure that was behind this year's 11-1 record and post-2016 reboot. Without the need to reset, his immediate goal becomes continuing the success and taking the final steps toward winning a national title.
In Freeman's one year as coordinator, Notre Dame's defense finished 11th nationally in scoring (18.3 points per game), 33rd in yards per play (5.14), 20th in opponent third-down conversion rate (33.14 percent), fourth in red-zone touchdown percentage (36.84) and seventh in sacks (40). The 40 sacks are Notre Dame's most since 1996.
Freeman is the youngest head coach Notre Dame has hired since 26-year-old Terry Brennan in 1954. He is the third Notre Dame head coach to have been previously selected in the NFL Draft and first since Ara Parseghian in 1947. He was a 2009 fifth-round pick of the Chicago Bears and played one season in the pros. The Huber Heights, Ohio, native played linebacker at Ohio State.
Freeman's first game as head coach will be the Irish's postseason contest this year. The team will learn its bowl destination and College Football Playoff fate on Sunday.