Notre Dame offers 2024 recruit Bryce Young, son of Bryant Young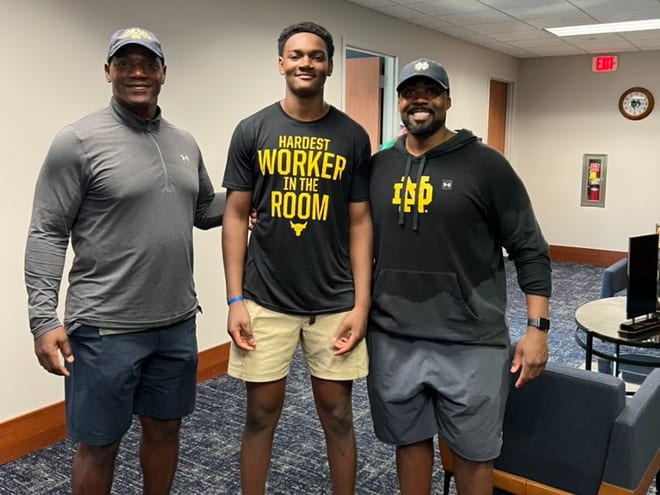 Former Notre Dame All-America defensive tackle Bryant Young roamed the sidelines of the practice fields at his alma mater Sunday.
His son, Bryce, participated in the Sunday Night Football camp hosted by Notre Dame.The Irish didn't let the 2024 recruit leave campus before receiving a scholarship offer.
Bryce Young, a rising junior at Charlotte (N.C.) Christian, worked out with the defensive linemen during Saturday's camp while being instructed by defensive line coach Al Washington.
The 6-foot-4, 215-pound recruit impressed with his agility skills and suddenness. Bryce Young possesses a body frame that should continue to develop in the coming years.
Notre Dame became the first school to offer Bryce Young, who played outside linebacker and wide receiver as a sophomore. The Irish offer should put him on the radar of more programs in the coming months with an important junior season ahead.
"He has good size, long arms, quick feet and is a good all-around athlete," said Prep Football Report recruiting analyst Tom Lemming. "He's a guy when you look at his frame, he'll be 250 by the time he leaves high school."
Bryant Young was elected to the Pro Football Hall of Fame earlier this year for his career with the San Francisco 49ers. He was the No. 7 overall pick in the 1994 NFL Draft following his Notre Dame career. He started three seasons as a defensive tackle for the Irish and capped his career with All-America honors as a senior captain in 1993.