Notre Dame Notebook: Blue-Gold Game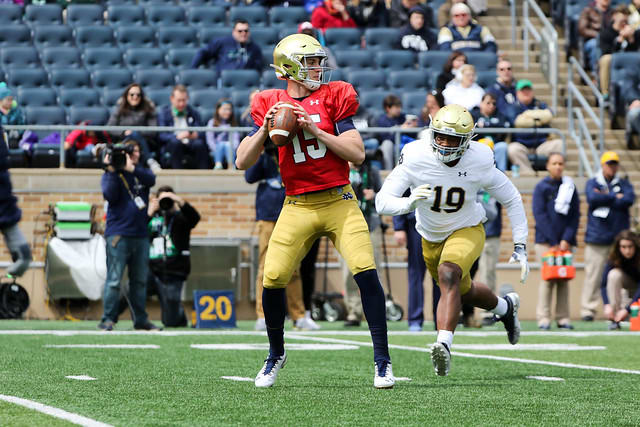 There was an extremely simple analysis from head coach Brian Kelly about the 2019 Notre Dame offense based on Saturday's Blue-Gold Game.
"The offense was efficient when our first group was in there," Kelly summarized. "And then when our second group was in there, we weren't quite as efficient."
Starting quarterback Ian Book ran six series in the first half and four of them resulted in touchdowns. His lone series in the second half saw the offense march 67 yards before getting stopped on fourth down at the defense's eight-yard line. One first half drive was halted when junior running back Jafar Armstrong lost a fumble after gaining 22 yards on a completion from Book.
Going mainly against the top defense, Book completed 16 of 21 passes for 220 yards, one touchdown and was "touch-sacked" three times, although he still had a net of five yards rushing. His QB rating in the college system was 179.0.
Sophomore Phil Jurkovec saw the bulk of action versus the No. 2 defense, even with the ones on a couple of occasion, but had a much rougher time — most notably getting sacked 12 times that resulted in minus-71 yards rushing. As a passer he was 15 of 26 for 135 yards, no touchdowns, no interceptions, and finished with a more modest 101.4 rating.
"He's still cooking, he's still growing," said Kelly of Jurkovec. "There are a lot of things he learned today about recognition of when the ball needs to come out of his hand and a clock in his head, so to speak. Getting in a game like this really helps him in that awareness. I think he will learn a lot from today's experience about awareness.
"Sometimes when you're a quarterback you get too locked into progressions. He's got to get the ball out of his hands and take some one-on-one matchups when he gets them as well. That will come. It's just a matter of time."
In the post-game interviews, Jurkovec was extremely hard on himself and clearly agitated with his performance, and Kelly believes that his competitiveness might be getting the better of him on occasion.
"Quarterback is a position where everybody wants to see them ascend to this position immediately," Kelly said. "He's like that as well. He wants to see it happen, but it's gotta take some time for him and he's got to understand that too. He's pushing himself a little too hard, he's a little too hard on himself. You can see that ...He's got too much going on right now.
"He's just got to get the ball out of his hand and make it simpler. The game's a little too hard for him right now … He never played like that in high school. He made it simple, and he's making this game way too hard. It will come. He'll wake up one day and it will be a lot simpler for him. … We'll get him to the point where it's simple."
As for Book, he demonstrated why he is the starter after helping lead the Fighting Irish to the four-team College Football Playoff last year.
"I thought he had complete control of our offense … was very assertive," Kelly said. "I think what I liked most was some of things he struggled last year with was getting lost in the pocket — meaning taking himself out of throws. The touchdown throw he made to (Michael Young) was indicative of the progress he's made this spring, where he slid, bought time in the pocket … those are the kind of throws that separate good players from great players. I've had some great quarterbacks in the red zone — that's what you're required to do, and I thought he did.
"I really like the pieces that are coming together offensively. We can throw, we can run it, the quarterback is really good, we've got explosive playmakers, the offensive line is going to be a really good unit. All the pieces are there. We've got more work to do."

Defensive End Dominance

The veteran-laden defensive end position is considered the team strength the way the left side of the offensive line was in 2017 or the inside linebacker corps was last season. In the Blue-Gold Game, seven different ends were credited with 10 sacks.
The next step for senior starters Julian Okwara and Khalid Kareem, both of whom contemplated turning pro, is finishing and polishing.
"We put together a highlight video for Julian where he had 27 missed sacks last year," Kelly noted. "If he just [makes] half of those, he leads the country in sacks. So finishing for Julian, plays where he can be the leading sack guy in the country. He can be a menace to teams. We want that.
"Khalid, just cleaning up his overall game in all areas, just the little things. Lined up off-sides. He's a dedicated player ... He's a guy that can do a lot for us, in the run game and the pass game."
Personnel Notes
• Junior Josh Lugg has been designated as "the Swiss Army Knife" along the offensive line by Kelly, or the ultimate "sixth man."
"He can play center, he can play guard, he can play tackle for us," Kelly said. "Lugg's that guy. [Fifth-year senior Trevor] Ruhland is a guy we have as well. They give us some flexibility. What we'd like to see is maybe the development of one of those freshman tackles to see how maybe they can fit in there."
• Kelly sounded cryptic about the future of senior wideout Javon McKinley, who was temporarily suspended for an off-campus incident this winter but began practicing with the team again later this spring. He has no career receptions but was targeted numerous times in the spring game, finishing with one catch for 13 yards. Cracking the two deep will be a challenge.
"We targeted him on purpose," Kelly said. "We're clearly trying to figure out what he can do. He's been here too long for us to still have a question mark about him, We're going through our exit interviews, we'll evaluate his performance and make some decisions. We're going to re-evaluate his status at the end of spring."
• In 2017 and 2018, the team captains were already designated prior spring practice, although another was also added afterwards each time. This year, Kelly said he and the staff want to do more evaluations.
"Guys are doing a nice job, but we need some more situational kind of scenarios for our guys to lead through," he said. "I want to see some more times where our guys are put into some different situations through the summer. We'll do some more leadership work with them now that we have some more time with them, and we'll have some time in June. They just need a little more seasoning.
"This is a different team and a different group of guys. We probably won't announce captains until we get into camp."
Home Kickoff Times
Kickoff times on NBC were announced at the Blue-Gold Game, and this year there will by only one night game at home after having three last season.
Sept. 14: New Mexico — 2:30 p.m. ET
Sept. 28: Virginia — 3:30 p.m. ET
Oct. 5: Bowling Green — 3:30 p.m. ET
Oct. 12: USC — 7:30 p.m. ET — This also will be the Irish Wear Green contest, with fans encouraged to don green.
Nov. 2: Virginia Tech — 2:30 p.m. ET
Nov. 16: Navy — 2:30 p.m. ET
Nov. 23: Boston College — 2:30 p.m. ET