Notre Dame-Navy: It's About Time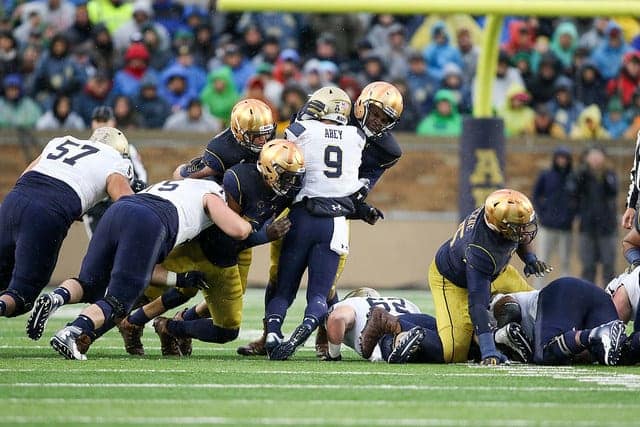 The Notre Dame-Navy series saw the Fighting Irish record an NCAA-record 43 consecutive victories from 1964-2006.

Since 2007, however, the Midshipmen have registered four victories against the Fighting Irish, most recently in 2016 (28-27).
They also have taken Notre Dame to the wall several other times before losing by scores such as 27-21 (2008), 38-34 (2013), 49‑39 (2014) and 24-17 (2017).
"They've given us all that we can handle year in and year out," Notre Dame head coach Brian Kelly summarized.
That's not quite 100 percent accurate through Kelly's first eight seasons. The Irish exploded to early leads in both 2011 and 2012 en route to 56-14 and 50-10 romps over the Midshipmen.
In 2015, the year Navy finished 11-2 and had its best placement in the final polls since 1963, the game was tied at 21 before Justin Yoon's 52-yard field goal as the first half expired put the Irish ahead for good. An injury to star Midshipmen quarterback Keenan Reynolds and three Navy turnovers helped Notre Dame cruise to a 41-24 win.
If the outcome in this series was predicated solely on recruiting "star rankings," Notre Dame would be a likely five- to six-touchdown favorite every year. The 2014 and 2015 Navy recruiting classes were not ranked among Rivals' top 100, while 2016 was No. 88, 2017 was tied for No. 76 and this past winter it was No. 88.
However, this game is not necessarily about talent; it is about time — and preparation — for Navy's confounding triple-option attack.
One year after coming off the 28‑27 loss to Navy in 2016, the 8-2 Fighting Irish trailed 17-10 against the Midshipmen last November midway through the third quarter before rallying for a 24-17 victory on 30- and nine-yard touchdown passes from Brandon Wimbush to Kevin Stepherson. Notre Dame clinched the victory when it forced a Navy incomplete pass on fourth-and-five from the Irish 25-yard line with 1:25 remaining.
Navy possessed the ball 42:42 to Notre Dame's 17:18 — which is believed to be a school record for the fewest minutes the Irish ever had the ball in a game. They did amass 327 total yards (164 rushing and 163 passing) on those seven series.
In 2016, amid Navy's 28-27 victory:
• Notre Dame had only six possessions in the contest (on average a team will have at least 12, or three per quarter). According to research by the NCAA, that was the fewest by a Football Bowl Subdivision team since Nov. 25, 2008, when Northern Illinois also had only six versus — who else? — Navy.
• The Irish had merely one possession apiece in the third quarter (a touchdown drive that lasted 5:17) and in the fourth quarter (a field goal march that took 4:29).
• After Notre Dame converted that field goal to cut the deficit to 28‑27 with 7:28 remaining, Navy ran out the clock on the game's final series following the Irish kickoff. On the previous Midshipmen possession, it had used exactly 9:00 on its touchdown drive to take a 28-24 lead.
There is an enormous disparity in NFL talent level between the two teams, but the Navy scheme keeps it competitive and makes it a tough out.
"There has to be an incredible sense of urgency on the offensive side of the ball by maximizing possessions — quite frankly every snap — because you just don't know how many possessions that you will, in fact, get," Kelly said.
The current 2-5 Midshipmen are hardly the vintage variety, but the two absolutes about Navy football this century have been it will rank among the nation's top five — if not No. 1 — in rushing offense, and there will be an emphasis on playing "keep away" while milking the clock with each possession.
Through those five games, Navy's 309.4 rushing yards per game average was No. 3 nationally, while gaining 5.1 yards per rush — both of which actually are substandard to them.
Second, the Midshipmen are fourth in the country in time of possession with 35:37 compared to the opposition's 24:23.
A primary problem for Navy this year has been settling on one "option" at quarterback.
• Zach Abey rushed for 1,413 yards and 19 touchdowns last season, but he has been used solely in short-yardage or goal-line situations this year, carrying 21 times for 42 yards and a team-high eight touchdowns.
• Malcolm Perry replaced an injured Abey last year while moving from slot back and was highly productive. He leads the team in rushing this year with 729 yards on 127 carries, but he is listed again at slot back.
• Senior Garrett Lewis has been listed as the top quarterback, but his 69 carries this year have averaged only 3.5 yards, and he is 24-of-50 passing for 346 yards with two scores and an interception.
To help prepare for all three, Kelly has employed 5-10, 170-pound freshman wideout Lawrence Keys to simulate, relatively speaking, the 5-9, 185-pound Perry, and the 6-4½, 220-pound freshman quarterback Phil Jurkovec to help mirror the more robust 6-2, 212-pound Abey.
As for the 6-1, 200-pound Lewis, Kelly noted that 6-2, 205-pound freshman walk-on receiver Leo Albano is taking the snaps for the scout team because he best resembles Lewis' style and dimensions.
"We spent a lot of time with that scout team outside of this week just working on the mechanics of it in the spring, preseason, so when we get into this it's run effectively, to the level it can be," Kelly said. "It's never going to be as effective. You're never going to play with the kind of speed that you need to … we could use a couple more weeks [of preparation]."
With Navy, it comes back to having time, one way or another.