Notre Dame-Michigan State: Top Five Moments For Fighting Irish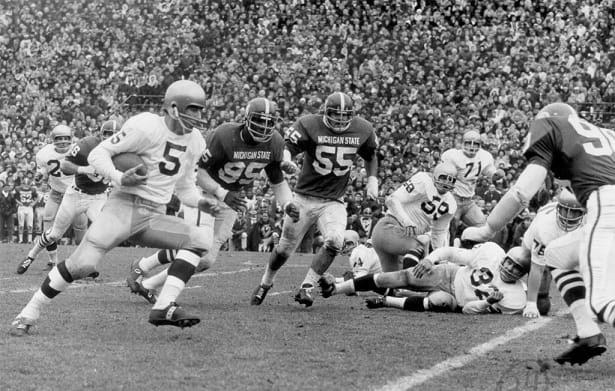 This Saturday will mark the 78th meeting between No. 18 Notre Dame and No. 12 Michigan State, with the Irish holding a 48-28-1 advantage in the series. The most recent meeting was a 17-13 victory by the No. 22 Fighting Irish against unranked Michigan State at Notre Dame in 2013. The Spartans would go on to finish 13-1 and No. 3 in the country.
At the time it might not have been as memorable a victory, but in retrospect it ranks as one of the best in head coach Brian Kelly's seven years at the university. From our perspective, here are the top five Notre Dame moments versus the Spartans.
1. Nov. 19, 1966: Notre Dame 10, Michigan State 10
The epic No. 1 vs. No. 2 clash in East Lansing (more on that later this week) yielded an unfulfilling result at the time, but it helped secure a stranglehold on head coach Ara Parseghian's first consensus national title. Seldom in football history was there as much NFL talent on a college field, from difference-making defensive linemen such as Alan Page (Notre Dame) and Bubba Smith (Michigan State) to game-breaking receivers such as Gene Washington (MSU) and Jim Seymour (Notre Dame).
Early in the first quarter, quarterback Terry Hanratty was sidelined with a shoulder injury administered by Smith, and running back Nick Eddy (third in the Heisman) already had been shelved prior to the game with an injury. Center George Goeddeke and running back Bob Gladieux (replacing Eddy) also were lost during the course of the game … yet the Irish were able to rally from a 10-0 hole on the road to knot the game, and only a missed Notre Dame field goal midway through the fourth quarter prevented victory.
With diabetic sophomore QB Coley O'Brien in the lineup, a 34-yard scoring pass to reserve Gladieux right before the half provided new life, and a valiant defensive effort blocked all paths for the Spartans. Critics piled on Parseghian for playing not to lose at the end when the Irish received the ball at their 30 with 1:24 left. Of course, Michigan State punted on fourth-and-four from its 36 probably realizing it wouldn't get the ball back, so an argument can be made that they too played not to lose.
Nevertheless, whereas No. 2 Michigan State's season was finished, vindication came the next week for still No. 1 Notre Dame with a 51-0 victory at Pac-8 champ USC to clinch No. 1. In the final balloting, Notre Dame received 41 first-place votes, Michigan State eight and Alabama seven.
2. Sept. 21, 2002: Notre Dame 21, Michigan State 17
The amazing first season of head coach Tyrone Willingham continued when the No. 12 Irish rallied to defeat Michigan State in East Lansing, 21-17. It also snapped a five-year losing streak to the Spartans from 1997-2001.
After falling behind 17-14 with 1:45 remaining, walk-on Irish quarterback Pat Dillingham, in place of the injured Carlyle Holiday, connected on a short sight adjustment route with Arnaz Battle. The former quarterback then used a downfield block of another ex-quarterback, tight end Gary Godsey, and turned it into a 60-yard touchdown with 1:15 remaining.
A year after a 5-6 finish that led to the ouster of head coach Bob Davie, the 4-0 Irish moved up to No. 9, and Willingham's debut elicited comparison to Parseghian's Camelot-like first-year campaign at Notre Dame in 1964.
Sports Illustrated featured Notre Dame freshman wide receiver Maurice Stovall on the cover catching a touchdown pass from Holiday. Included on the front cover is the headline, "What A Difference A Coach Makes!"
3. Sept. 22, 1990: Notre Dame 20, Michigan State 19
For the first time in 24 years, the Irish entered Spartan Stadium ranked No. 1, and once again fall behind by double digits, 19-7.
After reducing the deficit to 19-14, Notre Dame was at the Spartan 26 with less than a minute left when sophomore quarterback Rick Mirer rolled out and fired a bullet toward the goal line — where Michigan State's Todd Murray was waiting for it.
The ball bounced off the chest of Murray, ricocheted straight up, and fell into the hands of a diving Irish wideout Adrian Jarrell for a 24-yard gain that set up Rodney Culver's game-winning run with only 34 seconds remaining.

4. Sept, 19, 1987: Notre Dame 31, Michigan State 8
This was the ultimate "two-minute drill" — or 2:01 to be exact. In that span during the first quarter, senior flanker Tim Brown returned Michigan State punts for 71- and 66-yard touchdowns for a 19-0 lead en route to a 31-8 victory over that year's Rose Bowl champions. It marked the first time in 14 years and 157 games an Irish player returned a punt for a score.
Notre Dame had the quickest score in its history — one never to be broken — when Michigan State's Blake Ezor fielded the opening kickoff at his one, and then stepped back to the goal line to down the ball. It was a safety for the Irish before a second even ticked away. Following a Ted Gradel field goal, Brown then fielded consecutive punts from future Pro Bowl performer Greg Montgomery that resulted in the two returns. From there on, the Heisman Trophy was his to lose, and he went on to win it.
5. Sept. 23, 2006: Notre Dame 40, Michigan State 37
In a downpour at East Lansing, No. 12 Notre Dame was still reeling from a 47-21 loss at home the previous week to Michigan and quickly fell behind 17-0 to Michigan State.
The Irish still trailed 37-21 midway through the fourth quarter, but within a span of six minutes quarterback Brady Quinn found Jeff Samardzija and Rhema McKnight for 43- and 14-yard scores, and cornerback Terrail Lambert returned a Drew Stanton interception toss for a 27-yard score. Another interception by Lambert on MSU's final drive sealed the victory, which began an eight-game Irish winning streak.
It is the largest margin the Irish rallied from in the fourth quarter since trailing by an almost similar 37-20 score at USC in 1986 before winning 38-37.