Notre Dame Men's Basketball Greatest Walk-Off Baskets
Notre Dame's 80-77 victory versus Wake Forest in the ACC Tournament saw a rare achievement: the walk-off basket at the horn by junior guard Trey Wertz after a sensational block, fast-break dribble and pass from fellow transfer guard Cormac Ryan.
Not with three seconds left. Not with one second remaining. No, not even with 0.6 on the clock — such as Torin Francis's lay-in versus No. 4 Pitt on Feb. 9, 2003 for a 66-64 Fighting Irish victory.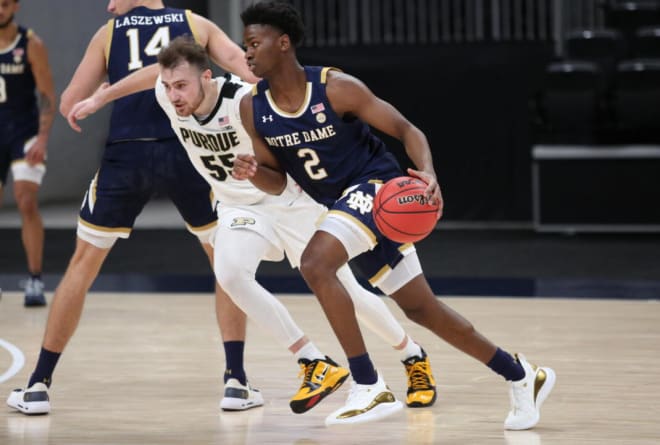 Over the course of my following Notre Dame's basketball program exactly 50 years, this type of walk-off moment is achieved once about every seven to nine years.
Also, it has to be a walk-off win. Last year against Toledo, then sophomore Irish forward Nate Laszewski converted a three-pointer at the horn that merely put the Irish into overtime prior to a 64-62 win.
Then two months later Laszewski drilled a jumper with 1.8 seconds left to defeat North Carolina, 77-76.
Rex Pflueger had similar double heroics in the 21-year Mike Brey era. During Notre Dame's second straight march to the Elite Eight in 2016, Pflueger tipped in a missed Irish attempt for the game-winning bucket with 1.5 seconds left in a 76-75 defeat of Stephen F. Austin.
A couple of years later on a fast-break he had a rebound put-back with 2.6 seconds left to upset Syracuse in the Carrier Dome, 51-49
Two of the most legendary Notre Dame baskets were by Dwight "The Iceman" Clay with baseline jumpers, but there was still time left for the opponent to tie or win.
The first came on Jan. 13, 1973 with four seconds left to defeat Marquette 71-69 and end its 81-game winning streak at home.
A year later on Jan. 19, 1974, Clay's similar jumper at home with 29 seconds remaining snapped UCLA's NCAA-record 88-game winning streak overall, 71-70.
Overshadowed is that during his career Clay also hit buzzer-beating buckets against Pitt and Ohio State that sent those games into overtime the Irish eventually won.
Another favorite was the first-round of the 1976 NCAA Tournament when Toby Knight tipped in a missed Irish attempt with two seconds left to defeat Cincinnati, 79-78. The clock never stopped as the stunned Bearcats didn't call time out.
My memory is not infallible on the best from the past 50 years, but here are some of the buckets I recall as the most significant right as the horn sounded. Inadvertent omissions can be added later. I recall a basket by Brooks Boyer in December 1992 to defeat New Orleans 45-43, but have not been able to find any record if any time was still remaining.
(Note: From a women's perspective, nothing tops Arike Ogunbowale's epic national title shot, but this is strictly the men's program):
6. March 9, 2021: Notre Dame 80, Wake Forest 77
If the Irish end up winning the ACC Tournament to get to the NCAA Tournament, this one by Wertz from Ryan would go straight to the top. Notre Dame finished the game with a phenomenal 17-2 run.
5. Jan. 12, 1985: Notre Dame 63, Marquette 62
With 10 seconds left, freshman guard David Rivers took the in-bound pass from Tim Kempton under the Marquette basket, drove the length of the court and drained an off-balance 10-footer right at the horn.
The Irish had had been 2-3 in their five previous games but this bucket improved the team to 7-3 and would help the program earn its first NCAA Tournament bid in four years.
4. Jan. 15, 1980: Notre Dame 70, Villanova 69
After the Wildcats' Rory Sparrow put the Wildcats ahead 69-68, the Irish had three seconds to respond. Following the timeout, forward Tracy Jackson drove the left sideline while well-guarded and released the rainbow shot from about 30 feet that hit nothing but net as the horn sounded.
Since the opening of the Joyce Center in 1968, it was the first home Notre Dame victory in the facility on a basket just as time expired.
3. Nov. 16, 1999: Notre Dame 59, Ohio State 57
What an astounding way to begin the new era under head coach Matt Doherty with this victory versus the No. 4-rated Buckeyes on their home court in first-round Preseason NIT action.
Sophomore David Graves's off-balance fadeaway from 15 feet ripped through the twine right at the horn. Graves never saw the shot as he fell on his back and on to the floor, but jubilant teammates quickly let him know as they piled atop him.
2. Feb. 17, 1990: Notre Dame 66, Syracuse 65
On the bubble for an NCAA Tournament bid, the Irish had just fallen behind 65-63 in the Carrier Dome versus the No. 4 Orange and now had to go the length of the court with three seconds left. Head coach Digger Phelps drew up a play with LaPhonso Ellis catching the ball near half court and then finding a cutting Elmer Bennett.
The play was executed perfectly as Bennett caught the pass from Ellis and tallied from the top of the key for a three-pointer as the horn went off — sending Phelps into a skipping celebration, much to the dismay of rival coach Jim Boeheim. The win would prove crucial as the 16-12 Irish made the NCAA Tournament field for the last time under Phelps.
1. Feb. 22, 1981: Notre Dame 57, Virginia 56
Versus No. 1 Virginia at Chicago's Rosemont Horizon, a mad scramble for a loose ball saw senior Orlando Woolridge pick it up about 18 feet on the right wing and swish the ball through at the horn to improve Notre Dame's record to 20-4.
About a month later in the NCAA Tournament, BYU's Danny Ainge would have his own buzzer beater to end Notre Dame's national title hopes.