Notre Dame men's basketball draws Rutgers in First Four of NCAA Tournament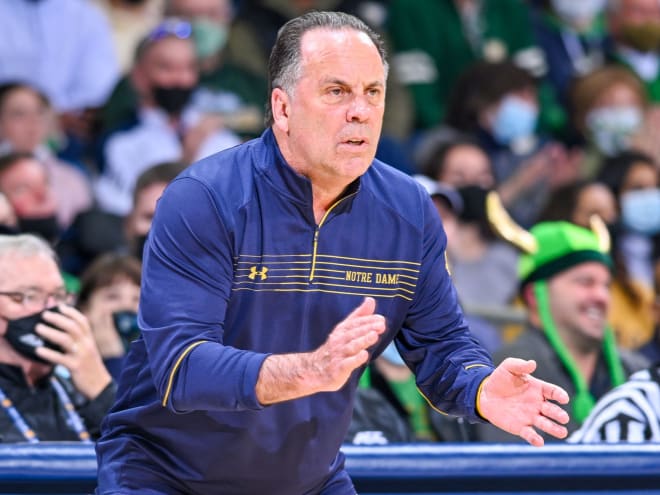 After losing three of its last six games of the season, Notre Dame men's basketball just barely made the NCAA Tournament.
The Irish (22-10) will take part in the First Four games in Dayton, Ohio, in a battle with Rutgers (18-13) for the No. 11 seed in the West Region on Wednesday at 9:10 p.m. EST (truTV). The winner will play against No. 6 seed Alabama (19-13) on Friday in San Diego at 4:15 p.m. EST (TNT).
Notre Dame will make its first NCAA Tournament appearance since the 2016-17 season and its 37th in program history. It's the 13th trip to the tournament for Notre Dame during head coach Mike Brey's 22 seasons leading the Irish.
Graduate senior forward Paul Atkinson Jr. is the only player on Notre Dame's roster to previously play in the NCAA Tournament. He played in the tournament in 2019 as a No. 14 seed with Yale. The Bulldogs lost to LSU in the first round.
Notre Dame finished the regular season in second place in the ACC with a 15-5 conference record. The Irish failed to take advantage of a double-bye in the ACC Tournament at Barclay's Center in Brooklyn, N.Y., and lost 87-80 in the quarterfinals Thursday to No. 7 seed Virginia Tech, who went on to win the tournament.
The Irish split their final six games of the season with road losses at Wake Forest and Florida State and home wins over Syracuse, Georgia Tech and Pittsburgh. Virginia Tech (23-12) was the only opponent in that six-game stretch to make the NCAA Tournament. The Hokies received the No. 11 seed in the East Region.
Five ACC teams made the NCAA Tournament field: 2-seed Duke, 8-seed North Carolina, 10-seed Miami, 11-seed Virginia Tech and Notre Dame. It marks the fewest teams in the tournament for the conference since 2013.
Notre Dame's résumé was barely good enough to make the tournament due to a lack of top-tier victories despite finishing second in the ACC. Notre Dame finished 2-8 in quadrant 1 games, which are determined by an opponent's NET ranking and the location of the game.
Those quadrant 1 victories came against Kentucky, who was given the No. 2 seed in the East Region, and Miami, the No. 10 seed in the Midwest Region. The Irish took care of business in quadrant 2 (2-1), quadrant 3 (11-1) and quadrant 4 (6-0).
Notre Dame reacts to seeding
Sunday was much more of an exhale than celebration for Notre Dame.
A year after watching the selection show at Brey's house following a disappointing 2020-21 season, the Irish returned to Brey's house with no guarantee of making the field of 68.
They believed they had earned a spot, but being put in Dayton showed just how close the Irish were to missing the tournament.
"There was a lot of anxiety," Brey said. "We didn't jump up here. We just kind of clapped. We were relieved to see it."
Brey forced his team to review film Saturday of its poor performance against Virginia Tech, which included 10 turnovers in the first half and multiple 16-point deficits. The whole premise was to prepare his team to take better advantage of an opportunity in the NCAA Tournament than it did in the ACC Tournament.
"It's something we needed," Atkinson said. "It was the truth. It hurts, but it was what we needed to hear."
Brey wanted to challenge his team in the same way he did twice previously during the season.
"There's three times I've been really really hard on them," Brey said. "The Wednesday practice before the Kentucky game, after the Howard game and Saturday. They've always responded. The two previous they responded pretty good. We get a chance to do it again."
Notre Dame doesn't have to search very hard for success stories from the First Four. Just last year, UCLA beat Michigan State in Dayton for the No. 11 seed and went on to play in the Final Four.
Brey was quick to remind his team of that run.
"Everybody had Michigan State beating UCLA last year and all of a sudden they're in the Final Four," Brey said. "I'm going to channel (head coach) Mick Cronin and UCLA as best I can."
Notre Dame might want to lean on Atkinson's brief NCAA Tournament experience, but the senior-laden team shouldn't be afraid of the big stage.
"I don't think there's much I need to tell them," Atkinson said. "Everybody knows this is a special opportunity. It's the biggest tournament in the world. Everybody's really excited, really ready. We have a lot to prove, but we're really excited to do it."
Just don't expect it to be easy.
"It was hard to get to Dayton," Brey said, "and it's harder to move forward."
Rutgers at a glance
• Rutgers finished the regular season in fourth place in the Big Ten. Much like Notre Dame, it lost in the quarterfinals of its conference tournament to the eventual champions. Rutgers was one-and-done in the Big Ten Tournament following a 10-point loss to fifth-seeded Iowa.
• The Scarlet Knights were ranked No. 77 in the NCAA's NET rankings — 24 spots below the Irish at No. 53 — and finished 6-6 in quadrant 1 games.
• Guard/forward Ron Harper Jr. (6-foot-6) led Rutgers with 15.6 points per game. Guard Geo Baker (6-4) scored 12.4 points per game. Center Clifford Omoruyi (6-11) averaged 11.8 points per game and a team-leading 7.9 rebounds per game.
• Rutgers takes care of the ball offensively. The Scarlet Knights entered Sunday ranked No. 37 in Div. 1 with an assist/turnover ratio of 1.30.
• The Scarlet Knights do not light up the scoreboard. Rutgers entered Sunday ranked No. 252 in scoring with 67.9 points per game and No. 293 in 3-pointers per game with 6.1.