Jalen Elliott Makes Spring Surge At Safety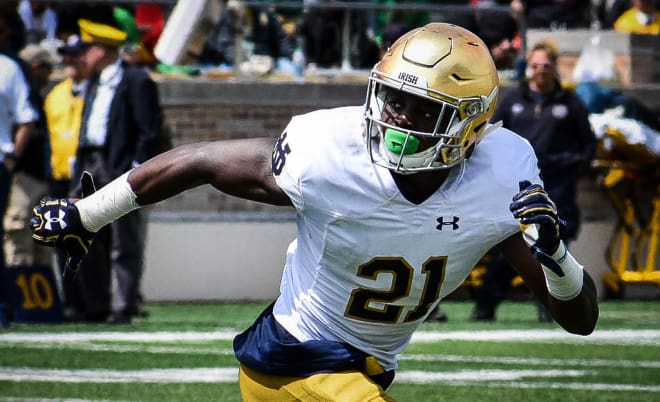 Jalen Elliott's first defensive snaps in college came on the biggest stage.
The Notre Dame rookie safety appeared for just plays in last year's season opener at Texas, but both came on the Longhorns' game-winning touchdown drive in double overtime.
"Just so much going through my mind, so much flying around," Elliott said of his experience during the 50-47 loss. "I didn't want it to be on me really, but just because I didn't want to let the defense down as a whole. It was a lot going through my mind."
With a year under his belt and a beneficial change of position coaches, Elliott is poised for a breakout sophomore season.
The Richmond, Va., native, played just 117 defensive snaps in 2016, 10th most among Irish defensive backs. But with new defensive coordinator Mike Elko in place — who also serves as Notre Dame's safeties coach — Elliott now has the tools to thrive.
And that improvement has started with the game slowing down for Elliott.
"It's always tough, but being thrown into the fire kind of helps you with the speed of the game and getting used to that, so when you come out it moves a little bit slower," Elliott said. "It's easy for you to kind of get accustomed to everything that's going on.
"The speed of the game just kind of slowed down. I feel a little more comfortable."
Notre Dame concluded spring ball with Elliott listed as the starter at free safety, joined by junior Nick Coleman at strong safety. While the strength of the position is still undoubtedly in question — neither Elliott or Coleman have made a start at safety — the addition of Elko seems to have fortified the back-end for now.
"The safeties as a whole have a lot of confidence in each other," Elliott said. "Just trusting the process. It's not really about me and Nick, it's about everybody as a unit. That's the big thing that's been preached this spring, just being a unit and not really worrying about it. Just getting better each day."
Elliott came to South Bend after a prestigious prep career as a two-way player at L.C. Bird High School. The former star quarterback is now focused strictly on defense, but his coverage ability exhibits his former offensive prowess.
"I'd like to say that I can cover pretty well as a safety," Elliott said. "My range from sideline to sideline is pretty good. It's a lot I need to work on, especially tackling."
Elko made tackling an emphasis at every position this spring, and Elliott feels improvement was made in that department. The safety said his position group tended to have a base that was too wide, which restricted how much power they could put into a tackle.
Notre Dame got down to fundamentals over the course of 15 practices, and with the help of strength and conditioning coach Matt Balis' winter workouts, Elliott and the Irish project to be much better at getting ball-carriers on the ground.
Elliott played his freshman season around 190 pounds, but has bulked up to a current playing weight of 208 pounds.
"It was a big difference," he said of the winter workouts. "I'm just feeling better on the field. Going against some of the bigger running backs last year, I knew that 190 wasn't going to cut it. …I really felt a difference in my body."
After the spring game — in which Elliott finished with seven tackles, one pass breakup and one interception — he side-stepped a question regarding his place on the depth chart, more specifically whether he thought he'd won a starting job.
He said the entire safety group, despite its inexperience, is leaning on each other to lead.
"We all hold each other accountable," Elliott said. "That's a big part of the process is holding each other accountable instead of having to have Coach Elko always (keep) us in order. It's big that everybody, if you see something wrong, you let them know no matter if you're a freshman or you're a senior. It doesn't matter. That's the biggest part of this year is making sure we're all accountable."