Notre Dame Hockey Repeats As Big Ten Champion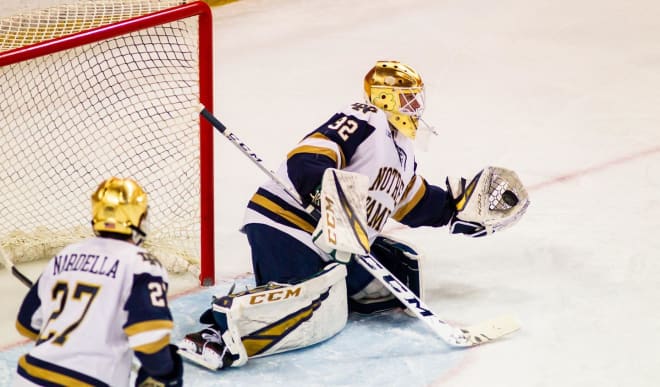 Scoring a minimum of three goals has been the magic number all year for Notre Dame hockey, but never more so than Saturday night's 3-2 victory versus Penn State in front of a Compton Family Ice Arena standing-room-only record of 5,988 in attendance.

With those three goals, Notre Dame achieved at least three other goals during the season.
• It became the first school to repeat as the Big Ten hockey champion since the league's inception in 2013-14, and the first time Notre Dame (22-13-3) won back-to-back conference crowns. The Fighting Irish have been in the Big Ten only the past two years and are now 6-0 in the post-season tournament, with five of the wins coming by one goal.
• The triumph automatically earns Notre Dame an automatic bid into the 16-team NCAA Tournament a school record fourth consecutive year (it had three straight from 2007-09). The Selection Show will air live 7 p.m. tonight (March 24), with the Irish expected to receive a No. 3 seed after finishing No. 12 in the all-important PairWise ranking.
• Head coach Jeff Jackson recorded his 500th career victory (318 at Notre Dame), the 13th man in NCAA hockey annals to achieve that milestone.
Notre Dame is now 16-0-1 this year when scoring minimum of three goals in a game this year, and 6-13-2 otherwise. Three of those wins were occurred against Penn State (21-14-3), which entered the game as the nation's leader in per-game shots (40.8) and goals per game (4.61).
The Nittany Lions out-shot the Fighting Irish 48-29, but only two of those attempts went past junior Cale Morris, named the Tournament's Most Outstanding Player. The reigning Mike Richter Award winner as the nation's top goalie went 4-0 in the tournament with a 0.75 goals-against average and a .977 save percentage (stopping 126 of 129 shots, 46 of them versus Penn State).
Joining him on the six-man All-Tournament team were three other teammates in juniors Cam Morrison and captain Andrew Peeke, and freshman Spencer Stastney.
Morrison — who has become Notre Dame's "Mr. March" — netted the game winning goal with a wrist shot at 18:24 of the second period that went past Peyton Jones, with assists from junior Mike O'Leary and senior Bobby Nardella.
It was Morrison's roster-leading seventh goal of his career in the postseason (12 points overall, also a team high) — and he likewise tallied the game winner in overtime in last year's identical 3-2 victory versus Ohio State in the Big Ten Tournament championship tilt.
Notre Dame never trailed, with Stastney opening the scoring with his first career goal only 3:43 into the action on a backhanded shot in which classmate Graham Slaggert assisted.
After Penn State knotted the score five minutes later, junior Cal Burke rebounded a shot by Peeke that bounced off the skate of sophomore Colin Theisen and sent it into the net for a 2-1 edge at 16:19 of the first period. Burke also tied freshman Michael Graham with a team high 12th goal this season. Morrison then broke the final tie (2-2) in the second with his aforementioned tally.
Morris made 12 of his saves in the third and final period to preserve the victory.
It marked the eighth conference title won by Notre Dame, all under Jackson in his 14 seasons from 2006-19. This featured regular season titles in the CCHA in 2007 and 2009, and 2018 in its inaugural year in the Big Ten.
Notre Dame also has five tournament titles: 2007, 2009 and 2013 in the CCHA, and the past two in the Big Ten. Jackson has guided the program to 10 of its 11 berths into the 16-team field in his 14 years.
The attendance of 5,988 (5,022 is listed as capacity) eclipsed the previous standard of 5,630 set Jan. 19, 2018 versus Wisconsin.