Notre Dame Hockey Advances To Regional Final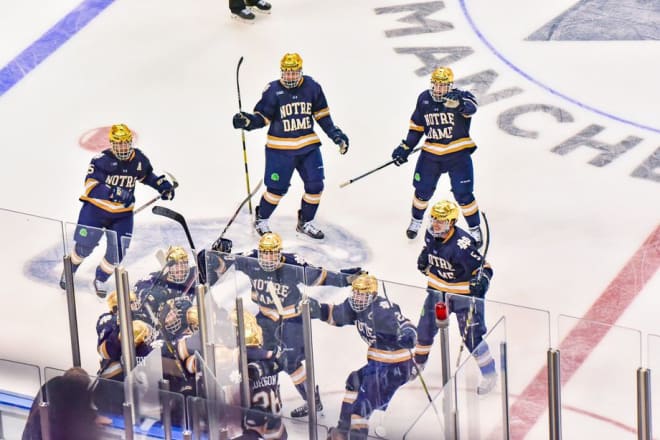 Notre Dame's Manchester Magic continues … as does the 3-2 victory trend.

A sudden-death goal at 15:53 in overtime by junior Cam Morrison — a team high eighth of his career in the playoffs — lifted No. 3 seed Notre Dame (23-13-3) to a 3-2 victory versus No. 2 seed Clarkson (26-11-2) on Friday night in the Manchester (N.H.) Regional.
Head coach Jeff Jackson's Fighting Irish face No. 1 seed UMass (29-9) in today's Regional Final — 6:30 p,m. on ESPNU — a 4-0 winner versus No. 4 seed Harvard in the game that preceded Notre Dame's.
Morrison has become "Mr. March" of Fighting Irish hockey. He also tallied the 3-2 game winner last week versus Penn State last week in the Big Ten Championship that enabled the program to qualify for the NCAA Tournament in the first place. Last year he netted the game winner in overtime versus Ohio State — another 3-2 triumph — to capture the 2018 Big Ten Championship.
The Fighting Irish are now 5-0 in the Manchester Regional — 3-0 in overtime — after having previously won titles there in 2011 and 2017.
Making the extra session possible was when senior defenseman Bobby Nardella knotted the score at 2-2 with 2:20 remaining in the third period after Jackson pulled goaltender Cale Morris with 2:39 left to have a 6-5 advantage on the attack. Junior Cal Burke weaved through several defenders to set up Nardella with a perfect pass that he finished by finding the back of the net. Captain Andrew Peeke also was credited with an assist.
Clarkson struck first at 16:56 of the first period with a goal even though Notre Dame had the first eight shots to open the game and the Golden Knights didn't even attempt their initial one until 14 minutes into the contest.
Burke then assisted sophomore Colin Theisen on a breakaway at 4:58 of the second period to tie the game 1-1. The sequence began with freshman Michael Graham intercepting a pass. However, a minute-and-a-half later Clarkson answered to move ahead 2-1, which it carried into the final period.
Notre Dame had plenty of other chances to tie it in the third period, including a major penalty and misconduct call on Clarkson co-captain and standout Nico Sturm 19 seconds into the period that shelved him for the remainder of the game. Notre Dame had a man advantage for seven minutes out of the first 8:20, but could not capitalize.
In overtime, Burke was awarded a penalty shot at 8:27 but goaltender Jake Kielly made the save. Notre Dame out-shot Clarkson 39-22 in the nearly 76 minutes of action, but never had the lead until Morrison's overtime goal. Clarkson was 0 of 4 on the power play while the Irish were 0 of 3, including a five-minute major it had early in the third period.
Especially notable is Clarkson was 22-0-1 this year when leading after two periods. The Irish are now 17-0-1 this season when they score at least three goals, and they also are 4-0-3 in overtime.
In their most recent Manchester Regional in 2017, the Fighting Irish defeated Minnesota and UMass Lowell by the same 3-2 scores to advance to the Frozen Four.
Already a perfect 6-0 in the Big Ten Tournament, Notre Dame will now attempt to improve to that same 6-0 since 2011 in the Manchester Regional.