Notre Dame goalie Ryan Bischel garners All-America honors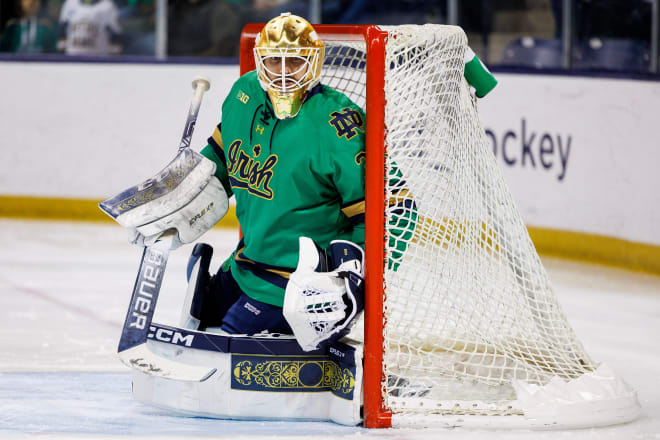 Late last month Notre Dame goalie Ryan Bischel announced he'd be returning next season to ND for a fifth year.
He learned Friday he'll do so as a reigning All-American.
Bischel was one of 24 players anointed with All-America status by the American Hockey Coaches Association and CCM Hockey, announced Friday at the Frozen Four in Tampa, Fla. The second-team West honoree becomes the first Irish All-American since Bobby Nardella in 2019, and 16th in program history.
Bischel started all 37 games for the Irish (16-16-5) in 2022-23, and finished with a .931 save percentage, third nationally and second-best in school history.
A Mike Richter Award semifinalist, Bischel wrapped up the year with a nation's best 1,183 saves and was previously named Big Ten Goaltender of the Year as well as an All-Big Ten first-teamer.
"Ryan made the most saves and had one of the best save percentages in the country," Irish head coach Jeff Jackson said. "He did this while playing the toughest schedule in college hockey."