Notre Dame Football Notebook: Practice No. 8
The first half hour of Monday's practice was open to media, not including the 20-minute stretch work at the newly opened Irish Athletics Complex adjacent to the Guglielmino Athletics Complex.
A full tour of the new facility, which includes a kitchen to prepare the training table, will be made available this Wednesday.
Practice will not be open to the media again until this Saturday (Aug. 17). Here is a synopsis of some of the top items we were able to see during the half hour.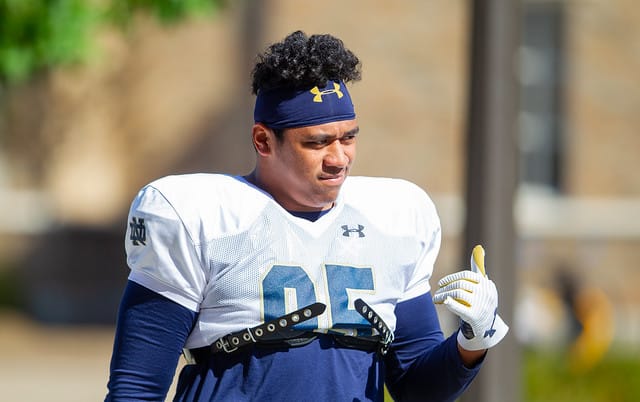 Injury Update
Sophomores D.J. Brown and Houston Griffith returned for individual drill work at safety and cornerback, respectively. In the two previous open sessions last week they were seen on the stationary bikes while recovering from what appeared to be lower body injuries.
Overall, there seemed to be no other health setbacks. Freshman offensive tackle Quinn Carroll (ACL, out for the year) worked individually off to the side with a training staff member. junior starting tight end Cole Kmet's (surgically repaired collarbone last week) right arm was in a sling.
Head coach Brian Kelly has estimated Kmet could be out anywhere from the season opener at home versus New Mexico (Sept. 14) to mid-October.
Field-Goal Work
Prior to moving outdoors, junior Jonathan Doerer and freshman walk-on Harrison Leonard were put through the paces with some field-goal work indoors. The kicks all came from 28 to 33 yards, with Doerer having the better day.
Unlike in past sessions where one kicker had five to seven consecutive boots followed by the other, they alternated this time. From our vantage point, Leonard missed three before drilling his last two, while Doerer was on target.

Defensive Line Numbers

It's been quite a while, even decades, since we've recalled Notre Dame having four-and-a-half units along the defensive line comprised almost solely of scholarship players. When they lined up for individual work, it struck us just how many bodies 10th-year assistant Mike Elston has to work with in 2019. From strong side end to drop end, here is how they lined up:
First unit: Khalid Kareem, Kurt Hinish, Myron Tagovailoa-Amosa, Julian Okwara
Second unit: Ade Ogundeji, Jacob Lacey, Jayson Ademilola, Daelin Hayes
Third unit: Jamir Jones, Ja'Mion Franklin, Howard Cross III, Justin Ademilola
Fourth unit: Kofi Wardlow, Hunter Spears, Zane Heemsoth (freshman walk-on), Ovie Oghoufo
Fifth unit: NaNa Osafo-Mensah (strong side end), Isaiah Foskey (drop end)
Catching On
Prior to removal from the practice, we had an opportunity to watch some individual one-on-one receiver vs. defensive back work.
Two sensational grabs were made, first by junior Michael Young despite strong coverage from sophomore cornerback TaRiq Bracy. The pass was from Ian Book. Shortly afterwards, freshman Kendall Abdur-Rahman, made an equally impressive, leaping, diving grab against classmate Kyle Hamilton, from quarterback Phil Jurkovec.
Sophomore Braden Lenzy's downfield speed has been a highlight in camp, but technique and ball tracking will be important as well. On one of Lenzy's reps, freshman Isaiah Rutherford shut him down with aggressive press coverage, leading to no throw by the quarterback.