Notre Dame Victories Vs. The Top 5 On Their Home Field
As posted in yesterday's story, Notre Dame is 0-7 in night games on a top-5-ranked team's home turf. It will attempt to end that this Saturday night at No. 3-ranked Georgia.
That's not to say the Fighting Irish Irish haven't had their share of special victories against top-5 teams on the opponent's home turf. They just all happened to come in the afternoon.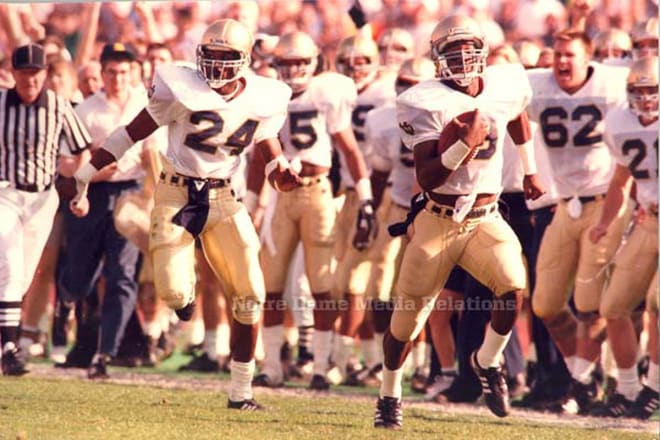 Notre Dame has not defeated a top-five foe on the road since Sept. 10, 2005, a 17-10 conquest of No. 3 Michigan in head coach Charlie Weis' second career contest. However, even that became a little overshadowed when the Wolverines finished that season only 7-5.
Here is that list, based on highest ranking since the advent of the Associated Press poll in 1936:
No. 1 Pitt (1982): 31-16 —Second-year head coach Gerry Faust's 5-1-1 squad stunned the top-ranked Panthers, who had senior Dan Marino at quarterback.
No. 2 Oklahoma (1957): 7-0 —This epic event saw Notre Dame snap the Sooners' NCAA-record 47-game winning streak — one year after Oklahoma had handed to this day Notre Dame its worst defeat at home ever (40-0).
No. 2 USC (1988): 27-10 —The lone No. 1 versus No. 2 matchup in the rivalry put Notre Dame one victory away from its most recent national title.
Winning this outing in the dreaded Los Angeles Coliseum almost made the Fiesta Bowl victory against West Virginia anticlimactic.

No. 2 Michigan (1989): 24-19 —Another No. 1 versus No. 2 showdown featured Raghib "Rocket" Ismail's two kickoff returns (92 and 88 yards) for touchdowns.

This was part of Notre Dame's school-record 23-game winning streak, while Michigan went on to repeat as Big Ten champions, with Notre Dame its lone defeat during the regular season.
No. 3 USC (1947): 38-7 —The blowout in the Coliseum secured head coach Frank Leahy's third national championship, and second straight.
It also was the final game for the oldest living Heisman Trophy winner, Johnny Lujack, who was in attendance at the home opener against New Mexico.
No. 3 Michigan (1993): 27-23 —This victory in game two helped propel an 11-1 season and No. 2 finish.
Notre Dame entered the game as nearly 10-point underdogs — even though the Irish would have 10 players taken in the following year's NFL Draft, while the Wolverines had only one.
No. 3 Michigan (2005): 17-10 —Another game two win in Ann Arbor resulted in Notre Dame's first top-10 finish (No. 9) in 12 years — when it also won at No. 3 Michigan in 1993.
No. 4 Minnesota (1937): 7-6 —In the second year of the AP poll, the Irish knocked off the Golden Gophers juggernaut of that era.
It's easy to forget these days that head coach Bernie Bierman's Minnesota teams captured the national title in 1936, 1940 and 1941.
No. 5 Illinois (1942): 21-14 —This was second-year head coach Leahy's first win over a top-five team (road or home) while with the Irish.
No. 5 Texas (1952): 14-3 —Leahy's team would finish No. 3 in the final poll.
This win in Austin was the first of four against major conference champions (Southwest) this season. The others were versus No. 9 Purdue (Big Ten) on the road, and then No. 4 Oklahoma (Big Eight) and No. 2 USC (Pacific Coast) at home.
Under head coach Ara Parseghian, Notre Dame also had two ties at No. 2-ranked opposition: Michigan State in 1966 (10-10) and USC in 1968 (21-21) — although the former helped the Fighting Irish capture the national title.
Also, in 1980 head coach Dan Devine's No. 6 Irish won 7-0 versus No. 5 Alabama in Birmingham, but technically that was not the Crimson Tide's on-campus site in Tuscaloosa. Still, it is plenty worthy of mention.