Notre Dame Vs. Navy: By The Numbers
3 Straight games, all in November, that senior quarterback Ian Book has led Notre Dame in rushing. He had 50 in the 21-20 victory versus Virginia Tech on Nov. 2, a career high 139 yards in the 38-7 win at Duke the ensuing week, and 31 yards on just five carries against Navy (upping his total to 421 this season).
In the meantime, Book also moonlighted with 284 yards passing and five touchdowns in basically one half of action versus the Midshipmen .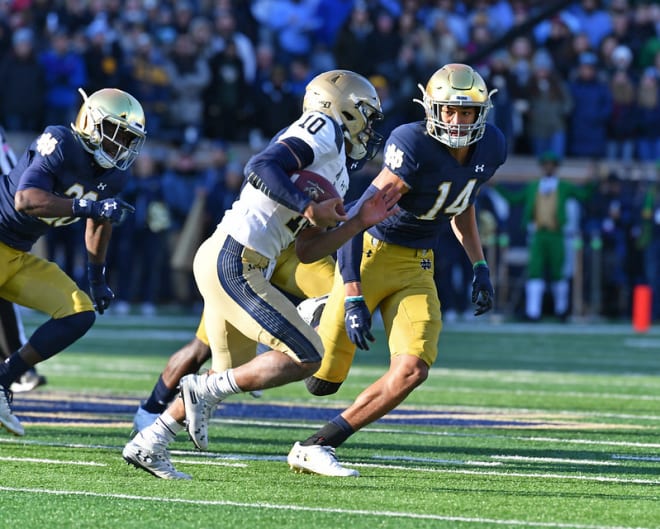 4 Touchdown receptions by senior Chase Claypool, becoming only the second player in the program's history to snag that many via the aerial route. The first was Maurice Stovall during a 49-23 victory versus BYU in 2006.
6 Possessions Notre Dame had during the first half against Navy, resulting in five touchdowns and a field goal. In the 28-27 loss to Navy in 2016, the Irish had six in the entire game. the fewest in an NCAA football game since eight years earlier when Northern Illinois also had six against the Midshipmen.

In 2017, the Irish upped it to seven possessions in a 24-17 win over Navy.
14 Fumbles recovered by Notre Dame this season after pouncing on four versus Navy. This helped set up 24 points, with one of the recoveries returned by a touchdown in the fourth quarter by sophomore rover Paul Moala.
The Irish entered the game ranked ninth nationally in fumbles recovered with 10, but could be as high as No. 2 this next week. (Illinois was tops with 16.)

41 Years since both Notre Dame and Navy entered a game ranked in the Associated Press poll. That last occurred in 1978 when the No. 15-ranked Fighting Irish defeated 7-0 Navy by a 27-7 count. This time No. 16 Notre Dame had an even easier time versus the No. 21 (in AP) Midshipmen with the 52-20 conquest.
17 Consecutive home victories by Notre Dame, the fourth-longest active winning streak in the Football Bowl Subdivision in one's own stadium.
Only Clemson (22), Central Florida (20) and Ohio State (19) have won more consecutive home games than the Fighting Irish, whose current streak is the third longest at Notre Dame Stadium since opening in 1930.
52 Points scored by Notre Dame, the most in this series against Navy since a 56-14 victory in 2011. This also marked the third time the Fighting Irish surpassed the 50-point mark in a game this season, having done so earlier versus New Mexico (66-14) and Bowling Green (52-0).
That hasn't been achieved in one season since head coach Lou Holtz's final year in 1996 when Notre Dame did it four times while defeating Washington (54-20), Navy (54-27), Pitt (60-6) and Rutgers (62-0) during an 8-3 season.

70 Yards covered on sophomore receiver Braden Lenzy's second-quarter touchdown reception that put Notre Dame ahead 28-0. It was the longest play from scrimmage this season for the Fighting Irish, and the longest scoring reception by a Notre Dame player since the 38-20 loss at Stanford in the 2017 regular season finale. In that game, Brandon Wimbush tossed 75- and 83-yard touchdown passes to Equaminious St. Brown and Kevin Stepherson, respectively.
77 Yards under its rushing average Navy finished versus Notre Dame. The Midshipmen had averaged a national high 357.9 entering the contest but were "limited" to 281— and 202 came after Notre Dame had already built a 38-0 advantage.
74,080 Official attendance listed for the home game, short of the 77,622 capacity since the Campus Crossroads renovation in 2017. It ended Notre Dame's streak of 273 straight games that were listed as sellouts by the University. It hadn't happened since Thanksgiving Day, Nov. 22, 1973, versus Air Force during a march to the national title.