Rapid Review: Notre Dame 38, Duke 7
Dominant from the outset on both sides of the ball, No. 15 ranked Notre Dame (7-2) rolled to a 38-7 victory Saturday night at Duke (4-5).
Senior quarterback Ian Book accounted for 320 yards total offense — 181 passing with four touchdowns and a career high 139 yards rushing on 12 carries.
Meanwhile the defense limited the Blue Devils to a meager 197 yards total offense.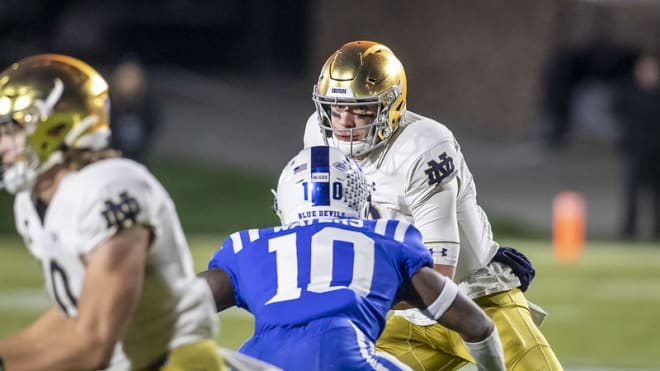 1.TOP 3 STORYLINES
• Notre Dame raced to a 21-0 lead by the 7:58 mark of the second quarter on 18- and seven-yard touchdown passes from Book to graduate student Chris Finke and Chase Claypool, respectively, and then a two-yard touchdown run by sophomore running back C'Bo Flemister.
• The game took a brief momentum shift when after building the 21-0 cushion, a 78-yard catch-and-run by Finke was negated by a holding call. That penalty and a 22-yard punt set up a 39-yard touchdown drive for Duke.
An interception by Duke linebacker Shaka Heyward right before halftime set up the Blue Devils with a 44-yard field goal on the last play of the first half that missed wide right to keep the Irish ahead 21-7 at the intermission.
• The Notre Dame defense forced seven three-and-out series. Duke had 123 yards total offense in the first half and then just 74 in the second..

2. TURNING POINT
Trailing 21-7, Duke began the second half by getting a first down at Notre Dame's 40-yard line because a pass interference call on a fake punt. The momentum from the end of the first half was continuing. However, on the next play, quarterback Quentin Harris was intercepted by senior cornerback Troy Pride Jr. on a miscommunication in the route.
Notre Dame then drove 70 yards in eight plays, highlighted by back-to-back catches of 23 and 35 yards by Claypool before Finke snared the touchdown on third-and-goal from the six-yard line.
3. STAT OF THE GAME
The Fighting Irish out-gained Duke on the ground 288-95.
After rushing for only 47 yards at Michigan and 106 versus Virginia Tech the past two weeks, Notre Dame asserted itself with a diverse attack that included more designed runs for Book, as well as some counters and sprint draws.
4. GAME BALL

It would be easy to give it to Book again on the heels of last week's gutsy game-winning drive, but this was a special night for Finke with two touchdown receptions, a 46-yard punt return to set up a third score (a two-yard touchdown pass from Book to sophomore tight end George Takacs), and even getting a 78-yard catch and run nullified.
His three clutch catches to convert third downs on the opening score, the latter for a touchdown, set the tone.
5. HISTORICAL FOOTNOTE
This was Notre Dame's first victory at Duke in two tries (losing in the 1961 season finale). The Fighting Irish host the Blue Devils on Halloween next year, and make their next trip back to Durham in 2023.