Notre Dame-Duke: Different Recruiting Aisles
In men's basketball, it's well documented that Notre Dame and Duke shop down different recruiting shopping areas.
The Blue Devils routinely will land the top 5-10 prospects who will head to the NBA after one or two seasons, while Notre Dame is more in the top 75-150 aisle that emphasizes four- or five-year development. Every now and then it will sneak into the top-50 group.
It is likewise in football — except with role reversals. The Fighting Irish will recruit at a top-10-15 level, while top 50 at Duke would be trumpeted as evidence of progress and optimism.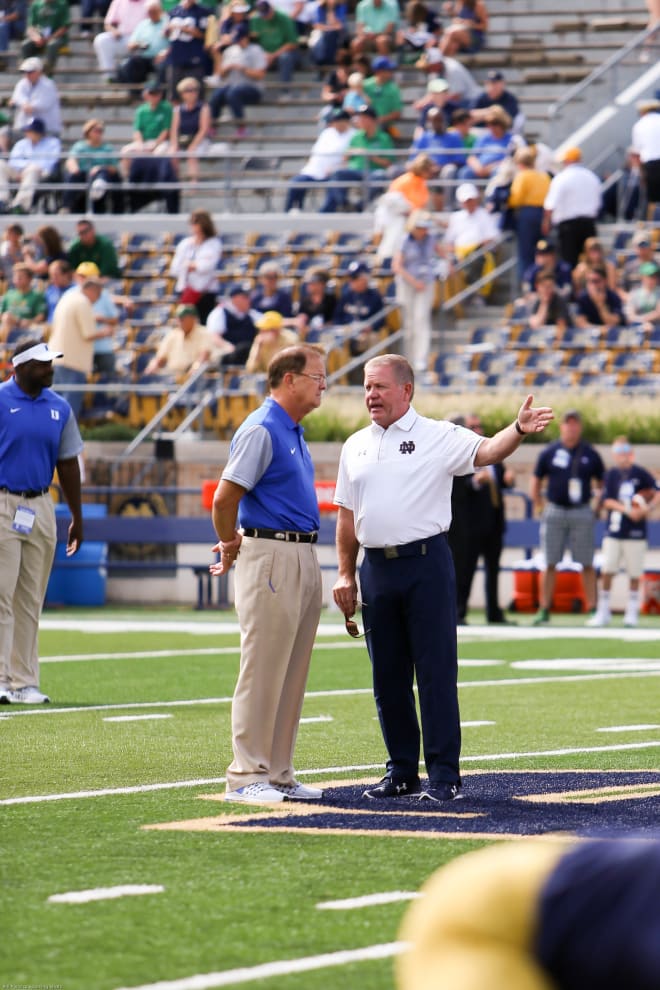 Duke's 2012-16 Rivals recruiting rankings were No. 56 (2012), No. 69 (2013), No. 59 (2014), No. 63 (2015) and No. 33 (2016). The latter was classified as a bonanza haul, but at Notre Dame would be categorized as a travesty.

Still in September 2016, the Blue Devils rallied from an early 14-0 deficit at Notre Dame to post a 38-35 victory — resulting in Duke director of athletics Kevin White, who held the same post at Notre Dame from 2000-08, getting presented the game ball. Meanwhile, Fighting Irish defensive coordinator Brian VanGorder was issued his walking papers.
The Blue Devils quarterback that day was Daniel Jones (24 of 32 for 290 yards with three touchdowns and one interception, by freshman Donte Vaughn), who enrolled at Duke without any rating from Rivals and became the No. 6 overall pick (New York Giants) in last spring's NFL Draft.
This past year's 21-man Duke freshman class was ranked 49th, with one four-star player signed and 15 three-stars.
In 2019, it was 65th with one four-star and 14 three-stars, and in 2017 it was 46th with one four-star and 18 three-stars.
And that is why Duke football coach David Cutcliffe, even with a 4-8 record in 2016, is esteemed in the same manner as Notre Dame men's basketball coach Mike Brey, despite a 14-19 record last season.
Coaching effectiveness always needs context. A 9-3 record at Alabama would be a calamitous event, whereas at Vanderbilt it would merit legendary status for the coach who produced it.
A prime example always has been Northwestern's and Notre Dame's Ara Parseghian. From 1956-63 with the Wildcats, he was "only" 36‑35‑1. Considering what he inherited and the constraints he was working under, his results there were perhaps even more impressive than his 95‑17-4 ledger at Notre Dame (1964‑74), with consensus national titles in 1966 and 1974 and a shared one in 1964.
Cutcliffe and Navy's Ken Niumatalolo — whom the Irish face on back-to-back weeks this year — are more recent examples.
On paper and to someone with no knowledge of college football, Cutcliffe's 71-76 record at Duke from 2008‑19 would be grounds for dismissal at a lot of schools. Upon closer inspection, it has earned the 65-year-old plaudits as one of the nation's finest leaders.
Among 130 schools in the Football Bowl Subdivision (FBS), Cutcliffe annually ranks among the top 25 best coaches, including No. 21 by CBS Sports and No 24 by Athlon entering 2019.

When Cutcliffe was hired by the Blue Devils in 2008, Duke football had experienced one of the worst stretches in college football history by a major conference team. In the 13 seasons from 1995-2007, Duke was 22-125 — a .1496 winning percentage, including 0‑11 seasons in 2000 and 2001, and 0‑12 in 2006. The Blue Devils never came close to finishing above .500.
Cutcliffe inherited the rubble and was only 15-33 his first four years, which would have led to getting the axe at 99 percent of the other major FBS schools. Duke was a special case, though, and enough progress was seen to justify continuing his building process.
• By Cutcliffe's fifth season in 2012, Duke finished the regular season 6-6 to earn a bowl bid, where it lost.
• In 2013, Duke incredibly won the Coastal Division of the ACC and played eventual national champion Florida State in the league playoff. Its 10-4 record led to a No. 23 placement in the Associated Press poll — the first time the Blue Devils finished ranked since 1961.
• After a 9-4 encore in 2014, Duke dropped to 8-5 the next year — but for the first time since the 1960 season, the Duke Blue Devils won a bowl game, a 44-41 overtime triumph versus Indiana in the New Era Pinstripe Bowl.
• The past two seasons, they won bowl outings in back-to-back years for the first time, romping to a 56-27 win versus Temple in last season's Independence Bowl.
In the 51 seasons from 1961-2011, Duke received only two bowl invitations (1989 with Steve Spurrier as head coach, and 1994), but it has now gone to six of the last seven under Cutcliffe.
It is the epitome of making a silk purse from a sow's ear, which is why Cutcliffe has become such a revered figure. He also was 44-29 at the University of Mississippi from 1999-2004, highlighted by a Cotton Bowl win in 2003 with quarterback Eli Manning during a 10-3 campaign in which the Rebels won a share of the SEC West title. Cutcliffe had coached Eli's older brother, Peyton, as a Tennessee assistant in 1994-97.
The firing of Cutcliffe at Ole Miss in 2004 resulted in him accepting a job as first-year head coach Charlie Weis' assistant head coach/quarterbacks coach at Notre Dame in 2005.
However, heart bypass surgery for Cutcliffe that March resulted in a medical leave and prompted him to step down from the post on June 1, 2005 before resurfacing at Tennessee in 2006-07 as an assistant and then taking the Duke job.
Under Cutcliffe, Duke has developed a reputation for overachieving the way Wake Forest did from 2001-08 under head coach Jim Grobe, with an almost identical record. Grobe led the previously moribund Demon Deacons to a 77-82 record and five bowl games, including the Orange Bowl in 2006 with an 11-2 regular season record after stunningly winning the ACC.
Duke is the non-triple-option version of Navy: well coached, competitive and resourceful.
And as Notre Dame learned in 2016, not an easy out.