Notre Dame & Father Hesburgh: A Centennial Remembered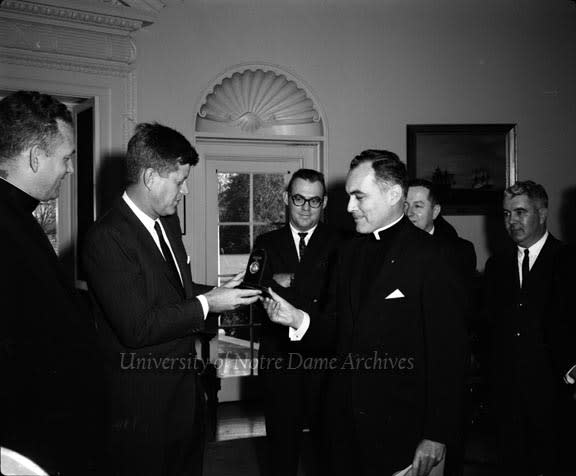 Don't miss out on any of our exclusive football, basketball and recruiting coverage. Click here to get your 30-day free trial!
This month the United States commemorates the centennial of former President John F. Kennedy, born May 29, 1917.
Four days earlier, Notre Dame's Rev. Theodore M. Hesburgh, C.S.C., one of America's most influential national and world figures during the 20th century, and Notre Dame's president from 1952-87, also was born, in Syracuse, N.Y.
On President's Day this year, Kennedy's commemorative stamps were issued by the United States Post Office. The same will be done for Father Hesburgh this Sept. 1, the eve of Notre Dame's football opener versus Temple.
Charisma helped define both as impactful leaders. Kennedy's stay was more short-lived because of an assassin's bullet at age 46 on Nov. 22, 1963. Hesburgh's stay on earth was more than double before passing away at age 97 on Feb. 26, 2015.
Exactly two years prior to the day of Kennedy's death, Hesburgh presented the nation's first Catholic president the University's Laetare Medal at a ceremony in The Oval Office. The Medal is in recognition of outstanding service to the Catholic Church and society, and it is the oldest (begun in 1883) and most prestigious honor in the church.
Along with Rev. Edward Frederick Sorin C.S.C., and Knute Rockne, Hesburgh comprises "The Big Three" who had the broadest range of influence while making the University of Notre Dame one of the preeminent names in spirituality, athletic lore and academic renown.
Sorin founded the University in the 1840s, and it was his resilience that rebuilt the institution after an 1879 fire had ravaged the campus and all but destroyed the college.
Rockne cultivated a national following unlike anything seen heretofore in American sports annals during his tenure as the football coach from 1918-30. Notre Dame went from a small, Catholic school in the Midwest to the original "America's Team."
Finally, there is Hesburgh, whose sphere of influence nationally, authoritative leadership and dedication combined Sorin's ambitious, unrelenting vision with Rockne's powerful charisma. For decades, Hesburgh was named among the world's top 10 leaders in both the educational and religious spheres.
He held 16 presidential appointments, starting in 1954 under Dwight Eisenhower, in 1964 earned the Medal of Freedom, the nation's highest civilian honor for his work on Civil Rights, and in 2000 received the United States Congressional Gold Medal, the first individual from post-secondary education to do so.
"The greatest college president of the 20th century," proclaimed "The Pope of College Football," Beano Cook, who also had a broad historical knowledge of universities beyond the gridiron before passing away in 2012.
During Hesburgh's reign, more than three-dozen new building were erected, the annual operating budget grew from $9.7 million to $176.6 million, the University's endowment rose from $9 million to $350 million, research funding from $735,000 to $15 million, enrollment nearly doubled from 4,979 to 9,600, and faculty more than doubled from 389 to 950.
Authority & Controversy
Upon taking his position as school president in 1952, Hesburgh soon would be vilified for what was believed to be a de-emphasis of football at Notre Dame, but his toughest days were in the 1960s and early 1970s, when student unrest on collegiate campuses and an emerging counter-culture forced many a University president to resign.
When one says the word "presidential," it evokes an image of a regal figure with an aura that oozes firm leadership, yet also respect by doing what he deems is right instead of what might be popular. That defined Hesburgh.
Hesburgh was the recipient of more than 150 honorary degrees, the most ever awarded to one person, per the Guinness Book of World Records, so popularity was not a problem. Yet as is the case with anyone in a position of authority, Hesburgh too had plenty of critics and detractors. They included those who opposed his liberal views on civil rights and support of Martin Luther King, but especially of having a role that secularized Catholic universities.
There also was the "old guard" who recoiled at the thought of Notre Dame going coed in 1972 under his watch. That same year when Hesburgh was asked to be on the board of the Chase Manhattan Bank, he was castigated on all sides, from Catholics who believed it inappropriate for a priest to be tied to business interests, to a stockholder who didn't want a man vowed to poverty on the board.
Hesburgh & Notre Dame Football
When Notre Dame football went through its nadir from 1956-63, posting a 34-45 record in those eight years, with seasons of 2-8 (in 1956 and 1960) and 2-7 (1963), Hesburgh bore the brunt of enmity from Irish followers who believed he had fired the legendary head coach Frank Leahy (1941-43, 1946-53) in an effort to deemphasize football and upgrade the school's academic standing.
The genesis of this perception occurred in his first press conference as president when a group of reporters — comprised almost exclusively of sports writers — asked him to pose with a football.
"Would you ask the president of Yale to do that?" he replied, declining the request.
Hesburgh sought the counsel of Princeton president Robert Goheen, asking him how Notre Dame could best enhance its reputation in scholarship. As the story goes, Goheen recommended: 1) firing the football coach (Leahy), 2) bolstering the faculty and 3) raising the standards for incoming freshmen.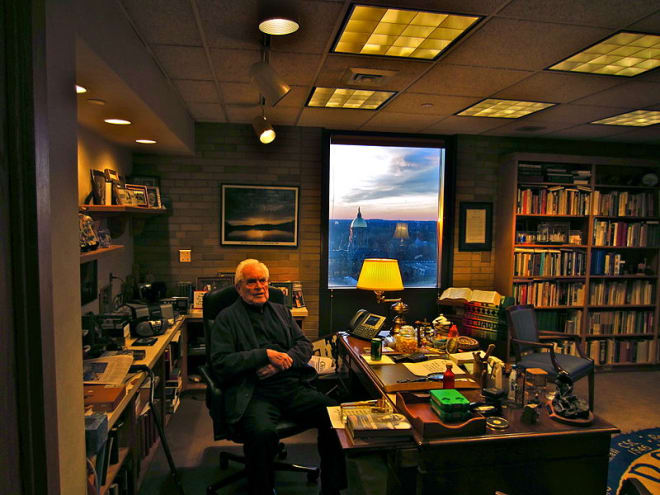 One year after becoming the school president, Hesburgh saw Leahy resign following the 1953 season. In a 1987 interview with New York Times Pulitzer Prize winner Ira Berkow, Hesburgh said he called Leahy into his office after the 1953 season and recommended that he resign because of the coach's poor health issues. Leahy had collapsed at halftime of the Georgia Tech game that year and was administered last rites by school vice president Rev. Ned Joyce, C.S.C. In another game, versus Navy, Leahy was laid out on a bench and given a hypodermic.

"Frank, this is ridiculous," Hesburgh told Berkow of his conversation with Leahy after the season. "I think you ought to seriously consider retiring, for the sake of your family and your health. But it's up to you, you still have two years to go on your contract, and we'd pay you the rest of it."
Leahy said he'd think it over.
"Then in a kind of Machiavellian way, I got two of Frank's friends, the former public relations director at Notre Dame and The Chicago Tribune sports columnist, Arch Ward, to talk to him," Hesburgh continued. "And one night at dinner with them he called and said he thought I was right, and he'd resign. I sweetened the pot by telling Frank that, if his six boys qualified, we'd give them all full scholarships to Notre Dame."
Leahy departed after 11 seasons, and the pattern would continue with Ara Parseghian (1964-74) and Lou Holtz (1986-96), national title winners who also wore out from the demands of the job after 11 years.
Football Ups & Downs
Terry Brennan, a Notre Dame football star during the dominant 1940s, was brought in by Father Hesburgh prior to the 1953 season to groom as Leahy's replacement in a couple of years. But he was hired as head coach ahead of his time, and was only 26 in his first season (1954).
After a stellar 17-3 start his first two seasons, Brennan was 2-8 in his third year because of a combination of academic standards well beyond the norm in college football plus an extremely small senior class recruited late in Leahy's tenure.
Still, after a Top 10 finish in 1957 (highlighted by the 7-0 upset of Oklahoma, snapping the Sooners' NCAA-record 47-game winning streak), the 1958 team was deemed to possess national title timber. Instead, the Irish faltered to 6-4 and Brennan was axed near Christmas time, leading to more vilification of Hesburgh.
During the Joe Kuharich years (1959-62), talent was not the issue. By the time Ara Parseghian arrived in 1964, he privately marveled at how he wished they could have had this kind of personnel when he was working at Northwestern (where he was 4-0 versus the Irish) prior to coming to Notre Dame. He nearly balked at taking the job, but a private audience with Hesburgh helped convince him otherwise.
To say that Hesburgh wanted football to falter would be misleading. He wrote after the 1964 season "there is no academic virtue in playing mediocre football." One day after a game during the "down" 8-3 campaign in 1972, he privately asked Parseghian why there were so few black players on the football team. Only five of the top 44 players were black, and this bothered the civil rights champion.
Parseghian told Hesburgh that he was more frustrated than anyone on that situation, and that as the school president he needed to talk with the people in the admissions office to help him out. Hesburgh promised he would. The following spring, Notre Dame signed a school record number of black players in one recruiting season, led by Ross Browner, Luther Bradley, Willie Fry and Al Hunter, among others, who would help the Irish to the 1973 national title.
Three national championships were won in the 12-year period from 1966-77, and there were several other near misses before and after the term of his presidency, along with the 1988 national title as "president emeritus." Through it all, Hesburgh remained consistent with his speech to Irish coaches upon their hiring. An abbreviated version of the two-minute speech appeared in Sports Illustrated in 1983: "You've got five years. We won't say boo if you lose. I think you'll have the tools here to win more than you lose; it seems to work out that way. But if you don't (win), you won't hear from me. You will hear from me if you cheat. If you cheat, you'll be out of here before midnight."
In that same article, Sports Illustrated concluded "Notre Dame has a leadership that knows how to appreciate football as much as it knows how to control it."
That leadership may have not always been popular, but it turned out to be right more often than not in its approach to excellence and integrity. Hesburgh weathered many a storm in all arenas, and the respect and esteem past and present graduates have for him grows exponentially.
The great ones truly do stand taller than ever over the test of time, and his impact on his beloved Our Lady's school will be eternal.
----
• Talk about it inside Rockne's Roundtable
• Subscribe to our podcast on iTunes
• Learn more about our print and digital publication, Blue & Gold Illustrated.
• Follow us on Twitter: @BGINews, @BGI_LouSomogyi, @BGI_CoachD,
@BGI_MattJones, @BGI_DMcKinney and @BGI_CoreyBodden.
• Like us on Facebook