Notre Dame Eases To 99-81 First-Round Victory Versus CSUN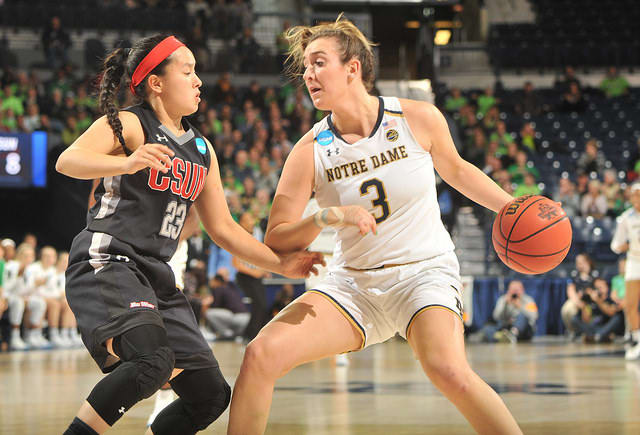 A 32-point second-quarter in which Notre Dame converted a sizzling 13-of-16 field goal attempts (81.3 percent) propelled a 99-81 victory over Big West champion CSUN (Cal State University Northridge) in first-round NCAA Tournament action Friday afternoon at Purcell Pavilion.

The Irish will host No. 9 seed Villanova on Sunday in the round of 32, with tip-off time to be determined. The Wildcats defeated No. 8 seed South Dakota State 81-74 in overtime on Friday evening.
The point total versus the Matadors tied the highest output in Notre Dame's (30-3) long NCAA Tournament history (achieved in the Sweet 16 last year versus Ohio State), and was led by "The Big Three" All-ACC trio:
• Junior guard Arike Ogunbowale tallied a game 30-points on 12-of-20 shooting from the floor. In the first half she also led the team in rebounds and assists with five apiece.
• In her first NCAA Tournament game, junior forward Jessica Shepard also shot 12-of-20 from the field for 24 points, and achieved a double-double for the 12th time this season with 10 rebounds — while also dishing out seven assists to tie for the team lead.
• Junior guard Marina Mabrey converted a career high 6-of-8 three-pointers — knocking down her first five attempts — for 23 points, and shared team-high assist honors (seven) with Shepard.
Unfortunately, the game might be another potential Pyrrhic victory because three minutes into the contest Irish senior forward Kathryn Westbeld took a hard spill while going up for a basket and rolled her left ankle. She had to be taken to the dressing room with a conspicuous limp.
Surgery was performed on Westbeld's right ankle last spring in which the recovery was slow, but this time it was her left ankle. She returned to the Irish sideline at the start of the second half, but her status for the rest of the tournament, and her college career, is in limbo. X-rays will be taken tomorrow to determine future availability.
Notre Dame took the lead for good on an Ogunbowale jumper to make it 16-14 during a 9-0 run in the first quarter that ended with a 23-16 advantage at the conclusion of the first 10-minute segment.
In the second quarter a 12-0 Notre Dame spurt extended the cushion to 46-24 prior to a 55-32 halftime advantage. The Irish expanded the advantage to as much as 34 points (82-48) with 3:03 left in the third quarter before CSUN continued its own hot shooting spree in the second half while outscoring Notre Dame 49-44 in those 20 minutes.
"The second quarter, I thought we played as well as we had all year," summarized Notre Dame head coach Muffet McGraw. "…The first game is a tough one. We were all excited and then Kat goes down three minutes into the game, so we had a different lineup on the court earlier than we normally would.
"I thought we struggled defensively. Everything we talked about trying to stop [6-4 junior Channon] Fluker, and she just went to town on us (25 points, 11 rebounds). I was a little disappointed that we came out and didn't play better defensively."
Three-Point Play
1. Down On The Defense
The Matadors were 11-of-17 from the floor in the third quarter (64.7 percent) and 10-of-17 in the fourth (58.8 percent) to finish at 53 percent overall in the contest to Notre Dame's 54.8 percent (40-of-73).
The inside tandem of Fluker and Tessa Boagni combined for 23-of-35 shooting (65.7 percent), while Destiny Brooks was 8-of-13 from three-point range (5-of-7 in the second half). In some man-to-man defense, which the Irish have not played much since the turn of the new year, Brooks often broke free in transition.
"We didn't even try," said the often candid Mabrey of Notre Dame's defensive performance. "The effort wasn't there. We just gave up on plays. I'm happy we got the win, but I think the team is much better than we showed."
"That was probably the most frustrating part of the game — we just couldn't find [Brooks]" McGraw said.
2. Shepard Wings It
The junior forward played out on the wing more against the Matadors and made numerous excellent cuts to the basket for lay-ins. Her underrated passing skills also were showcased with her seven assists. It should provide some evidence that when 6-3 All-American forward Brianna Turner returns from her ACL injury next season, the two should be able to complement each other with high-low play.
3. For The Record
With her 30-point output against CSUN, Ogunbowale's season scoring average is now at 20.5 — just ahead of the single-year school record 20.4 set by Katryna Gaither for the Final Four team in 1996-97. Associate head coach Beth Morgan Cunningham averaged 20.2 a year earlier.
In addition, the 28 assists against CSUN matched the Irish season high versus North Carolina on Feb. 1. Finally, it was the first time Notre Dame had three players score at least 20 points in the same game since Jan. 7, 1999.