Notre Dame Dec. 18 Practice Update
Click HERE to sign up for an annual subscription to BlueAndGold.com and get your FREE gift code for $99 in Irish apparel and gear!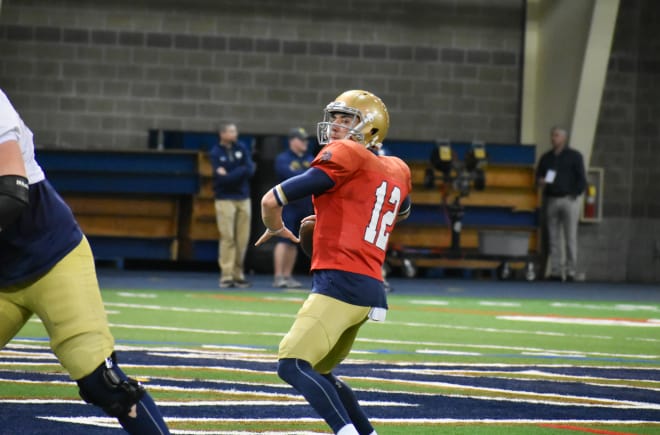 The Fighting Irish opened the first three periods (15 minutes) for media viewing on Tuesday afternoon. It involved mainly stretching work and a few TEAM pace drills.
Some jersey numbers on scout team were changed around for practice purposes in preparation for the Dec. 29 College Football Playoff game versus Clemson. Because Notre Dame is the lower seed in the Cotton Bowl, it will wear visiting white, which meant the offense is practicing in white while the defense is in blue.

Overall, the two deep (listed below) was status quo:
• Sophomore defensive tackle Myron Tagovailoa-Amosa, who broke his right foot in the Sept. 1 opener versus Michigan that resulted in surgery, was not restricted in any of the drills we saw and was moving around. He aligned with the third unit, behind starter Jerry Tillery and freshman Jayson Ademilola.
• Among the players who have been listed on the two-deep most of the year that were riding stationary bikes while recovering from injuries were sophomore left guard Dillan Gibbons and freshman wideout Joe Wilkins Jr.
• Replacing Gibbons at left guard was someone wearing No. 75, which is what led to some confusion on some numbers, because sophomore right tackle Josh Lugg also wears 75. Other than that the second offensive line remained the same with freshman left tackle Jarrett Patterson, sophomore center Colin Grunhard, senior right guard Trevor Ruhland and right tackle Lugg. We suspect the left guard was one of two freshmen, John Dirksen or Cole Mabry.
• With Wilkins on the sideline, fellow freshman Lawrence Keys III was taking reps with the twos in the 11-on-0 Team pace drill. Sophomore running back Jafar Armstrong, who had been slowed most of the final two months, also was taking reps at wideout, which was his original position and hardly foreign to him.
• Other scholarship players on the stationary bikes or doing limited workouts to the side included senior nickel/corner Shaun Crawford, who has indicated he will return for a fifth season in 2019, freshman tight end George Takacs, freshman nose tackle Ja'Mion Franklin, freshman linebacker Jack Lamb, and fifth-year senior captain Alex Bars, who has served as an assistant to offensive line coach Jeff Quinn.
The lineup anticipated for the Cotton Bowl features:
QB: Ian Book, Brandon Wimbush
RB: Dexter Williams, Jafar Armstrong or Tony Jones Jr.
WR: Miles Boykin, Kevin Austin
WR: Chase Claypool, Michael Young
WR: Chris Finke… to be determined
TE: Alize Mack or Nic Weishar or Cole Kmet, Brock Wright
LT: Liam Eichenberg, Jarrett Patterson
LG: Aaron Banks, Dillan Gibbons
C: Sam Mustipher, Colin Grunhard
RG: Tommy Kraemer, Ruhland
RT: Robert Hainsey, Josh Lugg
Defensive Depth Chart
Strong side end: Khalid Kareem, Ade Ogundeji, Jamir Jones
3 Technique: Jerry Tillery, Jayson Ademilola
Nose Tackle: Jonathan Bonner, Kurt Hinish, Micah Dew-Treadway
Drop End: Julian Okwara, Daelin Hayes, Justin Ademilola
Mike LB: Te'von Coney, Bo Bauer or Jonathan Jones
Buck LB: Drue Tranquill, Jordan Genmark Heath, Shayne Simon
Rover: Asmar Bilal, Simon
Boundary CB: Julian Love, Donte Vaughn
Field CB: Troy Pride Jr. TaRiq Bracy
SS: Jalen Elliott, Nick Coleman (nickel) or Houston Griffith (nickel)
FS: Alohi Gilman, Devin Studstill, Nicco Fertitta
Kicker: Justin Yoon, Jonathan Doerer
Kickoffs: Yoon or Doerer
Punter: Tyler Newsome, Jeff Riney
Long-snapper: John Shannon, Michael Vinson
Holder: Nolan Henry, Ian Book
Punt Returns: Finke, Gilman
Kick Returns: Michael Young, Avery Davis