Notre Dame DE Target Joshua Paschal Shines In Season Opener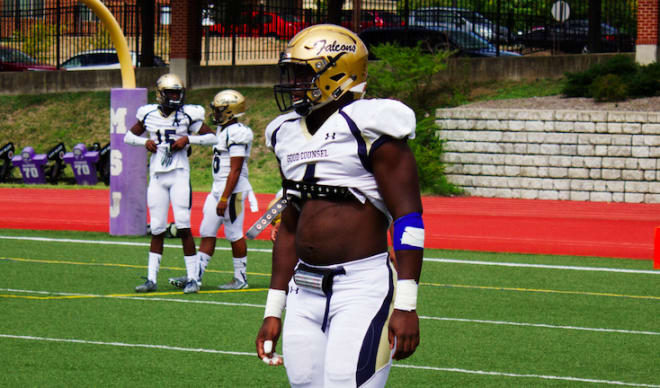 Olney (Md.) Good Counsel High senior and Notre Dame recruiting target Joshua Paschal displayed versatility and athleticism in a 23-21 road win over Mount Saint Joseph's High School Sept. 3.
The four-star prospect, who is ranked as the No. 8 strongside defensive end and No. 232 overall player in the nation by Rivals, hauled in a 44-yard touchdown reception to give the Falcons, the No. 4 team in the state of Maryland according to MaxPreps, a 23-7 lead with 4:53 remaining in the second quarter.
Paschal and the Good Counsel defense dominated the first half, holding the Gaels scoreless after their touchdown drive on the opening possession of the game.
However, No. 9-ranked Mount Saint Joseph scored 14 unanswered points in the second half to cut the deficit to two points with 4:53 remaining in the fourth quarter. Good Counsel's victory was sealed when the Falcons recovered a fumbled snap in the red zone with 1:04 left to play.
"They had a great team," Paschal said after the game. "We had to get used to their play and get used to how they threw the ball a lot."
"They were tough to stop," Good Counsel head coach Bob Milloy added. "I'm just fortunate enough to get past it and give us another week to get better. We'll get better, I can promise you that."
Paschal — who finished with 11 tackles, including one for loss — put in a very solid performance defensively. Battling through the heat and hurry-up Gael's offense, he was a constant presence in the pass rush when opportunities presented themselves. A staple of Mount Saint Joseph's offense was the three-step pass game from the gun, making it tough for Paschal and his teammates to generate a rush at times.
The most impressive play of Paschal's performance was when the 6-4, 255-pounder checked in on offense and strode past the Mount Saint Joseph secondary for a touchdown.
"Everybody knew that if I come in we're going to want to run the ball," Paschal said. "So when I stepped out I just have to run as fast as I can, and as soon as I saw everybody come up and I got behind the safety, I looked back and I was wide open. Travis [Nannen] threw me a perfect pass."
Paschal, a member of the Good Counsel 4x100-meter relay team, put his athleticism on display on offense and throughout his matchup with Mount Saint Joseph's 6-3, 310-pound offensive tackle Anthony Ruffin.
Paschal was played in various spots across the line, showing the versatility to be sturdy against double teams inside and the finesse to beat offensive tackles from a wide five alignment.
"He's quick, and he's got a lot of strength in his butt and his thighs," said Malloy, who captured a Maryland-record 400th win as a head coach. "He had to get a push from inside."
"I just got double teamed a lot when I moved inside," Paschal said. "It's best for the team, because not everybody can take on double teams and still stay at the line of scrimmage. It's a team effort."
On July 12, Paschal narrowed his list down to seven schools: Maryland, Clemson, Tennessee, USC, Oklahoma, UNC and the Irish.
"I'm not ready to commit yet, I still want to take some visits," Paschal said. "I'm setting up some now. I think I'm going to Oklahoma soon, and I'm trying to set up my Notre Dame one also."
Paschal and the Good Counsel Falcons (1-0) resume action Sept. 9 when they travel to Archbishop Spalding ahead of their massive clash with No. 5 Gilman the following week.