Notre Dame Commitment Profile: 2020 CB Clarence Lewis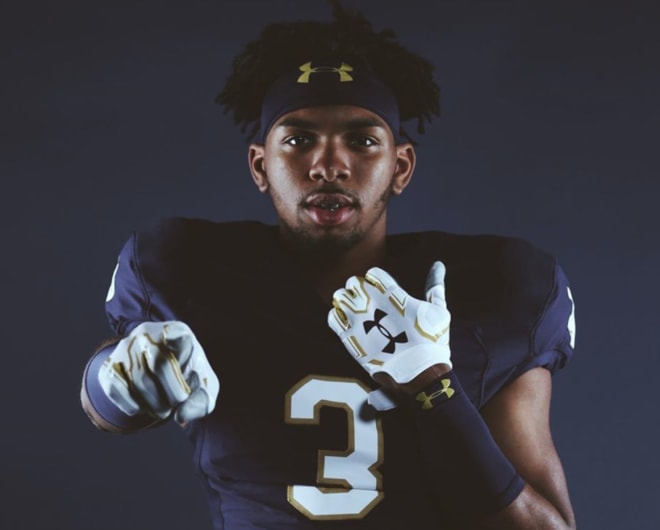 The wait is over for Notre Dame's first defensive back commitment, as Middletown (N.J.) Mater Dei cornerback Clarence Lewis announced his pledge to the Irish on Monday night.
Lewis, a 6-foot, 180-pound three-star prospect picked the Irish over the likes of Nebraska, Virginia Tech, West Virginia Boston College, Duke, and Purdue, among others.
"I would like to start off by thanking God because without him none of this would be possible," Lewis said in his announcement tweet. "I'd like to thank my mother for being there with me thrtough this whole journey and all the sacrifices she made to get me here today.
"Last, I'd like to thank all the schools that extended scholarship offers to me. With that being said I am grateful and extremely excited to announce that I will be attending...... The University of Notre Dame!!"
OFFER LIST: Boston College, Duke, Kentucky, Nebraska, Notre Dame, Purdue, Rutgers, Vanderbilt, Virginia Tech, West Virginia, Minnesota, Syracuse
STATS: Had the third-highest Nike training score of any DB (109.74) at The Opening New Jersey Regional (per NJ.com) ... Named to the first team 2018 All-Non-Public Offense according to NJ.com ... Ranked No. 15 of all players in New Jersey per NJ.com ... Hauled in 21 passes for 411 yards and six touchdowns on offense.
ANALYSIS: "Lewis brings the length/speed combination that Notre Dame covets on the perimeter of its defense. He's quite raw from a technique standpoint, especially from a footwork standpoint, but all the physical traits are there. He's tall, long, shows strong hands, possesses quick feet and his long speed is impressive.
"He's the kind of high-upside player Notre Dame needs at cornerback in the class, but it might take some time for the technique part to get where it needs to be." - Blue & Gold Illustrated Football Analyst Bryan Driskell
QUOTABLE: "It was a great way to learn more about Notre Dame," Lewis said of his Notre Dame visit. "I actually loved the school. I learned a lot of new stuff, like how big they are on academics and what happens after college and the networking they have."
Notre Dame Commitment List
2020 Commits By Position
1 - Quarterback
1 - Running Back
1 - Wide Receiver
2 - Tight End
1 - Offensive Linemen
4 - Defensive Linemen
0 - Linebacker
1 - Cornerback
0 - Safety
1 - Special Teams
Where Are They From?
1 - Arizona
1 - Connecticut
1 - Colorado
1 - Germany
1 - Hawaii
1 - Illinois
1 - Kentucky
1 - Missouri
2 - New Jersey
1 - Virginia
1 - Washington, DC