Notre Dame Business At Home Top Priority For Brian Kelly After USC Visit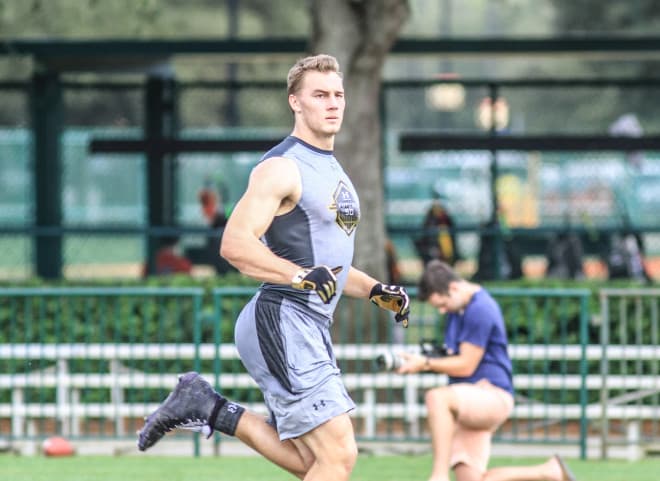 Notre Dame's annual season-ending trip to California — USC in even-numbered years and Stanford in odd ones — usually has Brian Kelly and his staff spending time in the Golden State for recruiting purposes. During his Tuesday conference, Kelly said his time there this year will be more limited.

"I'll be back in the office," he said. "I want to do exit interviews with all of our players, offensively and defensively, and I think that's as important as recruiting. What I think is most important is that I get in with all of our mid-year enrollees."
When former Irish head coach Charlie Weis (2005-09) was informed to come back early after the season-ending loss to Stanford in 2009, it was for a different type of "exit interview." He was fired by the school, and Kelly was announced as his replacement nine days later. This time it appears to be defined differently despite Notre Dame's 4-7 record.
For Kelly, the exit interview part includes nine senior scholarship players who could apply for a fifth season of eligibility. Eight of them are on offense: quarterback Malik Zaire, running back Tarean Folston, wide receiver Torii Hunter Jr., tight ends Durham Smythe and Jacob Matuska, and linemen Mike McGlinchey, Colin McGovern and Hunter Bivin (a fourth offensive lineman, John Montelus, has already tweeted that he won't return for a fifth season).
Defensively, the lone candidate is currently suspended cornerback Devin Butler, although with the bevy of freshman talent at that position (Julian Love, Donte Vaughn and Troy Pride Jr.), plus the return of junior Nick Watkins and sophomore Shaun Crawford — both projected starters who were sidelined this year with injuries — his return in 2017 also would seem less likely because playing time would appear minimal.


Including the 18 current verbal commits for 2017, Notre Dame right now would have 83 scholarship players for next season. That's not including the fifth-year senior prospects and other recruits who could still commit and sign. Thus, Notre Dame technically could be over the NCAA limit of 85 this spring, as it has been in recent years, but attrition via transfers, medical hardships, early departure to the NFL, etc., always get the Irish to the 85 (and under) limit.
The four potential mid-year entrants (spring semester that begins in January) are offensive lineman Robert Hainsey, running back C.J. Holmes, safety Isaiah Robertson and tight end Brock Wright.

When asked what his message will be on the recruiting trail after this year's 4-7 campaign so far, Kelly said it is unchanged.
"You're here to be challenged both in the classroom and out on the football field," he said. "We're here to win championships and we're here to get our degree at Notre Dame. I don't think any of that has changed.
"We're not here to not win football games and be part of the top echelon of teams. We've had a sub-par season, but that's going to just be a hiccup, and you'll be part of a championship program when you come to Notre Dame."
----
• Talk about it inside Rockne's Roundtable
• Subscribe to our podcast on iTunes
• Learn more about our print and digital publication, Blue & Gold Illustrated.
• Follow us on Twitter: @BGINews, @BGI_LouSomogyi, @BGI_CoachD,
@BGI_MattJones, @BGI_DMcKinney and @BGI_CoreyBodden.
• Like us on Facebook