Notre Dame Basketball To Host First 2022 Official Visitor Monday
Notre Dame basketball is hosting its first 2022 recruiting target for an official visit that begins Monday.
Philips Exeter Academy (N.H.) forward Dominick Campbell is the visitor, and he will be in South Bend until Wednesday.
Notre Dame offered the 6-8, 235-pound Campbell in May. He took official visits to Stanford and Oklahoma earlier in June. Boston College, Harvard, Illinois, Minnesota, Penn State, Providence, South Carolina, Tennessee, VCU and Virginia Tech have also offered him since late May.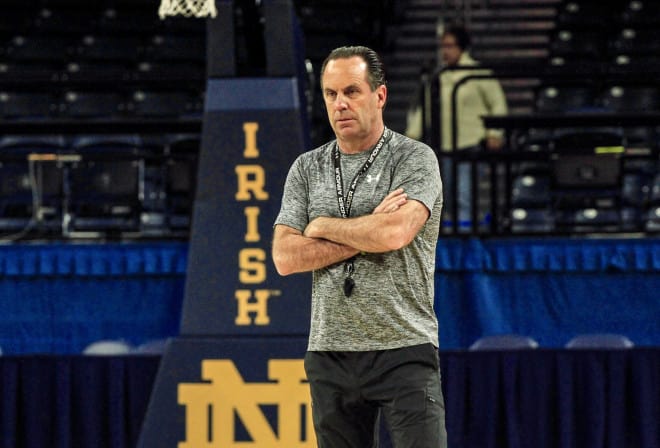 A native of Maine, Campbell plays AAU for Massachusetts-based program Middlesex Magic. The team has some familiarity with Notre Dame — former Notre Dame guard/forward Pat Connaughton played for it in the early 2010s.
Rivals does not have a ranking on Campbell, but the expectation is that will change when rankings update next in August.
"A big, strong player at 6-foot-9 and 240 pounds, Campbell can line up across the floor, whether it be on the low block with footwork and touch, the mid post with his ability to face and make a play or as a pick and pop or trail big shooting the 3-ball," Rivals national basketball recruiting analyst Jamie Shaw wrote.
"He has strong hands that once he gets ahold of the ball, he is not letting go…Campbell has burst on the scene and is someone who will, almost assuredly, be in the next Rivals150."

Notre Dame has also hosted La Lumiere (Ind.) four-star guard J.J. Starling twice for unofficial visits in June. The No. 46 player in the 2022 class is a priority target for the Irish.
All told, the Irish have offered 12 players in the 2022 class who have not made a college choice. With seven seniors on the 2021-22 roster, Notre Dame could be looking at a 2022 class of five or six newcomers between high school and transfer additions.
Those seniors have the option to come back for a fifth season, though. The NCAA passed a COVID-19 blanket waiver last fall that granted all 2020-21 winter athletes an extra year of eligibility.
Guard Prentiss Hubb, guard Dane Goodwin and forward Nate Laszewski will play their fourth college seasons in 2021-22 and now have the option to return for a fifth. Guards Cormac Ryan, Trey Wertz and Robby Carmody are academic seniors but were eligible for 2022-23 even before the NCAA granted an extra season. Yale grad transfer forward Paul Atkinson Jr. is out of eligibility following this season.