Notre Dame Avenges North Carolina Defeat With 95-77 Victory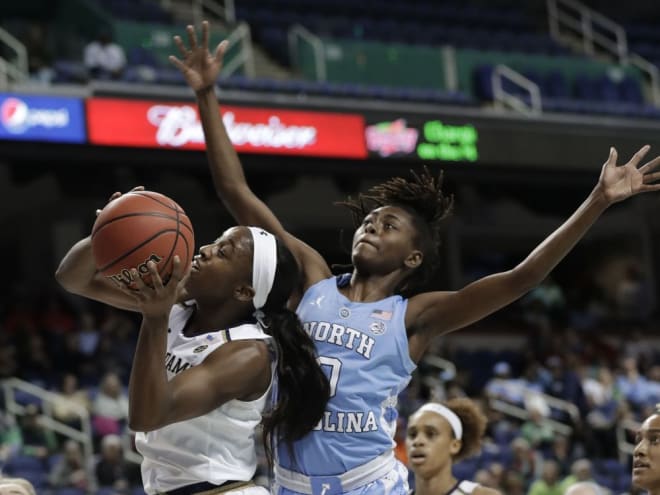 Jackie Young can make a difference.

The junior guard, fresh off her second triple-double last Sunday versus Virginia, flirted with another one while helping No. 4-ranked Notre Dame defeat North Carolina 95-77 in quarterfinal action at the ACC Tournament in Greensboro, N.C.
Sidelined with a sprained ankle when the Fighting Irish suffered a stunning 78-73 defeat at Chapel Hill on Jan. 27, Young scored 19 points, handed out nine assists and grabbed seven rebounds this time against the Tar Heels.
Head coach Muffet McGraw maintained it was lame to use Young's absence as an excuse for losing to an unranked team anyway, but her production and impact cannot be ignored, either.
With the victory, the 28-3 Fighting Irish advance to play Syracuse in tomorrow's noon semifinal that will be telecast on ESPNU. The 24-7 and No. 18-ranked Orange recorded a 92-85 mild upset victory versus No. 16 Miami while converting an ACC Tournament record 14 three-pointers.
Senior guard Arike Ogunbowale paced all scorers with 28 points, highlighted by converting 5 of 9 from three-point range, while graduate student Brianna Turner has been on a tear the past month, adding a season high 24 points on 11 of 15 shooting from the floor and hauling in 10 rebounds.
A 9-0 first quarter run put the Irish ahead for good at 19-12, and the 10-minute session was capped with a Young basket at the horn for a 25-16 cushion while the Irish made 12 of their 19 shots (63 percent). Turner already tallied 10 points while Young had eight.
After the Tar Heels closed to within 31-27, Ogunbowale answered with eight straight points for a 39-27 advantage. North Carolina continued to battle, requiring a Jessica Shepard bank shot at the halftime horn to provide a 45-38 lead. A 16-3 Irish run to make it 63-44 in the third quarter sealed the outcome that would see the Irish lead by as much as 23 points (93-70).
Freshman point guard Jordan Nixon did see some late action after missing the past several weeks with a hamstring injury.
Three-Point Play
1. Orange Redemption?
The Irish crushed Syracuse 98-68 in the Carrier Dome Feb. 25 — yet another game where Young came close to a triple-double with a career high 12 assists to go with 10 points and eight rebounds. The starting five all tallied double figures, led by Ogunbowale's 24 points, followed by Turner's 22 and Shepard's 17 (plus 13 rebounds) that matched Marina Mabrey (plus eight assists).
Look for the Orange to want to make a better accounting of itself, but it still will be Syracuse's third game in three days.
2. On The Defensive (Again)
North Carolina scored 78 points in the January triumph against the Irish, but this time was "held" to 77, with standout senior guard Paris Kea dropping in 27 points after tallying 30 the first time. It's been a season-long theme, but McGraw ireferred to Notre Dame's performance on defense as "deplorable." Last year the question was whether Notre Dame could go all the way with only a six-person rotation and no true point guard. This time it centers far more on the defense.
3. Meanwhile, On The Offensive
After taking its biggest lead at 93-70, it looked like Notre Dame would extend its school-record six straight games with victories by at least 23 points before the Tar Heels snapped it. Still, the Irish averaged 96.5 points per game (never less than 89) on 53.8 percent shooting (never under 50 percent) in their last six regular season victories while dishing out 153 assists on those 228 made field goals, which accounts for assists on 67.1 percent of the baskets. Against North Carolina it was somewhat in line with 95 points, 58-percent shooting and 23 assists on 40 baskets (only 57.5 percent this time).