Notre Dame And 2017 Opponents: Over & Under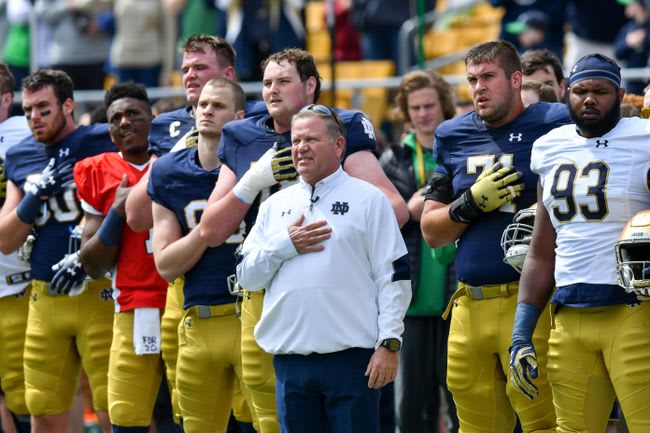 Don't miss out on any of our exclusive football, basketball and recruiting coverage. Click here to get your 30-day free trial!
For the 2017 regular season, Las Vegas has installed Notre Dame's over-under win total at 7.5. That means doubling last year's 4-8 record to 8-4 would be classified as a "win," at least on paper.
For whatever it's worth, last year that figure for Notre Dame was 9.5. The only college football teams that were projected to win more contests than the Fighting Irish in the 2016 regular season were eventual national champ Clemson and Boise State at 10.5 each, while Alabama, LSU, Michigan and Oklahoma were all at 10.
Among those six, four reached or eclipsed the 10 wins. Boise State was under by 0.5 with a 10-win regular season, while LSU was under by two with an 8-4 finish, leading to the ouster of head coach Les Miles following a 2-2 start.
Notre Dame finishing 5.5 below the set mark was the biggest disappointment among the then 128 Football Bowl Subdivision teams, ahead of even Oregon (4-8 with an O/U of 8 for a minus-4) and Michigan State (3-9 with an O/U of 7.5 for a minus-4.5).
If Notre Dame does indeed achieve the "over" this year, it would be the eighth time in the football team's history that it would win at least four more games than it did the year prior, with the most recent coming under current head coach Brian Kelly.
Only three times did Notre Dame record five or more victories than it did the previous season. For the Fighting Irish to accomplish that a fourth time, they would have to post at least nine victories in 2017.
Here are those previous seven:
1963-64, Plus 7 — From 2-7 to 9-1
1956-57, Plus 5 — From 2-8 to 7-3
2001-02, Plus 5 — From 5-6 to 10-3
1987-88, Plus 4 — From 8-4 to 12-0
1929-30, Plus 4 — From 5-4 to 9-0
2007-08, Plus 4 — From 3-9 to 7-6
2011-12, Plus 4 — From 8-5 to 12-1
Meanwhile, here are the over-under regular season win totals for the 2017 Notre Dame opponents, listed chronologically with last year's record in parentheses:
Temple — 7 (10-4)
Georgia — 9 (8-5)
Boston College — 4 (7-6)
Michigan State — 5 (3-9)
Miami (Ohio) — 8 (6-7)
North Carolina — 7 (8-5)
USC — 10 (10-3)
North Carolina State — 6.5 (7-6)
Wake Forest — 5.5 (7-6)
Miami — 9 (9-4)
Navy — 7 (9-5)
Stanford — 9 (10-3)