Notre Dame Aiming To Clean Up Tackling Problems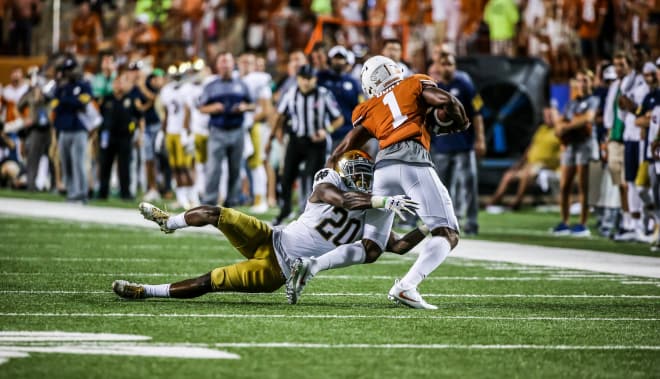 A variety of factors on defense contributed to Notre Dame's 50-47 double-overtime loss to Texas last week, though few were more frustrating than the team's tackling problems.
Pro Football Focus, which grades every snap of every play, recorded 24 missed for Notre Dame, a jarring stat that was obvious when the Irish players watched the film.
"That definitely happened too much this game," senior cornerback Cole Luke said. "It's kind of disappointing, but we work on it a lot. You can never practice something too much obviously.
"That's something we're going to have to work on a lot moving forward, and we worked on it a lot already this week. It's not where we wanted it to be obviously, and you could see that it took advantage of us at times. I can't really harp on it too much, we've got to move forward."
Notre Dame coach Brian Kelly expects to see big improvements from Week 1 to Week 2. The Irish, however, don't do much live tackling throughout the preseason practice, Kelly said.
"You're trying to tackle as much as you can on objects that are not 250 pounds running at you," Kelly said. "So we'll spend more time on tackling, but we expect that the tackling will get better and better as our guys settle into it defensively."
Some of the most notable missed tackles came when Texas quarterback Tyrone Swoopes was in the game. The 6-foot-4, 249-pound Swoopes was used in short-yardage situations, and as the game progressed, Notre Dame struggled to bring Swoopes to the ground.
According to PFF, Notre Dame tallied eight missed tackles on Swoopes' 13 carries.
"I think if we had to do anything differently we probably would have added a little bit more personnel to the two tight end run game packages with Swoopes, in retrospect," Kelly said.
So where does Notre Dame go from here? Junior linebacker Greer Martini said the Irish need to "get back to basics."
"Just from a technical standpoint, running your feet and not letting your legs die on contact, stuff like that," said Martini, who had eight tackles in the opener. "Just in practice we have tackling circuits and various stuff like that where we can work on it. Week by week we'll get better, but we're a lot better this week."
Senior defensive end Isaac Rochell, who had nine tackles and 2.5 tackles for loss against Texas, said it's a matter of finishing.
"It's been a point of emphasis, but people were missing tackles — you can't hide from it," Rochell said. "There's nothing special to do, you just need to make tackles. It wasn't huge, there were other things that needed to be improved. It wasn't like we lost the game because we couldn't tackle. That with other things we needed to work on.
"It's something you have to think about and be conscious about. Sometimes it's just not settling down and trying to make a play and just going and tackling somebody. It various from person to person. Can you solve it in a week? I don't know, it varies from person to person."