Notre Dame Advances In ACC Tournament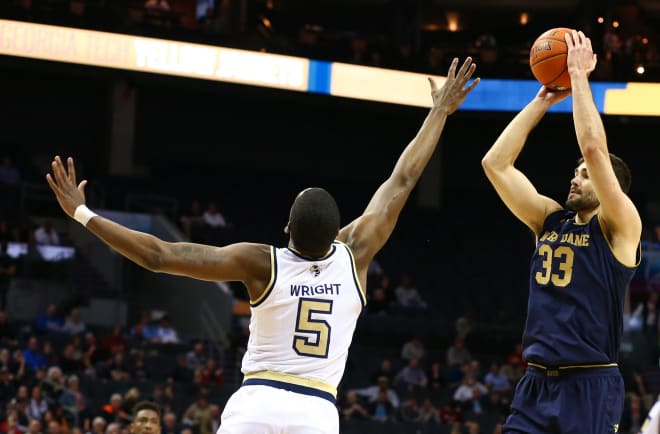 CHARLOTTE, N.C. — Notre Dame split the regular season series against Georgia Tech, but the rubber match went to the Fighting Irish on Tuesday.
Short-handed Notre Dame hung on to top Georgia Tech 78-71 in the ACC Tournament at the Spectrum Center in Charlotte.

ND improved to 14-18 overall and will play Louisville at 7 p.m. Wednesday. The Cardinals won the regular season meeting 75-61 at the KFC Yum! Center on March 3. Junior center John Mooney had 22 points and 13 rebounds in the loss for the Fighting Irish.
Blue & Gold Illustrated recaps the contest between Notre Dame and Georgia Tech half-by-half.
FIRST HALF
Notre Dame's offense hit its stride in a dominating first 20 minutes, to take a 52-32 lead at halftime. The Fighting Irish shot an impressive 7 of 11 from three-point land and only had two turnovers.
Freshman wing Dane Goodwin provided the spark with five straight points, but then fellow recruiting classmate Nate Laszewski started to heat up himself with eight points. Notre Dame started three freshman with point guard Prentiss Hubb joining Goodwin and Laszewski. The latter two combined for 17 of Notre Dame's first 30 points, with the Fighting Irish leading 30-21 with 7:59 left in the first half.
Laszewski's outside shooting was a nice carryover from his 23-point performance against Pittsburgh last Saturday. The 6-10, 200-pounder went 6 of 9 from three-point land against the Panthers, and hit two quick ones against the Yellow Jackets. Laszewski also apparently enjoys playing against Georgia Tech, making four three-pointer en route to 19 points in a 63-61 loss on Jan. 22.
Not wanting to feel left out, Hubb got into the scoring act with a nice drive and then later a 3-pointer and Notre Dame was playing smooth and efficient on offense. The three freshmen combined for 30 points in the first half.
The camaraderie on the team, even while experiencing a rough season, even showed in little ways. When Laszewski was fouled on a three-pointer and hit the ground, his teammates sprinted over to help him up. However, the next time Laszewski hit the ground, Notre Dame head coach Mike Brey came out to offer support. Laszewski needed assistance to come off the court with 1:43 left in the first half, up 48-32. He finished the half with 14 points, and that doesn't include teammate T.J. Gibbs making his two free throws.
Notre Dame had 12 assists on its 18 made field goals in the first half, with Hubb leading the way with five of them. ND shot 58.1 percent from the field.
SECOND HALF
Redshirt sophomore center Juwan Durham started the second half with Laszewski injured.
The Fighting Irish were already without injured wings Rex Pflueger and Robby Carmody, and forwards D.J. Harvey and Nikola Djogo. Add in Elijah Burns being a graduate transfer to Siena after the first semester, and the Fighting Irish were down to six healthy scholarship players.
Georgia Tech junior center James Banks had a ferocious dunk to cut the ND lead to 61-47 with a little under 13 minutes of play. Momentum was slowly turning toward the Yellow Jackets. However, sophomore point guard Jose Alvarado picked up his fourth foul with 11:38 remaining.
Junior center John Mooney calmed Notre Dame down with a big three-point from the right wing to give the Fighting Irish a 66-49 lead with 8:58 left. The jumper was badly needed to offset the surprisingly effective play of Georgia Tech sophomore power forward Moses Wright, who had 18 of his 25 points in the second half.
Wright popped in a jumper to reach 21 points, but Mooney did a follow-up dunk to get to 16 points himself. Mooney's second half surge was badly needed because the rest of his teammates 3 of 12 from the field during the first 13 minutes of the half.
Freshman wing Khalid Moore's drive gave GT a chance in the final 5 1/2 minutes, cutting the lead to just 68-59. The positive mojo from the first half was long gone, with Notre Dame going into survival mode.
Alvarado drained a three-pointer and Notre Dame's lead shrunk to 72-66 with 1:56 left. Moore added to the drama with a three-pointer to cut it to 72-69 with 1:06 remaining.
Once again, it was Mooney to the rescue with a tough 15-footer to extend the lead to five points, and ND could breath a bit. Hubb tacked on two free throws with 32.1 seconds left and Notre Dame was ready to advance to play Louisville. Mooney scored a team-high 20 points.

Georgia Tech ended up shooting 60 percent from the field in the second half, thanks to Wright going 9 of 12.