Notre Dame A Major Factor For New Jersey DB Jayden Bellamy
When Notre Dame hosted Oradell (N.J.) Bergen Catholic class of 2022 defensive back Jayden Bellamy for a game day visit in November of 2019, he held offers Massachusetts, Rutgers and West Virginia.
Fast forward to today, and Bellamy has gone from a fringe Power Five player to a national recruit. The 6-1, 175-pounder has especially seen his recruiting stock rise in the past few weeks, picking up offers from the likes of Notre Dame, Oklahoma, Penn State and Tennessee.
His offers from the Sooners on Feb. 9 was the turning point in his recruitment, as he picked up his powerhouse offers since then. It may have been coincidental, but soon after Bellamy received the good news from the Oklahoma staff, he heard from Notre Dame safeties coach Chris O'Leary.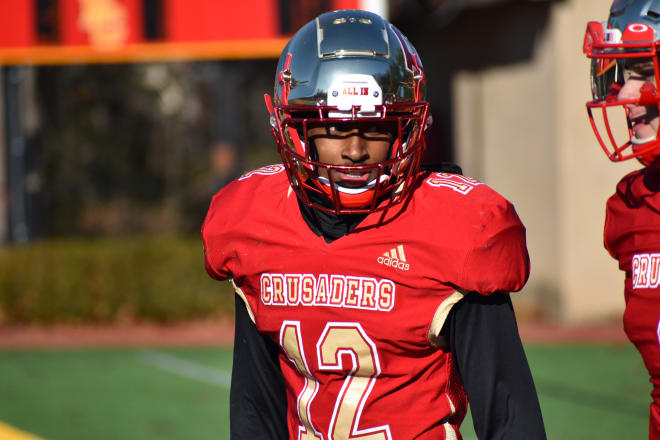 "A couple of hours after I got the Oklahoma offer, Coach O'Leary followed me on Twitter," Bellamy recalled. "Then we got on the phone and was telling me how he liked my film. He got my transcripts from my coach and then offered me."
While O'Leary coaches and recruits the safety position for the Irish, it doesn't necessarily mean that Bellamy is being looked at for just that position.
"Coach O'Leary said that he doesn't put a label on me because he feels like I can play anywhere on the field," Bellamy said. "He sees that I played corner and safety last season; he thinks I'd be good wherever.
"He's great. I know they just hired him, so I was pretty happy that I was one of their first players to catch his eyes. And Coach [Mike] Mickens, I talked to him for a few seconds too. I'm looking forward to getting to know him too."
The Notre Dame offer was a significant one for Bellamy, who attends one of the top Catholic schools in the Northeast.
"It means a lot," Bellamy stated. "This is the offer I've been wanting. When I visited, I liked their campus and atmosphere at the game. I was really happy to receive the offer."
Bellamy's visit to Notre Dame was to see the Irish blow out Boston College 40-7 on Nov. 23, 2019.
"The campus was really nice," Bellamy noted. "It was cold, but it's cold here too, so that's not really a factor. I've never seen a team like Notre Dame play in person, so that was good."
Notre Dame commit Steve Angeli is Bellamy's quarterback at Bergen Catholic. Bellamy played both sides of the ball in the Crusaders' shortened six-game season last fall and caught eight passes for 194 yards and three touchdowns.
Angeli wants to be teammates with Bellamy and four-star cornerback Jaeden Gould, who also plays for Bergen Catholic, at the next level as well.
"He made a group chat with Jaeden and me to try to get us to go to Notre Dame," Bellamy added.
Bellamy is in no rush to make a decision. His recruitment is currently wide open.
"I'm going to make my decision to commit by the summer, probably," he said.
Oklahoma should be a team to keep an eye on. He's been impressed with the Sooners' coaching staff and their winning tradition.
"When I was on the phone with Oklahoma, they really liked me," Bellamy said. "They talked about me being at receiver and seeing how fast I can get out of comeback route; they looked at that from a defensive perspective. They think very highly of me."
Rivals ranks Bellamy as the nation's No. 52 cornerback and No. 11 player in the state of New Jersey.