Notre Dame 2017 Player Projection: TE Durham Smythe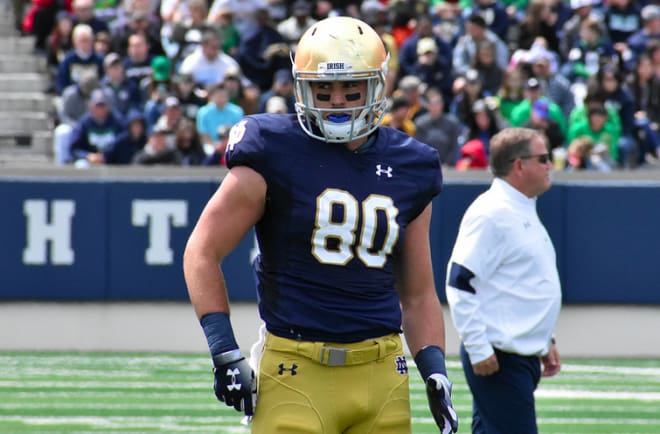 It was expected that a healthy Durham Smythe would have his best season in 2016, but the progress that was expected never really came about. Smythe was a solid player for Notre Dame, but overall his season was a bit of a disappointment.
Smythe is back for a fifth season and the hope is that he can now have that breakthrough season.
BIO
SIZE: 6-5, 256
CLASS/ELIGIBILITY: 5th Year Senior
HOMETOWN: Belton, Texas
HIGH SCHOOL: Belton
PREP RANKING
Rivals: 3-star – No. 15 TE
ESPN: 4-star – No. 6 TE
Scout: 4-star – No. 170 overall – No. 6 TE
247Sports: 4-star – No. 188 overall – No. 6 TE
2016 STATISTICS
9 receptions, 112 yards, 12.4 avg., 4 TD's, long of 31
2016 RECAP
Smythe was expected to be part of a strong one-two punch at tight end, but that duo never materialized. Then sophomore Alizé Mack was suspended prior to the season and Smythe didn't make the strides it was hoped he would make.
Don't get me wrong, Smythe was a decent player in 2016, but he wasn't as effective in the run game as one would expect from a senior and he never became much of a factor in the pass game.
The latter part had more to do with circumstances outside of his control, as Smythe actually did a good job working himself open when he was asked to run routes. Smythe not being targeted or used on primary – or even secondary – routes in a concept isn't really something he can control.
One thing Smythe did do well was find the end zone, with four of his nine receptions going for scores.
Smythe hauled in two touchdowns in Notre Dame's 44-6 win over Army, a game in which he set a career high with two receptions and 41 yards to go along with those two scores.
2017 EXPECTATIONS
Smythe has to improve his effectiveness in the run game. He competed well as a senior in 2016, but he often lacked the strength at the point of attack to really get the kind of movement needed on the edge.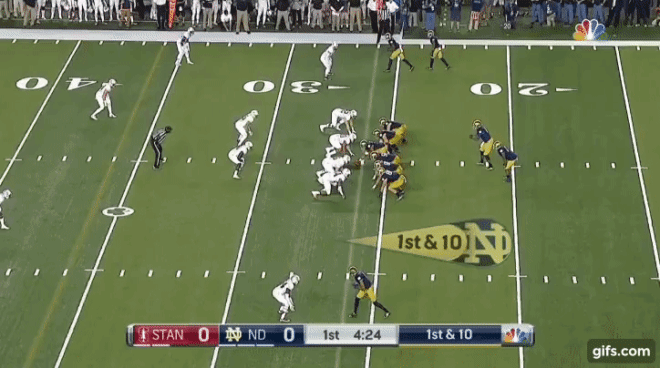 Above is a quality block Smythe made last season. You can see him come off the line quickly, he stays relatively low and he does a good job working his feet. He is able to drive Stanford linebacker Peter Kalambayi off the line, opening up a huge hole for quarterback DeShone Kizer.
The problem Smythe had in 2017 is that he did not make enough blocks like this. He didn't get dominated much and he held his own in most instances, but far too many of his blocks were stalemates and he had too many missed assignments. If he can improve his ability to get more of a push and execute at a higher level his blocking production could and should improve dramatically.
A key for Smythe in this regard is getting stronger, especially in the lower body. He is one of many players that should reap significant benefits by the arrival of new strength coach Matt Balis.
With Mack expected to be the number one pass game weapon at tight end, Smythe will have to force himself onto the field more with his ability to make plays in the run game. If he can be a high-production blocker the two tight end set could become Notre Dame's top personnel grouping.
That does not mean Smythe can't or won't be more effective in the pass game. He can, and it wouldn't be a surprise at all to see Smythe out-perform his career totals as a fifth-year player.
Smythe is a more than capable pass catcher that combines good athleticism with solid route running ability. The Belton, Texas native also has shown good hands and good ball tracking ability.
Smythe does good work over the middle of the field. He is athletic enough to get separation from linebackers and he's a savvy player that can find soft spots in the zone. In an offense where he is targeted more and there is a greater emphasis on finding the tight end his production should increase.
Smythe is also a tough pass catcher that isn't afraid to take a shot if it means getting his hands on the football.
You can see that here: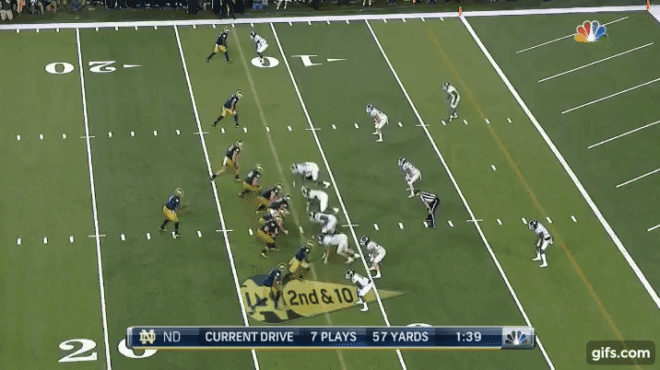 If Smythe can continue making plays like this in practice he could very well work himself into a key third-down role for an offense that desperately needs to improve in that part of the game.
Smythe could also become a key red zone weapon, especially as the offense gets closer to the goal line.
Offensive coordinator Chip Long likes to get the ball to his tight ends when the offense gets closer to the goal line, and with defenses likely focusing more attention on Mack there could be more scoring opportunities for Smythe.
He's already shown a knack for it at Notre Dame:
More plays like this could certainly come from Smythe in 2017.
He might not finish his career with major numbers, but if Smythe can develop as a blocker and become a key situation pass catcher his role in the offense could be vitally important.
A GOOD SEASON FOR SMYTHE WOULD BE ...
One in which he becomes a far more effective and consistent blocker. Smythe is capable of being a force on the edge and Long's desire to move tight ends around in the run game suits Smythe well. He has to get stronger, and if that happens he should become the kind of edge force that Notre Dame has lacked in its run game the last two seasons.
A good season for Smythe will also be one in which his pass game production increases and he becomes a factor over the middle, on third down and in the scoring zone.