Notre Dame 2016 Recruiting: Offensive Grades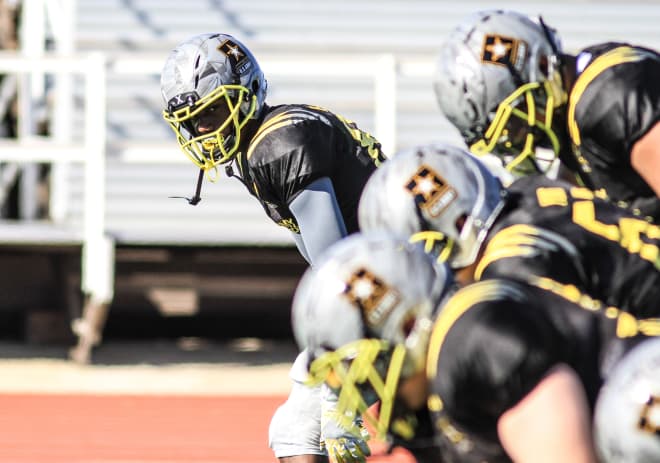 Notre Dame added another talented group of recruits to the roster, inking 23 players for the class of 2016.
Brian Kelly and the Fighting Irish coaching staff brought in one of the top offensive hauls in the country. With the class signed, sealed and delivered, it's time to hand out grades.
For Notre Dame, here is how Blue & Gold Illustrated defines recruiting grades:
A — College Football Playoff Contention
B — Top-10 Viability
C — Top 25-Viability
D — Trying To Be Bowl Eligible
Here is a breakdown and grades for Notre Dame's offensive class.
OVERALL ANALYSIS
Coming into this cycle Notre Dame had five areas of need that this class had to address.
1. Improve the depth and talent of the offensive line.
2. Add a power back that can run between the tackles and handle the "dirty work."
3. Add more playmaking ability to the wide receiver position.
4. Continue improving the overall team speed.
5. Bolster the quarterback depth chart.
Overall Offensive Grade: B+
Notre Dame has landed three straight quality offensive classes, but another was needed. The Irish staff put together a balanced group that largely met all of its needs. The 2016 class adds impact talent at the skill positions and along the offensive line.
For the second straight year, the Irish added one of the nation's best receiving corps, one that could get even better if Savannah (Ga.) Christian wide receiver Demetris Robertson eventually joins the class.
Running back received a boost with the addition of two players from Florida, a pair with contrasting styles to each other and to the backs already on the roster. What they lack in impact talent they make up for with a unique — and needed — skill set. This is especially true for Tony Jones Jr.
Notre Dame's three-man offensive line haul stacks up against the top three of any team in the country. Liam Eichenberg and Tommy Kraemer are an outstanding one-two punch at tackle, which was a huge need for Notre Dame in this class. The only issue with the offensive line haul is the fact it came up a player short after bringing in just two players last year.
There are two "holes" in the class, if they can be described that way. After three years of landing dynamic quarterbacks, Notre Dame brought in a player known more for his leadership and intelligence and less about his physical tools.
Notre Dame also "failed" to land a tight end, but that was more by choice than anything else. The Irish recruited a few players early, but never made a strong push. Once 2017 standout tight end Brock Wright jumped on board, the staff moved on from the position. Even after losing sophomore Tyler Luatua to BYU, the staff decided against adding a 2016 player at the position.
QUARTERBACK
Signees: Ian Book, 6-0, 190, El Dorado Hills (Calif.) Oak Ridge
Quarterback Grade: C+
Analysis: Book is not going to blow anyone away with an NFL body (like DeShone Kizer), or a cannon for an arm (like Brandon Wimbush), or with elite running ability (like Malik Zaire).
In fact, he compares more to former Irish quarterback Tommy Rees, getting by more on moxy, intelligence and attitude than raw tools. Unlike Rees, Book is a quality athlete that projects to possess the ability to extend plays at the next level. His arm is good enough to make most throws and he can move the chains with the read option.
He is not a player that is going to put a team on his shoulders due to his physical tools. What he is, however, is a player that in time has enough physical skills — which he combines with impressive between-the-ears and in-the-chest traits — to lead a team. If surrounded with enough talent — and Notre Dame will surround its quarterbacks with outstanding talent over the next several years — he could prove to be a winner.
2016 Impact: Barring major injuries to multiple players, Book will not be asked to play as a freshman and should be able to preserve a season of eligibility.
RUNNING BACK
Signees: Tony Jones Jr., 5-10, 219, Bradenton (Fla.) IMG Academy; Deon McIntosh, 5-11, 180, Fort Lauderdale (Fla.) Cardinal Gibbons
Running Back Grade: C+
Analysis: Neither Jones nor McIntosh have the raw upside of last years signees, or that of senior Tarean Folston. What they provide to the roster is improved depth, something that was needed in this class.
Jones also provides the depth chart with a unique skill set that it currently lacks — or at least none of the returning runners have proven it with any consistency. That is the ability to pound teams between the tackles. He is a slashing back with a thick lower body, with the ability to run over defenders and grind out tough yards.
Jones is not just a thumper. He has deceptive speed, uses his one-cut running style to make linebackers miss and has good vision. He is also one of the best blocking backs in the nation, and he catches the ball very well. Those traits bumped up his BGI grade due to his all-around ability. All he lacks is the explosiveness many desire at the position.
McIntosh has some burst to his game, showing himself to be a big play threat at the prep level. He has above-average vision, but his footwork keeps him from showing the elusiveness he possesses on a consistent basis. He does not catch the ball much at the high school level, but when he does he flashes good hands and vision.
His lack of size is the one draw back and will likely make him more of a situational player at Notre Dame.
2016 Impact: Notre Dame's depth chart at running back is looking good next season thanks to the return of Tarean Folston from a knee injury. He will be joined by Josh Adams, who set a Notre Dame freshman record with 835 rushing yards. Sophomore Dexter Williams should also push for more playing time next season after another much needed offseason to learn the system and bulk up.
Jones' slashing running style could give him an opportunity to come in and find a role as a short-yardage or goal-line running back as a true freshman.
McIntosh will need time to develop and will likely redshirt.
WIDE RECEIVER
Signees: Javon McKinley, 6-3, 205, Corona (Calif.) Centennial; Chase Claypool, 6-4, 215, Abbotsford (British Columbia) Secondary School; Kevin Stepherson, 5-11, 171, Jacksonville (Fla.) First Coast
Wide Receiver Grade: A
Analysis: For the second straight season, Notre Dame has landed one of the nation's top groups of pass catchers. The talented trio of receivers adds length, power and playmaking ability to the position. With good depth returning, Notre Dame needed a group to challenge and push the veterans, and it does just that.
McKinley might not have the speed many evaluators covet, but his overall skill set and his production is off the charts. McKinley was the best receiver on the West Coast the last two seasons, hauling in 153 passes for 3,226 yards and 35 touchdowns against one of the toughest schedules in the nation. He's physical, has a great feel for the game and getting open, and he is a one-on-one matchup problem for defenses. An overlooked part of his game is his ability to make plays after the catch.
The Canadian Claypool is as raw as they come, but he's also as talented as any receiver in the land. Players with his elite size (6-5, 215) and athletic talents do not come along very often. He has freakish athleticism and shows the ability to out-jump defenders for the ball just as easily as he can make them miss after the catch. Claypool is just scratching the surface of how good he can be.
One of the most underrated players in this class is Stepherson. He won the wide receivers MVP at the Rivals Speed & Skill Challenge in Orlando, Fla., which had a number of highly ranked receivers and defensive backs. Stepherson can run, possessing big-play speed and impressive agility. His ability to change direction suddenly, and with ease, should help him become an excellent route runner. Stepherson is more than just a speed receiver. He catches the ball cleanly and will fight for the football.
2016 Impact: Notre Dame returns experienced veterans Torii Hunter Jr. (35 career catches for 428 yards) and Corey Robinson (65 career catches for 896 yards), but Robinson struggled in 2015. Those veterans will be pushed by last year's talented trio of receivers: Equanimeous St. Brown, Miles Boykin and CJ Sanders, and possibly rising junior Corey Holmes, a former top recruit.
In most year's this kind of returning talent would make it hard for an incoming freshman to see the field, but this year's group is not your typical receiving haul and the lack of overall experience will open up opportunities.
McKinley is a physical receiver that is an ideal fit for the W receiver position. He's physically ready to help out right away and his past production is off the charts. Claypool is a physical freak that could be an immediate weapon in the red zone thanks to his tremendous length, leaping ability and ball skills.
Stepherson could use some time to physically develop, but he catches the ball well and his speed could be hard to keep off the field.
OFFENSIVE LINE
Signees: Liam Eichenberg, 6-6, 280, Cleveland St. Ignatius; Tommy Kraemer, 6-5, 310, Cincinnati Elder; Parker Boudreaux, 6-3, 300, Orlando (Fla.) Bishop Moore
Offensive Line Grade: A-
Analysis: Notre Dame signed one of the nation's best offensive line hauls for the third time in four years. It's top three players can stack up against any top three in the country. Eichenberg and Kraemer are as good of a tackle tandem as any duo in the country. Boudreaux was a standout tackle in high school, but he projects to be a physical run blocking guard for Notre Dame.
Eichenberg is a technician that is a perfect fit for the left tackle position. He is a physical run blocker and a quality athlete, which makes him a dual threat tackle. His body is thick, which should allow him to put on good weight at Notre Dame. Eichenberg has a strong punch and he was dominant during the week of practice at the Under Armour All-American Game.
Kraemer is a powerful run blocker that projects at right tackle, but could also play guard. His game is similar to that of current starting guard Quenton Nelson. He loves to fire off the ball and drill people. Kraemer was a dominant run blocker in high school, and those traits should easily to the college game. He improved his agility as a senior, improving his ability to stick at tackle.
What Notre Dame added in this class is a group of players that bring in a heavy dose of the demeanor and attitude line coach Harry Hiestand wants more of at the position. All are physical, but they are also nasty and play with a mean streak.
The only hole in this group — and what drops the grade — is the fact the class was one player short. After signing just two players in the 2015 class Notre Dame needed four players in this class. Redshirting four of the five 2014 linemen was helpful and the Irish already have two talented linemen in the 2017 class, but a fourth player in this class would have been ideal.
2016 Impact: As good as Eichenberg, Kraemer and Boudreaux are they will all three likely redshirt next season. Hiestand prefers to not play freshmen and the Irish return three returning starters — as of now — and good depth. Barring injury this trio will not be needed in their first year.
Here is how I break down the offensive commits in the 2016 class.
BLUE & GOLD ILLUSTRATED OFFENSIVE RANKING
1. Liam Eichenberg, OL – BGI Grade: 4.5 – Upside Grade: 5.0
2. Javon McKinley, WR – BGI Grade: 4.5 – Upside Grade: 5.0
3. Tommy Kraemer, OL – BGI Grade: 4.5 – Upside Grade: 5.0
4. Chase Claypool, WR – BGI Grade: 4.5 – Upside Grade: 5.0
5. Kevin Stepherson, WR – BGI Grade: 4.0 – Upside Grade: 4.5
6. Tony Jones Jr., RB – BGI Grade: 4.0 – Upside Grade: 4.0
7. Parker Boudreaux, OL – BGI Grade: 4.0 – Upside Grade: 4.0
8. Ian Book, QB – BGI Grade: 3.5 – Upside Grade: 4.0
9. Deon McIntosh, RB – BGI Grade: 3.0 – Upside Grade: 3.5
GRADE KEY
5.0 — Elite (top-25 player)
4.5 — Outstanding (potential impact player, top-50 recruit)
4.0 — Very Good (multi-year starter, top-250 recruit)
3.5 — Above Average (potential starter, top-400 recruit)
3.0 — Solid (good situational player)