Notre Dame 2015-16 Year In Review: Top Male, Female Athletes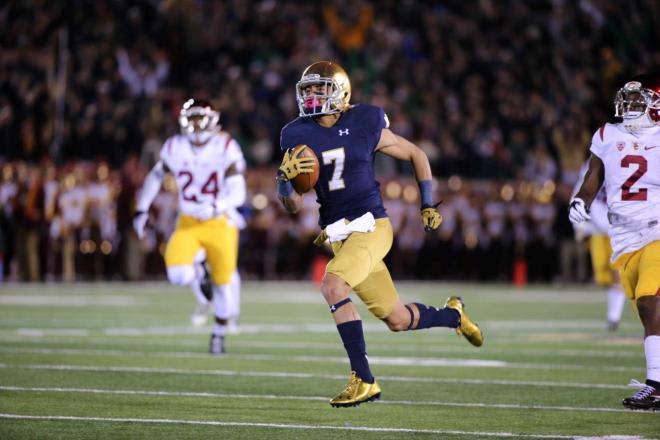 Top Five Male Athletes

1. Quentin Monaghan (Tennis) — Predicated in part as a "career achievement," award for his singles and doubles play, he became the sixth multi-time All-American in program history. Furthermore, the Dean's List student earned two esteemed awards nationally and from his alma mater: The National ITA Arthur Ashe Leadership and Sportsmanship Award, and Notre Dame's Byron V. Kanaley Award.
Teaming with classmate Alex Lawson, who deserves accolades in his own right, they reached the NCAA doubles semifinals before losing an epic three-set match to UCLA's eventual national champs, 7-5. 6-7 (5), 10-8. It marked only the sixth time in program's 93-year history an Irish duo advanced to the NCAA doubles semifinals, and the first since 1994. A year earlier, Monaghan became the first Notre Dame singles player since the format was introduced in 1977 to reach the semifinals.
2. Will Fuller (Football) — Whenever the Irish needed a get-out-of-jail card on the field, the All-America game-breaker was certain to be in the forefront, highlighted by 11th-hour game winning touchdowns at Virginia and Temple to keep alive Playoff hopes. His 62 catches averaged a remarkable 20.3 yards and included 14 touchdowns. He joined 1987 Heisman Trophy winner Tim Brown (1988) and Michael Floyd (2012) as the lone receiver first-round picks from Notre Dame since 1970 — and Fuller achieved it after only his junior year.
3. Matt Landis (Lacrosse) — For the second consecutive year, the senior was honored by the United States Intercollegiate Lacrosse Association with the Williams C. Schmeisser Award as the nation's top player on defense. That's akin to winning the Outland Trophy or Butkus Award two years in a row in football, while also helping your program be among the nation's top three during that time.

4t. Jaylon Smith & (Football) & Axel Kiefer (Fencing) — Smith was the best in the nation at his position, earning the Butkus Award as a junior. Unfortunately, his role often had to be more as an eraser to compensate for defensive mistakes than as a playmaker like Manti Te'o in 2012.
With his third-place finish in the NCAA Championships for the foil event, Kiefer earned first-team All-America notice in his rookie season.
Honorable Mention: Demetrius Jackson (Basketball) —The second-team All-ACC selection by both the coaches and media paced the Irish in scoring (15.8 points per game), assists (4.7 and steals (1.2), and ratcheted up his game in four NCAA Tournament contests.
Top Five Female Athletes
1. Molly Seidel (Cross Country/Track) — A repeat winner from last season, the ACC's Women Athlete of The Year had four combined national championship victories — 2015 NCAA Outdoor 10,000 meters, 2015 NCAA Cross Country 6K, 2016 NCAA Indoor 3,000 meters and 2016 NCAA Indoor 5,000 meters — a Notre Dame record in any sport during one season. Seidel claimed six combined All-America citations (two in cross country, four in track) during her Irish career. She also had a 3.54 grade-point average in biological anthropology.
She became the school's first female to capture the NCAA cross country championship — and first overall since Oliver Hunter in 1942.
2. Barbara Sullivan (Lacrosse) — Only the ninth student-athlete ever to serve as a three-year captain at Notre Dame in any sport, the graduate student was one of four finalists for the Honda Sports Award in lacrosse. The three-time first-team All-American is just the second player ever named the ACC's Defensive Player of the Year twice, leading the Irish to the NCAA quarterfinals each of those years.
3. Karly Wester (Softball) — Junior outfielder set Notre Dame single season records in hits (91), runs scored (68) and stolen bases (46) while leading the ACC in hits and batting average (.446) for the third consecutive season. She was a Top 10 Finalist for USA Softball Collegiate Player of the Year while starting all 56 games for the 43-13 Fighting Irish.
4t. Madison Cable/Brianna Turner — Both must be lauded for their impact during a 33-2 season. Fifth-year senior Cable was the glue amidst some tumult against a difficult schedule while finishing second on the team in scoring (13.7 points per game) and rebounding (5.7), paced the squad in in steals (61) and three pointers (73), and finished fifth nationally in three-point percentage (47.1) while repeatedly making one clutch shot after another.
The sophomore Turner, despite shoulder problems that temporarily sidelined her, was selected to the 10-woman teams of the USBWA and USBCA, in addition to first team by Sports Illustrated and second team by espnW and the Associated Press. Turner led the team in scoring (14.6) and rebounding (7.3), and blocked a team-high 88 shots.