Notebook: Tommy Rees shoulders the blame for Notre Dame's offensive woes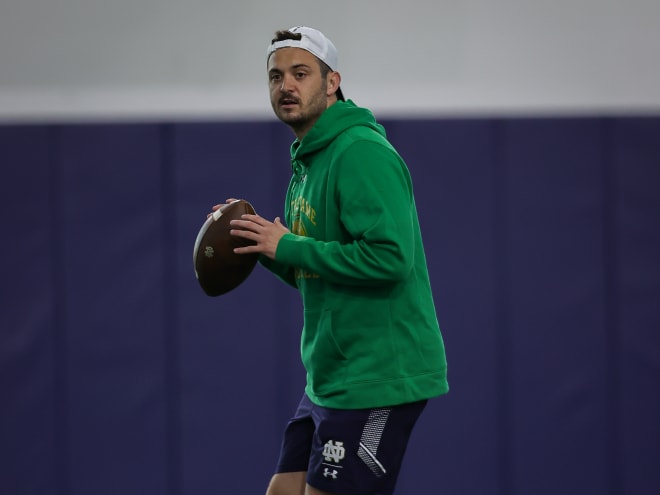 SOUTH BEND, Ind. — Running never was Tommy Rees' strong suit.
So it shouldn't be surprising that Notre Dame's offensive coordinator isn't scurrying away from the blame for a unit that entered the week ranked No. 117 (out of 131 FBS teams) in total offense (302 yards per game) and scoring offense (15.5 points per game).
"I will take every ounce of frickin' blame for all of it, because I'm in charge of the offense," Rees told reporters Tuesday in a new wrinkle of media access with Notre Dame's football program.
The program will be making both Rees and defensive coordinator Al Golden available to reporters on Tuesdays of game weeks for the rest of the season. Assistant coaches in Notre Dame's football program haven't been available during the season on a weekly basis in more than a decade.
That will give Rees, a former Notre Dame quarterback himself, plenty of opportunities to shoulder the blame if/when necessary. But Rees has much more pressing issues than divvying up slices of blame pie. Finding the fixes to make his offense more productive remains the priority.
SUBSCRIBE TO INSIDE ND SPORTS TO STAY IN THE KNOW ON NOTRE DAME ATHLETICS
JOIN THE CONVERSATION ON THE INSIDER LOUNGE MESSAGE BOARD
"I have to put them in better positions," Rees said. "We have to ask them to do things that puts the offense in a good spot all the time. That's my job.
"With a group that's younger or hasn't played a ton, it's even more important that we put them in spots that are going to positive for them. You don't have a veteran group that's going to be able to answer all those questions on their own."
While trying to improve the offense from sideline to sideline, Rees is also preparing junior quarterback Drew Pyne for his first career start Saturday against California (2-0).
Pyne's most significant playing experience came in relief appearances against Wisconsin and Cincinnati last season and in the fourth quarter Saturday against Marshall after starter Tyler Buchner suffered what proved to be a season-ending shoulder injury.
Pyne, who completed 50% of his passes in those three games (18-of-36) for 244 yards and three touchdowns with one interception, didn't provide the same offensive spark in the Marshall game that he did in Notre Dame's 41-13 victory over Wisconsin. On Saturday, Pyne's second pass attempt was intercepted by defensive end Owen Porter.
Rees will attempt to put Pyne in situations he's confident his quarterback can succeed. Rees said he has a good read on what Pyne does best. He didn't want to give Cal an extra scouting report by sharing specific examples.
What Pyne also brings with him to the offense is a moxie, which could be seen in his swaggering celebration in Soldier Field last season.
"He has that energy," Rees said. "He has that respect of his teammates that can kind of inject some life into our group right now, which we need. He has that, which is tremendous.
"I told him on Sunday, 'You're the perfect guy to help us through this right now. You're the perfect mentality, energy, respect.' All that stuff's great."
Head coach Marcus Freeman has to hope Rees is also the perfect guy to guide Notre Dame's offense past its early struggles.
"It starts with me. I take full ownership," Rees said. "I want to take full ownership. I want to be part of the solution here and continue to push our players, push our staff and find a way through all this."
Finding other playmakers
Through two games, Notre Dame's offense relied heavily on three players: Buchner, tight end Michael Mayer and wide receiver Lorenzo Styles.
In addition to leading the passing attack, Buchner accounted for 35.8% of Notre Dame's rushing attempts and 30.1% of its rushing yards.
Mayer (13 catches for 135 yards) and Styles (8-123) produced 67.7% of the team's receptions and 64.8% of its receiving yards.
With Buchner sidelined for the rest of the season, it's incumbent upon Rees to find more playmakers to rely on consistently.
"There are certain guys that I think have earned it," Rees said. "Guys that we want to continue to try to highlight, try to help create some explosives.
"There's some young guys that I think we can get involved. We're going to continue to find roles for those guys. We want to add some playmaking out there. We're going to put specific guys in situations to do that."
Rees said he can do that by giving inexperienced players very small and specific assignments.
"Hey, go do this Saturday. Then in two weeks, it's a handful more," Rees said. "And in six weeks, now they have a third of the offense. So you can slowly build that in. That's important. That's going to be something we continue to look for."
Rees didn't mention any players specifically until he was asked if what he described was similar to how he used freshman tight ends Eli Raridon and Holden Staes against Marshall. Neither played on offense against Ohio State, but Raridon played three snaps and Staes played two snaps Saturday.
Rees lumped freshman wide receiver Tobias Merriweather and freshman running back Gi'Bran Payne in the same category as the tight ends despite not playing yet.
What can Merriweather do to find a role?
"Just consistency in 'What's your job? What are you doing?'" Rees said. "And then he possesses length and speed, so that's a huge plus.
"But it's the consistency to say, 'Hey, this is what I'm doing play in and play out,' and just continuing to build that trust. We can give you a package, go operate these six plays and see how it goes."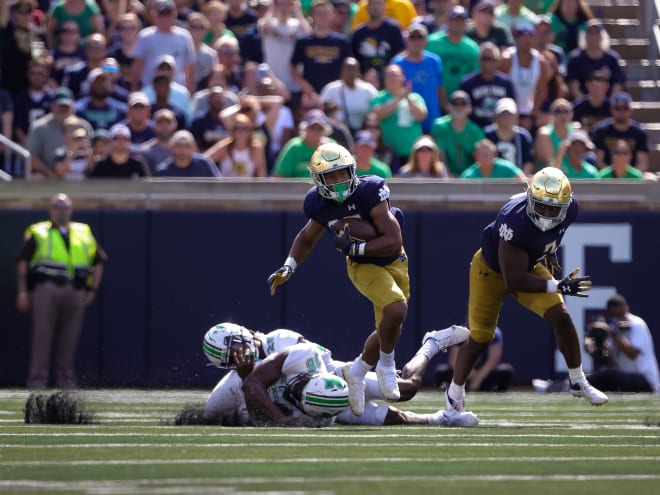 Helping the offensive line
Notre Dame entered the week ranked No. 110 in the FBS in rushing offense with 103 yards per game, but Rees' commitment to the running game hasn't waned.
"We believe in our ability to run the football," Rees said. "That's not going to change. We want that to be part of our identity from the very top down. So we're going to continue to attack that week in and week out and make sure that we give our guys a chance. That's important.
"Then allow them the confidence in the ability to go execute it. We'll continue to find ways, and we're going to continue to improve and get those guys ready to go."
Rees refused to put all the blame on ND's offensive line, though it should receive a healthy amount of it. The Irish line hasn't created a consistent enough push for a group that holds itself to such a high standard.
"First and foremost, whether it's running the ball or protecting the quarterback, whatever it is, that people will just point to the offensive line, it really takes all 11," Rees said. "There's probably other issues that are naked to some eyes. Yeah, the line will get pointed at, but it could have been this or it could have been that."
Junior running back Chris Tyree is the only ND player averaging at least three yards per carry. Yet somehow Tyree's only received nine carries which produced 45 yards. Sophomores Audric Estime and Logan Diggs have both received more carries — 19 and 11, respectively — despite totaling only 54 and 16 yards, respectively.
Tyree also caught three passes for 20 yards.
"We have three backs that we think can all help us win. It's hard to play three backs," Rees said. "That's just the truth of the matter. It's hard to play three guys at that position.
"Chris is somebody that we explicitly trust. He's been through this with us for three years. He's a guy we've counted on through a lot of really good wins and a lot of big moments. I have nothing but trust in Chris Tyree. I love that kid. We have to find a way to highlight his ability. That's my job."
Getting Angeli ready
Last week, freshman quarterback Steve Angeli was performing his duties as a scout team quarterback. This week he's practically moved into the Guglielmino Athletics Complex, Rees joked.
Angeli moved up the depth chart to No. 2 behind Pyne in Buchner's absence. The former three-star recruit will need to be prepared to play in case something happens to Pyne.
Rees said he texted Angeli on Monday evening, a night the Irish didn't have practice, to ask why he wasn't still in the building. A few minutes later, Angeli responded by saying he still was. He just wasn't on the same floor as Rees.
"Steve's a kid that his demeanor's perfect," Rees said. "He's pretty unflappable, has a nice calmness to him, plays the position with ease.
"So I told him, there's no ease into this thing. You're getting the offense. The expectations are what they are of any player that's playing quarterback for us. We have to continue to hold him to that and put him in some positions to be challenged.
"Yeah, he's gotten more work this week than he has in a while, but he's handled it really well. He had a good day (Tuesday). Just continue to build the confidence in him and build his ability to run the show."
Being better in the second half
Three of the four quarters in Notre Dame's second halves this season have included no points for the Irish. Notre Dame also didn't score in the third quarter of the Fiesta Bowl on Jan. 1.
Rees said he's been pleased with the communication among the new coaching staff in making halftime adjustments. That doesn't mean he's satisfied with the results.
"We have to make sure we stay the course and understand how we want to operate in the second half, the ways that we can attack them," Rees said. "It's certainly something that we work hard at and want to continue to improve at.
"There are factors all over the place. Game situations sometimes come into play. Field position comes into play. All those things we have to take a look at and continue to be aggressive coming out of halftime."