Notebook: Notre Dame experiments with Chris Tyree at wide receiver
SOUTH BEND, Ind. — Finding Chris Tyree at Notre Dame's first spring football practice Wednesday required more than an updated roster.
Not only did Tyree, who played running back for the Irish last three seasons, change his jersey number from 25 to 2, but the 5-foot-10, 197-pound speedster spent the first five periods of Wednesday's practice working primarily with the wide receivers.
The move isn't quite permanent — yet — according to head coach Marcus Freeman. But the Irish are looking at different ways to keep him involved in the offense with the emergence of running backs Audric Estimé (920 rushing yards) and Logan Diggs (821) as sophomores last season.
"He's a guy who has multiple skill sets, and we know Chris Tyree is guy we need to have on the football field," Freeman said. "So, the ability to put him at wideout. We know what he can do as a running back. He can really be a guy who can do multiple different things. You're seeing more of that in college football and the NFL.
"You see guys who can play multiple different skill positions on offense. So do you treat him as a running back? Do you treat him as a wideout? That's what we have to do and gain confidence with the quarterbacks in him as a wide receiver. But he's showing the skill set to be a wide receiver at this level, and we can use him at multiple different positions."
SUBSCRIBE TO INSIDE ND SPORTS TO STAY IN THE KNOW ON NOTRE DAME ATHLETICS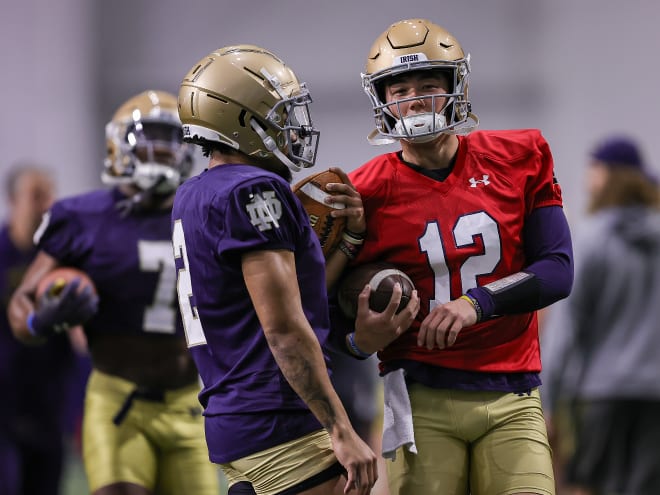 Tyree set a career high in carries as a junior last season with 100. But his 4.4 yards per carry were less than both Diggs (5.0) and Estimé (5.9). And the Irish have high hopes for sophomore-to-be running back Jadarian Price once he completes his return from the Achilles injury he suffered in June.
Tyree wasn't particularly effective as a pass catcher last season with 24 receptions for 138 yards and two touchdowns. The year prior, Tyree turned 24 receptions in 258 yards and two touchdowns. Regardless of where he plays more snaps in 2023, he'll likely have more opportunities as a pass catcher.
Freeman didn't field any questions Wednesday about a less-heralded apparent position switch. Senior-to-be defensive lineman Alexander Ehrensberger took his practice reps during the first five periods, which was open to media members, at defensive tackle after playing three seasons as a reserve defensive end.
The 6-7, 267-pound German has seven career tackles with two sacks and three tackles for loss. Ehrensberger likely wasn't going to play much at field end behind Javontae Jean-Baptiste and Nana Osafo-Mensah, so he can compete to get in the rotation at defensive tackle behind Rylie Mills.
Notre Dame did not have any players move to safety in Wednesday's practice despite the Irish recently losing out on 2023 signee Brandyn Hillman after he was denied admission by the university and junior-to-be safety Justin Walters' medical retirement. Notre Dame did have Oklahoma State graduate transfer Thomas Harper, who can also play nickelback, working with the safety group. Harper missed the end of the 2022 season with a shoulder injury, so he'll be working through spring practice in non-contact situations.
Cornerback Cam Hart, who will be a graduate student in the fall, also practiced with non-contact limitations. He had surgery on his shoulder in December.
"They can do some different things, but they won't be allowed to truly have contact when we put the shoulder pads on," Freeman said. "I would love to see them both go out and have contact, but we have to be smart and understand that, 'Hey, they had shoulder surgery late last year and our doctors will let us know when they can go.' The sooner the better for us. We're greedy."
The Pit, the nickname given to the group of injured players working their way back to practice participation, was busy Wednesday as well. The group included tight ends Eli Raridon (ACL) and Kevin Bauman (ACL), running back Jadarian Price (Achilles), safety Adon Shuler (shoulder) and defensive tackle Devan Houstan (shoulder). Price is the only one Freeman expects to have a chance at some spring practice action.
"He'll progress and do more," Freeman said. "I don't know if he will be full go, but he's done a lot of running and I see him progressing to more and more actual football practice."
Finding coaching cohesion  
Notre Dame lost three assistant coaches since early February: offensive coordinator Tommy Rees to Alabama, offensive line coach Harry Hiestand to retirement and special teams coordinator Brian Mason to the Indianapolis Colts.
But they certainly weren't the only ones who had options to leave Notre Dame. Freeman said Wednesday that all 10 of last year's assistant coaches were either approached by other college football programs or interviewed with an NFL team.
"I don't want to get into personal discussions about it, but it shows you, one, the quality of coaches that we've been very fortunate to hire here," Freeman said. "But, two, it's the perception of this place.
"I had the great opportunity to meet with the chief of staff of the Patriots. What he told me is the perception of Notre Dame coaches and players is really high standard, high performance. What does that mean? You know what you're getting when you get a coach from Notre Dame, a player from Notre Dame. You know exactly what you're getting. It's a compliment to this place. It's a compliment to our personnel, our coaches, our players."
Because of the recent departures, Notre Dame's assistant coaching staff wasn't fully finalized until Saturday when special teams coordinator Marty Biagi was announced by the university as the last new hire. The additions of quarterbacks coach Gino Guidugli and offensive line coach Joe Rudolph weren't made official until March 1 and March 7, respectively. They were hired to work alongside tight ends coach Gerad Parker, who was promoted to offensive coordinator Feb. 18.
That's not a lot of time to get on the same page with new faces.
"Most of (the new hires) were on the offensive side of the ball, so, really, I'm just trying to stay out of the way and give them time to be together," Freeman said. "They've been together a lot and have met a lot. Really, you have to meet to get everyone on the same page, but a lot of that is that cohesion and the ability to view these guys as teammates.
"It's been really good. I've been in there a little bit. And then we have our staff meetings to make sure everybody understands our culture and our expectations. It's not a finished product, but it's definitely progressing to where we want to see it."
What makes it easier is that Freeman has experience coaching with Guidugli at Cincinnati and playing at Ohio State while Rudolph was a graduate assistant. Freeman also had a familiarity with Biagi through secondhand coaching ties and was interested in interviewing him last year prior to hiring Mason.
"I think there's nothing more important than experience with somebody," Freeman said. "Like, I don't have to wonder what this person is like when I'm not around. That's why if there are great coaches and you had the opportunity to work with them, you try to hire them, because you know exactly what you are getting out of a guy. "
Cornerbacks coach Mike Mickens and running backs coach Deland McCullough received promotions in the offseason as well. Mickens now carries the title of defensive passing game coordinator. McCullough is Notre Dame's offensive running game coordinator.
One more behind-the-scenes hire remains on the to-do list. Athletic director Jack Swarbrick previously expressed an interest in hiring a general manager for the football program, but Freeman said that was news to him. Instead, it seems, Notre Dame promoted Dave Peloquin to assistant athletic director of football strategic initiatives and will hire a new director of player personnel, Peloquin's previous position.
"We've interviewed a couple of guys," Freeman said, "and, hopefully, will make a decision probably by the end of this week."
A job posting for assistant athletic director of football player personnel described the job responsibilities as such: "will manage all aspects of the football roster which includes scholarship allocations and roster management (scholarship and non-scholarship); including evaluations of the current roster personnel, as well as setting clear direction regarding the roster constitution." The job also includes responsibilities in coordinating with NFL personnel and overseeing recruiting.
Who will step up on the defensive line?  
Notre Dame lost some serious production along its defensive front this offseason with the NFL departures of defensive ends Isaiah Foskey and Justin Ademilola and defensive tackle Jayson Ademilola. Last year alone they combined for 113 tackles, 23.5 tackles for loss and 17 sacks.
Defensive line coach Al Washington has a big task ahead of him.
"Coach Wash has done a great job with that group," Freeman said. "We have some vocal leaders. Nana Osafo-Mensah is a vocal leader. He raises the energy and performance of those around him. Rylie Mills is being more vocal. Howard Cross doesn't speak a lot, but he's being more vocal.
"You're not going to replace Isaiah Foskey or the Ademilola twins, but what you have to do is try to replace their production. I'm not saying it's by one person. But throughout the top two units, maybe 2.5 units, we have to replace that production. I'm excited for the development of that room."
Freeman then started listing off nearly every young defensive lineman as players who have opportunities to emerge as contributors. The defensive coaching staff has decided that throughout the spring, they will name new starters before every practice. It's intended to give reserve players more chances to prove themselves along the top-line defenders.
Former players on hand   
At least four former Notre Dame players attended Wednesday morning's practice: safety Kyle Hamilton, defensive end Isaiah Foskey, offensive lineman Josh Lugg and kicker Blake Grupe. Hamilton, who played his rookie season for the Baltimore Ravens last season, is back on campus to work toward his degree. Foskey, Lugg and Grupe are in town for Friday's Pro Day as NFL hopefuls themselves.
Lugg was the most hands on in doing a little bit of coaching. He's really hit it off with Rudolph, Freeman said, due to their connection to the Pittsburgh area.
"I know those guys have been meeting and talking," Freeman said. "It's great to have a familiar face for those guys that have been here and have them around. It's really good."