Notebook: 2021 OL To Visit Notre Dame; Four-Star TE High On Irish
6-foot-6 Lineman Set To See Notre Dame
Edina (Minn.) High class of 2021 offensive lineman Bastian Swinney has interest in the Notre Dame Fighting Irish, and the coaching staff has the 6-foot-6, 260-pounder on their radar as well.
"I've been keeping in good contact with Notre Dame," Swinney told Blue & Gold Illustrated. "That offer would be really big for me. One of my old teammates Quinn Carroll is there. He says it's a great atmosphere to be in. I'm going down to the Boston College game this year."
Swinney thinks the world of his former teammate Carroll, who he's learned a lot from.

"He's a hard-working guy and leads by example," Swinney said. "He's not a guy to talk a lot. He keeps a level-head and just goes out there and works."
Swinney, who holds early offers from Iowa State, Kansas, and Kansas State, will visit Notre Dame in October when the Irish host Boston College.
"Just to feel the game day atmosphere," Swinney said when asked what he's looking forward to about the visit. "I'll watch the O-line go to work."
College coaches are telling Swinney that he could be a guard or tackle at the next level. Swinney does not have a preference of position.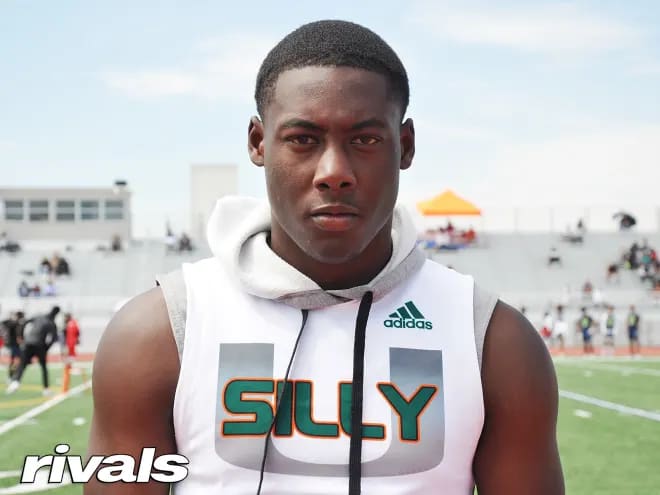 Rivals250 TE Jermaine Terry Talks Irish
Notre Dame reached out to Richmond (Calif.) Kennedy 2021 tight end Jermaine Terry early in September.
Terry ranks as the No. 135 prospect nationally and No. 5 tight end according to Rivals. The likes of Alabama, Florida, LSU, Oregon, Tennessee, and many others have already offered Terry.
"Notre Dame showed me some love," Terry said. "The tradition of the school is great."
Notre Dame has a tight end commit from Hartwell (Ga.) Hart County's Cane Berrong, and the Irish may add a second prospect at the position in the 2021 class. Terry is a prospect to keep an eye on.

"It would mean a lot coming from a school with so much tradition," the four-star recruit said. "Their tight ends fare well in the college level and in the NFL. It would be great overall for me really."
With Terry being so close to Cal-Berkeley, he's been a regular visitor there this fall. He will look to hit the road this fall and take more visits.
Ohio LB Damon Ollison Has Visited Notre Dame
Akron (Ohio) Bishop Hoban 2021 inside linebacker Damon Ollison has had some communication with Notre Dame.
Ollison, who ranks as the No. 13 inside 'backer in his class and a 5.7 three-star recruit per Rivals, visited Notre Dame in June. The 6-foot, 205-pounder chatted with Irish defensive coordinator Clark Lea during the visit.
"He taught me a lot when I went up there," Ollison said. "We sat down and talked for about a half an hour. We talked about what he looks for in linebackers. I love the campus up there. The facilities are great too."

Arizona State, Arkansas, Michigan, Rutgers, and Wisconsin make up Ollison's offer list. Ollison would love to add the Irish to his list.
"I come from a religious school. Being up there reminded me a lot of the school I'm at now," he said.