No. 4 Notre Dame Captures Sixth Straight ACC Regular Season Title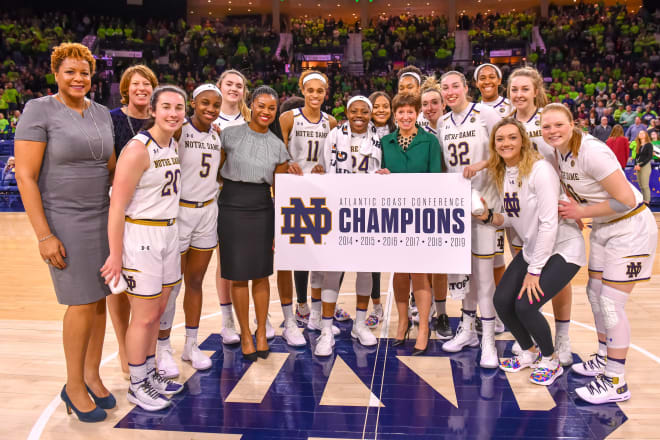 March Madness is in full bloom for reigning national champion and current No. 4-ranked Notre Dame.

Head coach Muffet McGraw's Fighting Irish (27-3 overall, 16-2 in conference) made it 6-for-6 with ACC regular season championships Sunday afternoon after a 103-66 blowout of Virginia (11-18, 5-11). Next up is the ACC Tournament that will begin Friday for Notre Dame in Greensboro, N.C. Capturing the championship would assure an eighth consecutive No. 1 seed for it in the NCAA Tournament.
The Irish converted a sizzling 19 of their first 25 field-goal attempts in the second half, drained a season high 13 three pointers (on 27 attempts), and junior guard Jackie Young stole the show on Senior Day with her second triple-double (22 points, 11 assists and 10 rebounds) this season. All-American Skylar Diggins (2009-13) is the only other Notre Dame player with multiple triple-doubles. It also was Young's eighth double-double this season, and fourth in the last five games, behind only Jessica Shepard's 12 this season.
Young also significantly aided the Irish "bench production" after deferring a starting role in the game so that walk-on Maureen Butler could join her four senior classmates in the pre-game introductions.
"She is the Russell Westbrook of college basketball," said Notre Dame fifth-year senior forward Brianna Turner of Young's multiple talents in all phases of the game.
Senior Arike Ogunbowale scored a game high 24 points while classmates Turner (21), Shepard (19) and Marina Mabrey (12, with eight assists) joined the double-digit brigade. Ogunbowale was a career high 6-of-8 beyond the arc, while Mabrey is now five short of a new school career mark for treys with 258 so far after nailing three more against Virginia.
Notre Dame exploded to a 16-2 lead in the opening minutes, and closed the first quarter with a three-pointer by Young for a 29-16 advantage.
The main negative for Notre Dame while building a 53-33 halftime cushion was allowing 15 offensive rebounds that resulted in 15 second-chance points, although the Cavaliers converted only 12 of 42 (28.6 percent) from the field in the first half . Meanwhile, the Irish were 7 of 11 beyond the arc in the initial 20 minutes, nearly tying the single-game mark this season of eight treys. Fourteen of Notre Dame's 17 first-half baskets came off an assist.
Notre Dame made 13 of its 16 field-goal attempts in the third quarter (81.3 percent) while out-scoring the Cavaliers 30-14 during that 10-minute segment.
Three-Point Play

1. Never Again
The Senior Day scholarship quartet of Turner, Ogunbowale, Mabrey and Shepard — joined by walk-on Butler — combined for 79 points, 24 rebounds and 15 assists. That means, by our count, that "Fab Four" so far in college has 8,282 points, 3,204 rebounds and 1,219 assists. That includes Shepard's first two seasons at Nebraska. However, the point is that it's difficult to fathom that a men's or women's team ever again in college basketball will have such numbers on a Senior Day.
Oh, and a national title also is on the resume. A special video tribute at the end of the game for the seniors had very few in the sell-out audience rushing to beat the out-going traffic.
2. Raining Threes
Notre Dame had converted a season high eight threes in four different games this year, but shattered that standard with 13 versus the Cavaliers. Ogunbowale had made five in a game six times in her career before setting her personal mark versus Virginia. She is 20 of 38 beyond the arc in her last six games.
Meanwhile, Young entered the game 6 of 20 this season from three-point range but knocked down three of her four attempts. If that element becomes a more consistent part of her game, there might be no answer to defend her.
3. Peak Performance
Since the 72-65 Feb. 7 upset at Miami, the Irish in the ensuing six games have averaged 96.5 points per game (never less than 89) on 53.8 percent shooting (never under 50 percent). Notre Dame also has dished out 153 assists on those 228 made field goals, which accounts for assists on 67.1 percent of the baskets, a testament to the excellent ball movement and then finishing.
"We're just starting to peak now," said McGraw, who has brought out her "whip hand" since the loss to Miami. "We're in a great place heading into the [ACC] tournament with the No. 1 seed. That's exactly where we want to be."