No. 3 Notre Dame Defeats Navy, 44-22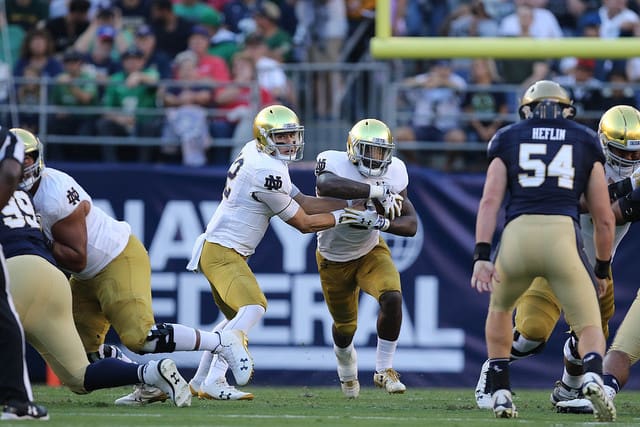 A dominant first half performance in which Notre Dame built a 27-0 halftime lead was enough to hold off an inspired Navy second-half effort for a 44-22 victory.

The No. 3-ranked Irish improved to 8-0 while Navy lost its fifth straight to drop to 2-6.
Junior quarterback Ian Book completed 27 of 33 passes for 330 yards, highlighted by four- and 22-yard touchdown tosses to senior wideout Miles Boykin, plus an interception. Senior running back Dexter Williams rushed for three touchdowns and finished with 23 carries for 142 yards.
Sophomore running back Jafar Armstrong returned to action following a procedure on a knee infection and accounted for 116 yards total offense, nabbing a team high five passes for 64 yards, while junior Chase Claypool also snared five passes for 57 yards. Senior linebacker Te'von Coney led the defense with 14 tackles.
Fifth-year senior captain/Buck linebacker Drue Tranquill suffered a high ankle sprain on Notre Dame's second defensive series when it was rolled on, and he was in a walking boot in the second half.
FIRST QUARTER: Notre Dame 13 Navy 0
Top Moment: Following a fourth-down stop by the Irish defense at its 27-yard line, a 33-yard run by Williams sparked an eight-play, 73-yard march that was capped by a one-yard touchdown by sophomore Jafar Armstrong for a 6-0 lead at the 9:38 mark.
Top Performer: Notre Dame's short-yardage defense, led by former Navy safety and junior Alohi Gilman, stopped the Midshipmen on fourth-and-two on the first Midshipmen series, and threw them for lost yardage on third-and-two on the next possession.
Stats: Notre Dame's 15 plays netted 168 yards, with Book completing all five passes for 88 yards and the 10 Irish rushing attempts totaling 80 yards. Navy ran 15 plays too, missing on its lone pass attempt while compiling 59 yards on 14 carries.
Items: On the game's first play from scrimmage, Boykin fumbled after catching a short pass from Book, and Navy cornerback Michael McMorris recovered the ball at the Fighting Irish 36-yard line. However, on fourth-and-two from the Notre Dame 28, short-yardage specialist quarterback Zach Abey's keeper was one yard short and the Irish regained possession at the 12:46 mark.
Senior kicker Justin Yoon was sidelined with a groin injury. In his place, sophomore Jonathan Doerer missed his first extra point attempt.
Notre Dame expanded the lead to 13-0 with 4:51 left on a four-play, 80-yard drive that featured a 38-yard pass to freshman Kevin Austin on a shallow cross, followed by Williams' 12-yard scoring run.
SECOND QUARTER: Notre Dame 27, Navy 0
Top Moment: With 7:07 remaining, Williams scored his second touchdown on a nine-yard run to extend the lead to 20-0. Williams recovered his own fumble earlier in the drive, and the Irish converted fourth-and-two (14-yard pass to junior Chase Claypool) and fourth-and-three (seven-yard completion to senior Chris Finke) situations during the 67-yard drive.
Top Performers: Once again the Irish defense dominated, with all three Navy possessions in the quarter going three-and-out while netting 11 yards.
Meanwhile, Book finished the first half 18 of 21 for 212 yards while connecting with nine different targets.
Stats: Notre Dame had more fourth-down conversions (3) in the first half than Navy had first downs (2). The 39 plays for the Irish amassed 315 yards, and the 24 Midshipmen plays managed 72 yards.
Items: Navy's first series in the second quarter began at the Notre Dame 48, but it gained only one yard in three plays before punting.
Williams tallied his third touchdown on a three-yard run with 1:04 left to cap an 83-yard drive in 10 plays to push the score to 27-0 at the intermission.
THIRD QUARTER: Notre Dame 37, Navy 14
Top Moment: After Navy gained momentum with back-to-back touchdown drives to reduce its deficit to 30-14, the Irish responded with a four-yard touchdown toss from Book to Boykin to build the advantage to 37-14 at the 1:04 mark.
Top Performer: Navy slot back Malcolm Perry ran for 58 yards on the first play of the second half to set up Navy's first touchdown and began the second 75-yard march with a 12-yard jaunt.
Stats: The yardage gained in the third quarter was pretty much even, with Navy totaling 149 (doubling its 72 the entire second half) and Notre Dame 148.
Items: Perry's 58-yard jaunt off the option pitch set up Abey's one-yard touchdown run to cut the deficit to 27-7 with 12:56 left.
Notre Dame answered Navy's score on the opening possession with a 30-yard field goal by Doerer, the first such attempt of his career, at the 8:41 mark.
Abey scored his second touchdown from the one-yard line with 5:03 remaining to conclude the second Navy possession in the second half that covered 75 yards again, with a 34-yard catch by Mychal Cooper and a 22-yard run by fullback Anthony Gargiulo the big plays.
FOURTH QUARTER: Notre Dame 44, Navy 22
Top Moment: Once again when Navy threatened to make a game of it by pulling within 37-22, the Irish answered with a 22-yard back-shoulder touchdown pass from Book to Boykin on third-and-seven with 8:29 remaining to basically put the game away with the 44-22 margin. On that same drive, Book bought himself time on third-and-nine from the 50 before connecting with Armstrong for a 27-yard gain.
Top Performer: Perry continued to shine in the slot, finishing with 133 yards on 12 carries while also grabbing three passes for 18 yards.
Irish junior defensive end Julian Okwara, who recorded a sack earlier in the game, had two pass pressures in the fourth quarter, while junior safety Jalen Elliott intercepted a pass at his two-yard line and returned it 21 yards on Navy's final drive.
Stats: Notre Dame finished with 584 yards total offense (330 passing, 254 rushing) while Navy had 344 (292 rushing, 52 passing) — with 272 coming in the second half.
Items: Navy safety Jacob Springer intercepted a Book pass and returned it 24 yards to the Irish 39 that set up fullback Mike Martin's 33-yard touchdown run through the middle, and a two-point pass reduced Notre Dame's lead to 37-22 with 12:42 left.
Irish junior defensive end Jamir Jones recovered a dropped option pitch by Martin on third-and-one from the Irish 27 with Notre Dame leading 44-22.