No. 1 Notre Dame Falls To No. 2 UConn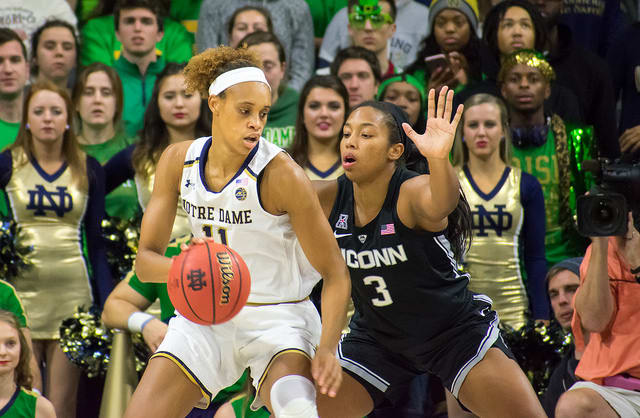 Notre Dame is the reigning national champion, but UConn let it be known that it's still the team to beat.

The No. 2-ranked and 11-time national champion Huskies took an 8-6 lead early and never trailed again while defeating the No. 1 Fighting Irish 89-71 Sunday afternoon at Purcell Pavilion. Connecticut led after the first quarter (27-22), halftime (44-41) and third (65-59), and then dominated the final 10 minutes while Notre Dame lost its composure and concentration.
UConn achieved the win despite senior All-American and leading scorer Katie Lou Samuelson shooting only 5-of-16 from the floor, including 0-of-7 in the first half, although she kept the offense flowing with six first-half assists.
However, freshman Christyn Williams, one of three No. 1-ranked players in the starting lineup from three different classes for the Huskies, was a force from the outset, finishing with 28 points on 11 of 16 shooting from the floor, including 2 of 4 beyond the arc. Box Score.
Williams put on a first-quarter clinic, converting her first seven field-goal attempts (two from three) before missing. The Huskies built their largest lead of the first half at 43-35 before the Irish cut it to 44-41 at the intermission. Head coach Geno Auriemma said the game-plan centered on the explosive rookie driving hard to the basket to counter Notre Dame's own aggressiveness.
A three by Megan Walker pushed UConn's lead up to 55-46 during the third quarter which ended with the Huskies still holding a 65-59 advantage. Notre Dame's best run of 7-0 pulled it within 55-53 with 4:18 remaining in the third quarter.
Irish senior guard Arike Ogunbowale led the Irish in rebounds (10) and assists (five) while tallying 17 points on 6 of 18 shooting (0 of 6 from three). She also was called for a technical foul as the game slipped away in the fourth quarter. Junior Jackie Young paced the Irish scoring with 18 points.
December games are not make-or-break situations, but there is much to work on the next three months, including regaining the hunger and intensity from last season. Head coach Muffet McGraw had harped all year on defensive maladies that would eventually cost the Irish.
"A lot of the problems we've been having all year long really surfaced again, and this time the team we played was good enough to take advantage of it," she summarized. "Our transition defense was poor, our half-court defense was poor. Offensively, I thought our execution was poor. And then we lost our poise, and that was unexpected. I was really disappointed to see the veterans that we have not rise to the occasion.
"We're a better team than we showed. I thought Christyn Williams was phenomenal, played just an incredible game — really was the difference in the game."
Ogunbowale said Auriemma masterfully baited her into the technical but was disappointed in herself for responding.
"He said some words and I fed right into it and said something back," Ogunbowale said. "As a senior leader, I definitely can't do that. I have to keep my composure in times like that."
Three Point Play
1. UConn As Underdog
Like Alabama in football, UConn is the most dangerous when it is not the favorite like it is 99.99 percent of the time. Auriemma said it best before the game when he told ESPN, "it's good for us every once in a while to just feel unencumbered by anything." The immensely talented Huskies played with a looseness on the court, including committing only seven turnovers, although the Irish weren't bad either with nine.
I had a bad feeling about this when the public address announcer prior to introductions presented UConn as "the University of Kentucky" before correcting his error. That's not what lost the game, of course, but it didn't hurt the focused UConn team using it internally as the "disrespect" card for a superpower program.
Notre Dame will improve as the season progresses, as will UConn. Expect the two to meet again sometime April 5-7 in Tampa, where the Final Four will be held. The two have faced each other six times in the Final Four since 2011 and have split 3-3. Consider this season the "best of seven" with Connecticut the favorite again despite Notre Dame's edge in experience.
2. Learning To Play With Brianna Turner Again
Last year the Irish had to adjust to playing without All-American forward Brianna Turner. This year there appears to be an acclimation period on how to play with her and what the identity is going to be. Notre Dame felt it could attack UConn inside with her, but she had only seven field-goal attempts (made four) in 33 minutes. Unfortunately, the Irish also have been pedestrian from three-point range most of this season, converting only 1 of 12 versus the Huskies and 26 of 94 overall (27.7 percent).
"I thought we had the advantage inside and we weren't able to have the discipline to execute," McGraw said. "I thought she was open, we just didn't get her the ball."
3. The Nemesis
Since a 73-61 loss at home to defending national champ Baylor on Dec. 5, 2012, Notre Dame is 97-3 at Purcell Pavilion, with all three defeats coming to UConn, 76-58 on Dec. 6, 2014 and 72-61 on Dec. 7, 2016, in addition to today.