No. 1 Notre Dame Dominates No. 14 Iowa, 105-71
Click HERE to sign up for an annual subscription to BlueAndGold.com and get your FREE gift code for $99 in Irish apparel and gear!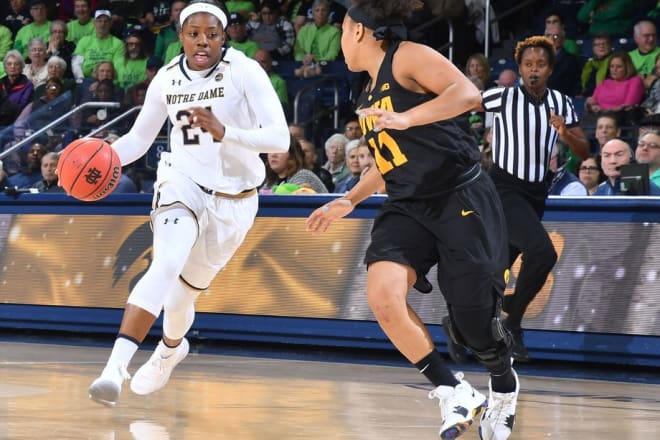 A dominant third quarter in which the No. 1-ranked Fighting Irish (7-0) outscored No. 14 Iowa (4-2) 34-14 propelled a 105-71 victory. Now 7-0, Notre Dame will host No. 2 and arch rival UConn Sunday afternoon (4 p.m. ESPN).

All five Irish starters finished with double-figure scoring, led by Arike Ogunbowale's 30 points on 13 of 21 shooting from the floor, including 3 of 5 beyond the arc. She has eclipsed the 20-point mark in all seven games this season. Senior classmate Marina Mabrey, making her second start after sitting the first five games with a quadriceps injury, tallied 18 points and five assists in her 23:12 playing time, while forward Brianna Turner recorded a double-double (14 points, 11 rebounds) to go with four assists. Box score.
Notre Dame jumped to an early 17-6, aided by Mabrey coming out of the chute with two three-pointers, and that advantage stayed into halftime when the Irish had a 45-34 lead at the intermission after tallying the final four points.
Four straight turnovers by Iowa to open the second half that resulted in a 8-0 Irish run for a 53-34 cushion was too much of a hole for the Hawkeyes. The spurt was upped to 20-3 (and 24-3 when including the final minute of the first half), with the Irish building their largest lead at 39 (last at 98-59).
Three-Point Play
1. Spread Offense Returns
The return of Mabrey and her threat as a three-point shooter makes life a little easier inside for forwards Turner and Jessica Shepard. Mabrey's presence to complement Ogunbowale on the outside, combined with Jackie Young's ability to drive and slash, provides about every dimension an opposing defense must account for in a game.
"When we play like that, play together, we're unstoppable," Ogunbowale said.
2. On The Rebound
The Irish grabbed 25 offensive rebounds that helped them outscore Iowa 32-12 in second-chance points — but head coach Muffet McGraw insisted a better job could have been done on the boards, where the Irish finished with a 49-36 overall advantage.
More gratifying to McGraw was a 21-9 assist-to-turnover ratio while also forcing 18 turnovers, especially after a so-so first half on defense in which the Irish yielded a few too many baskets in the paint on drives against the zone used to help combat All-American Megan Gustafson (26 points, 10 rebounds) post presence.
3. Katlyn Gilbert Injury
The freshman guard doubled over in pain while her right shoulder popped out in the third quarter. It was the same shoulder that sidelined her for a few weeks in the preseason. She came out later with a sling on her right arm, but McGraw afterwards did not sound like she is planning a medical redshirt. Gilbert would qualify for one if she does not play the rest of the year because the season ending injury would have had to occur in the first 30 percent of the season. Sophomore forward Mikayla Vaughn played six games last year before tearing her ACL on Nov. 28 in practice, and consequently has an extra year of eligibility.
Classmate Jordan Nixon remained sidelined after sustaining a concussion in the DePaul game nearly two weeks ago.