No. 1 Notre Dame Defeats Penn, 75-55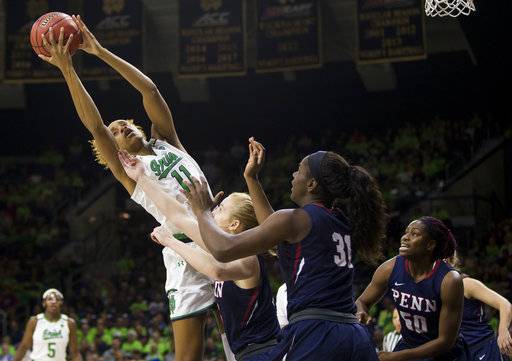 On the night that the 2018 national title banner was unfurled in the Purcell Pavilion rafters during a pre-game ceremony, it might have taken a little while to recognize a new season has commenced during a 75-55 victory on Monday night versus Penn to improve to 2-0.

The Quakers went on a 15-8 run to trail only 16-15, while Irish first-team AP preseason All-American Arike Ogunbowale missed her first five attempts from three-point range and began 1 of 8 in the first quarter.
Beginning with a three by Ogunbowale, Notre Dame closed the first half on a 9-2 run for a 39-27 lead at the intermission. The Irish then opened the second half with an 11-0 spurt to build an advantage that eventually reached 27 points.
With senior point guard Marina Mabrey sidelined a second straight game because of a left quadriceps injury that has her "day to day," the veteran quartet of Ogunbowale (21 points), forwards Jessica Shepard (17) and Brianna Turner (16), plus guard Jackie Young (12), combined for 66 points. Turner recorded her second double-double in as many games with a game high 10 rebounds (five on offense), while Young pulled down nine caroms to fall just short of the double-double.
"I don't think that's it," said Notre Dame head coach Muffet McGraw of possible national title hangover. "We really miss Marina, that's a big part of it … We get out of rhythm. We had a really nice offensive execution once early and then we never really did it again. Just the discipline of being able to continue to do that."
Turning Point
The 20-2 run that ended the first half and began the second was the pivotal difference in the final outcome.
Game Ball
Despite the cold start from the outside, Ogunbowale demonstrated her leadership and versatility as a scorer by manufacturing points with her drives and taking the ball aggressively to the hoop, which also helped result in a 6 of 6 effort from the foul line.
Overshadowed was her game high six assists, most off the fast break. She had a plus-23 rating, second to freshman point guard Jordan Nixon's plus-24.
Baseline Bits
• Penn's more methodical play has given Notre Dame fits. Last year the Irish won 66-54 at Penn. It was their lowest point outpoint of the year — until defeating Mississippi State 61-58 to win the national title.
• The absence of Mabrey was conspicuous against the 2-3 zone as Penn could pack it inside more. The Irish were 3 of 12 from beyond the arc and are 5 of 19 for the season.
• Many of the 19 Irish turnovers were a result of either badly timed entry passes into the middle of the zone, or not putting enough air under the ball to Turner on alley-oop plays.
• Shepard runs the floor with much more fluidity and has trimmed down significantly. It is doubtful you will find any team with two bigs who run the floor as well or proficiently with their scoring like the duo of Shepard and Turner.
• Freshman guard Abby Prohaska is exactly as advertised: blue-collar hustle, defensive intensity and instant energy in the Hannah Huffman mold. She will get into foul trouble often this year because of her aggressiveness (four fouls in 19:38 versus Penn), but she provided a lift in the first half.
"She's going for my foul record — I think she might get it," laughed McGraw. "She brings us so much energy. She was in passing lanes, she was helping, she was doubling, she did everything we talked about in practice. She's going to add a lot to our defense: took the charge, tried to take a couple more. I'm really happy with her."
• There is a lot of deference by the freshmen to the older players, which is understandable. Among the combined 56:59 played by the quartet versus the Quakers, they combined for only six shots, three by forward Danielle Cosgrove, who saw her first action after sitting out the opener because of a team violation.
• Sophomore forward Danielle Patterson made her first appearance with 3:05 left in the game after missing the opener with knee swelling.
• Young wore her face mask to protect her broken nose the entire game after discarding it in the second half in Friday's opener versus Harvard.